Award winning Mortgage Brokers and Financial Advisers in Bundaberg and surrounding areas.
Looking for help with your home loan or need an experienced Mortgage Broker to help you achieve your property dreams? Ask your mortgage brokers in Bundaberg, we can help you find the best home loan for your needs. Book your free appointment today.
Call Us
Office - 07 4153 3311
Open Hours
8:30am to 5:00pm Monday to Friday
After hour appointments available by request
Address
143 Bourbong Street
BUNDABERG,

QLD

4670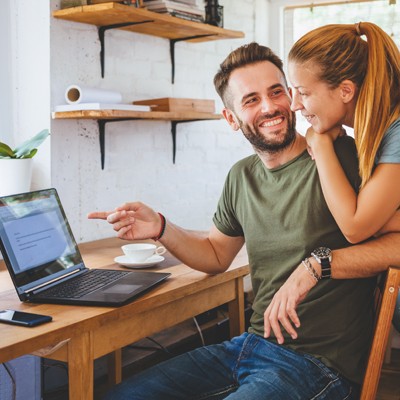 Latest home loan interest rates
AT MORTGAGE CHOICE IN BUNDABERG WE BELIEVE WE GIVE YOU MORE THAN JUST A HOME LOAN...
Each year our team at Mortgage Choice in Bundaberg help hundreds of locals to find the most competitive home loan and financial solutions to better their lives.
The Mortgage Choice Franchise has been around since 2004. In July 2021 the ownership changed hands. Mortgage Choice Bundaberg is now in partnership with Mortgage Choice Gladstone.
We are home to the best of the best, with a team of experienced mortgage brokers and financial advisors who have decades worth of experience and can offer expert advice to guide you on the right path to financial success.
Come meet us in Bourbong Street...
One meeting can change your life for the better. Call us to book your obligation free appointment or simply submit our contact us form and we will contact you ASAP. We look forward to working with you! ​
WE WANT TO BE YOUR TRUSTED FINANCIAL PARTNER IN ALL THINGS FINANCE!
At Mortgage Choice in Bundaberg our clients are like our family and for our family we always guarantee:
World class customer service
Honest and regular communication
Time to listen to your situation and goals while ALWAYS putting your needs first
Experience that you can rely on to help put you in a better financial situation
With us, you become a customer for life - so you can trust that we are always working hard for you and your finances.

To arrange an appointment at a time that is convenient for you, give Mortgage Choice Gladstone a call on (07) 4153 3311 or email admin.bundaberg@mortgagechoice.com.au
At Mortgage Choice in Bundaberg, our expert team of brokers can help and advise you on all aspects of finance including:
First home buyer home loans – as well as the First Home Owners Grant

Free Home Loan Health Checks/Reviews

Property investment loans

Construction loans

Refinance home loans

Renovation loans
We offer more than just home loans; we can also help you with:
Business loans

Car loans

Investments & Debt management

Asset & Equipment finance
HOW MORTGAGE CHOICE IN BUNDABERG DO IT BETTER
Our expert advice is free
Mortgage Choice brokers offer home loan services at no cost to you - we get paid by the lenders. We are unique in the broking industry as we get paid the same commission regardless of which lender you choose - so you can be confident that our recommendations are based purely on what's best for you.
More choice to find the right home loan
With over 20 lenders on our panel, we have access to hundreds of different home loan products and features to suit any need. Better yet, we will research and compare the hundreds of home loans in the market to find the best and most competitive home loan for you.
We take care of all the legwork
Our team of experienced brokers will research your options, lodge the paperwork on your behalf and keep you updated every step of the way. We do all the running around on your behalf to make your home loan journey simple and stress free.
Let's get started - Call Mortgage Choice Bundaberg on (07) 4153 3311. You can also have a look at our Mortgage Calculators for additional information. We look forward to meeting you.
The right home loan for your needs
Our mission is to find the right home loan for your individual needs and to always have your best interests at heart. Plain and simple. Which is why we have such a wide range of lenders to choose from. We can search through hundreds of products to find something tailored to your situation. ~
"Ron is always on the ball with the process of getting a good deal on a loan. He follows up things quickly and troubleshoots really well! Thank you to both Ron and Mary for handling our mortgage with the minimal of stress to us"
The easiest way to source a mortgage loan, Ron and Mary took on all the hassle involved in liaising with all the conveyancing interested parties and secured us the right loan with a very competitive interest rate. Excellent professional service. Very easy process, well done.
Ron was always so welcoming and supportive! Very knowledgeable especially for young people like Alex and I who had no experience with loans. We were always kept up to date with everything and if we ever had any concerns Ron was only a phone call away to answer our questions. Would highly recommend Ron @ Mortgage Choice Bundaberg.
You guys were great, made a confusing situation simple easy and manageable
I have used Mortgage Choice in Bundaberg on multiple occasions when buying and refinancing property. The service is excellent and Ron & Mary are a pleasure to deal with. I wouldn't hesitate to go to them again the future.
Over the time that we have had contact with this firm we have been looked after very well. Nothing was too much trouble for us as first time buyers with little or no knowledge of the way the system works. All our queries, however silly they might have sounded, were met respectfully, professionally and politely. It has been a pleasure to have been looked after by you both.
I have used the services of Mortgage Choice twice now. Just so simple to pop in to see Ron and leave the rest to him. You can be assured all will be organised in no time at all, and both Ron and Mary kept me up to date all along the way. A pleasant experience doing business with you both.
Mortgage Choice Bundaberg provided an excellent service and helped in every possible way for us to meet our goal.
Ron and Mary from Bundaberg Mortgage Choice are more than just brokers. They offer excellent service to their clients and we were so grateful to have them work for us twice when we built our first home in Brisbane and our second home in Fraser Coast. We are so pleased with the personal service we received from them and we highly recommend them to anyone needing a great mortgage broker to work for them.
What an excellent, really fast, professional service. Go straight to Mortgage Choice .Do NOT waste your precious time or your money waiting on substandard service from the banks. we couldn't be happier. We got a better deal than we had with our own bank.. Thanks Ron. Excellent.
The most professional and helpful mortgage broker we have every dealt with. Highly recommend - with you every step of the way.
Ron has helped us with our home loan on a couple of occasions. He makes the process very easy and smooth for us. He is so easy to deal with and explains everything in terms we can understand. I will thoroughly recommend him to anyone needing financial assistance.
We have dealt with Ron & Mary on two occasions now and both times have been a pleasure. Ron has always been very helpful and knowledgeable and has helped make a long process, hassle-free. We have no hesitation in recommending Mortgage Choice Bundaberg
We can honestly say Ron & Mary made our buying experience a very pleasant one. From our first conversation with Ron he explained each and every option that was available to us and we never felt pressured into any decision. My phone calls / emails were handled in a professional and timely manner. All in all I really couldn't imagine my home buying process being any easier. Even now that the deal is done I would still feel 100% comfortable calling Ron with any questions. He extended his expertise and I look forward to contacting him again. Thanks for everything Ron & Mary !!
I have found the service provided by Morgage Choice excellent, they have worked around a suitable time that suited me. Everything went so smoothly, they have kept me informed all the way until finalised. So 'Thank You'.
Refinancing guide
Considering refinancing? Our guide explains the reasons, costs and steps involved in refinancing your home loan.
Help me
calculate