Your mortgage broker & home loan specialist team for Blacktown, Quakers Hill & the surrounding areas
Mortgage Choice in Blacktown offers an experienced & professional mortgage broking service across the Greater & Western Sydney area.

For expert help with your finances, book your free, no-obligation appointment today.
Call Us
Mobile - 0413 041 457
Office - 02 8814 8266
Fax - 02 8814 8277
Open Hours
Monday - Friday 8.30am - 5.30pm
Saturday & Sundays by appointment
Address
1/76 Sunnyholt Road
BLACKTOWN,

NSW

2148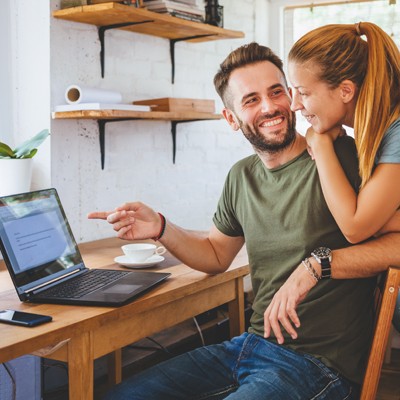 Latest home loan interest rates
Your local mortgage broker team, providing finance expertise to Blacktown & across Sydney
Our Blacktown mortgage broker experts have extensive knowledge of the credit policies and lending products of all the major lenders and many smaller lenders as well.
Owner and mortgage broker, Guy Lawrence has built his finance knowledge over 25 years in the Banking and Financial Services sector, specifically in mortgage lending.
If you're looking at buying your first home, planning to renovate your current home, relocating, looking to purchase an investment property or simply wanting to refinance to save some money... Guy and his team are here to help you!
Convenience with the benefit of choice
It's simple to get started - book an obligation-free chat to discuss your goals. Our team is always willing to meet at a time and place that suits you.
Our experts will review all of the lending products from our wide panel, including the big banks, to present you with a choice of loans and lending strategies that will be suited to your needs.
We have access to over 20 lenders, including all of the major banks and many smaller lenders who offer tailored products to fit your needs, no matter the challenges you may have faced with approvals in the past.
This video further explains what makes Mortgage Choice in Blacktown different to other mortgage brokers, and why you should come to us first for your lending needs.
Our services
No matter what your financial position is or what type of finance you need, our team can help. We have extensive experience across a broad range of finance products that include:
Home loans
Investment loans
Commercial loans
Personal loans
Deposit bonds
Insurance
Car loans
Leasing & chattel mortgages
Financial planning
Give us a call today to find out how we can assist you. We're certain that you will be pleasantly surprised at how many options are available.
Talk to Mortgage Choice in Blacktown before relocating
If you're considering moving home then you'll need to review your finances. The home loan that you first took out when you purchased your current home loan may have been right for your situation at the time however with so many new products entering the the market all the time, you'll want to make sure your home loan is still working hard for you in the future.
Reassessing your situation will give you peace of mind that you are either doing the right thing by your finances or that you need to make changes.
What's next?
Let us help you with a range of assistance to get you on the path to owning your first or next home sooner. You have nothing to lose since our home loan service comes at no cost to you!
Why don't you...
Book a "Home Loan Health Check" to make sure your rate is the right one for you
Find out if you're eligible for the First Home Owner's Grant
Find out how much you can borrow right now!
Contact us today!
Contact Blacktown mortgage broker, Guy Lawrence today on 0413 041 457 or click 'Contact us' at the top of the screen to send through the best details for us to contact you.
The right home loan for your needs
Our mission is to find the right home loan for your individual needs and to always have your best interests at heart. Plain and simple. Which is why we have such a wide range of lenders to choose from. We can search through hundreds of products to find something tailored to your situation. ~
We want to sincerely thank you for all your support, assistance and advice with buying our house. It was a huge learning curve for us and you were a great help! Thank you also for being so patient with all of our questions!
Excellent customer service. Flexible enough to make appointments late in the evening at home for discussions, which saves a lot of time.
They have the best products from a wide range of lenders on offer with recommendations to help choose the appropriate one.
Mortgage Choice Blacktown really helped us choose the loan that was right for us. It was great dealing with the one person throughout the whole process
Mortgage Choice Blacktown gave us professional and friendly advice throughout the time we worked with them on the purchase of our property.
They were always responsive to our needs and flexible with our busy schedules.
We would recommend them to anyone looking to purchase a property.
We were so pleased with the service provided from Guy, once again. He made the application process effortless and we were kept up to date with all that was happening. Thanks again Guy!
The manner you provide the advice, anyone can understand it. I wish I had met you 20 years ago, your in depth knowledge of the industry has opened my eyes. You are a fantastic person to deal with!!!!
Help me
calculate