Leith Yelland, Jenny Freeman & Luke Warner- Your Local Home Loan Specialists and Mortgage Brokers in Gawler, Tanunda, Nurioopta, Evanston, Angle Vale, Blakeview, the Barossa and all local regions
Call us today to see how your local Mortgage Choice experts can help you find the best home loan and financial products to suit your needs.
Your Local Home Loan Specialists and Mortgage Brokers in Gawler, Tanunda, Nurioopta, Angaston, Craigmore, Munno Para, Smithfield, Evanston, Angle Vale, Virginia, Two Wells, Riverlea Park, Blakeview, the Barossa and all local regions
5.0 (49+ total reviews)
Aggregated from:







Call Us

Mortgage Choice Dulwich

Office - 08 8523 4510
Open Hours

Mortgage Choice Dulwich

Monday - Friday: 9:00am - 5:00pm


After hours by appointment

Free Appointment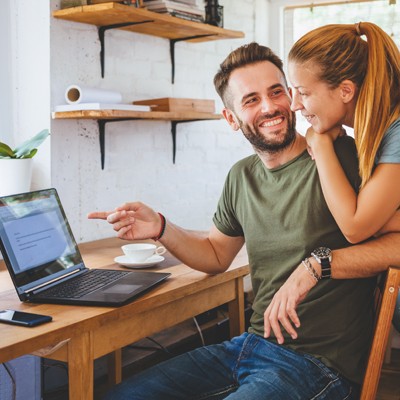 Latest home loan interest rates
Services
Knowledgeable, professional and results-focused, Leith, Jenny & Luke will work with you to develop a well-structured lending solution that's tailored to your current circumstances and future goals.
Home loans
Investment loans
Debt Consolidation
Debt Restructuring
Renovation finance
Equity release
Bridging loans
Personal Loans
Commercial property finance
Business loans
Insurance (third party referrals)
Loan protection insurance
Building/construction loan
Why should you speak with a broker?
We provide real choice, looking to find you the right deal.
We work with multiple lenders, not just one – keeping competition alive.
We may negotiate a better outcome.
We help at a time and place that suits you, doing the legwork for you.
Our aim is to save you time and stress and get things moving as quickly as possible.
 To arrange an appointment call Leith & the Gawler team on 08 8523 4510 - or email Leith Here:
Calculate your borrowing power
Before you start shopping around for a home or investment property, it's a good idea to learn what your borrowing power is. In other words, how much you can afford to borrow.
Watch our short video to learn more. 
 What is your borrowing power?
When you're ready to purchase your property, it's important to have a good understanding of how much you can borrow. We know that finding out how much you can borrow for a property can be a bit confusing, which is why we have some great resources at your disposal.
Feel free to check out our easy-to-use home loan calculators here or get in touch with us to discuss your unique situation.
Start your home loan journey today
 To arrange an appointment call Leith & the Gawler team on 08 8523 4510 - or email Leith Here:
Your home loan has never been easier.
At Mortgage Choice in Gawler, we work to ensure that we are finding you the best home loan from our wide range of lenders, to suit your needs. We do all the research and paperwork, so you don't have to , and keep you updated as the loan progresses. Call us today!
We share your passion
We're passionate about helping you achieve your dreams of:
A first home
An investment property
Your next home 
Renovating your home
The loan that suits you needs
We have access to hundreds of loans from over 20 different lenders including the big banks and specialty lenders. We do all the research, to find the best loan for your life! We hate to see people stuck in the wrong loan for years, so we work hard to ensure we get you into the right one.
Expert advice at no cost to you
There is no charge for our home loan service as the lender pays us when your loan settles.
At Mortgage Choice, the only thing that matters to us is the home loan that's right for you. 
All your financial needs are covered
Our skilled team can help you select from a range of finance options:
Car Loans
Debt Consolidation
Personal Loans
Equipment Leasing
Loan Repayment Insurance
Life & Risk Insurance, as well and Home and Contents Insurance
Please visit Our Team if you'd like to know more about the team at Mortgage Choice in Gawler who help make it all happen.
To arrange an appointment call Leith & the Gawler team on 08 8523 4510 - or email Leith Here:
The right home loan for your needs
Our mission is to find the right home loan for your individual needs and to always have your best interests at heart. Plain and simple. Which is why we have such a wide range of lenders to choose from. We can search through hundreds of products to find something tailored to your situation. ~
Client reviews
Thank you to you and your team on making another dealing with you effortless and seamless. We wouldnt go to anyone else. With my many questions some stupid at times you are always there to answer and go above and beyond with your service.
An amazing team you have
Fantastic customer service from your team.
Leith and the team are fantastic to deal with and I would absolutely recommend them to help you with your home loan
Thank you so much Julie,

You and Leith have been the biggest help couldn't have done this process without you. I will definitely recommend you guys to anyone looking at getting a loan in the future.



Very happy with Leith and his staff
Great service, knowledgeable and nothing is ever to hard.
Leith and his staff are extremely easy to deal with. Thank you all.so much for your help.
Leith & Julie are amazing. They are always available to help you through each step. Even if you didn't understand something they are more than willing to break it down. This is the 3rd time we have used their services and highly recommend them.
Leith, Julie and the team were amazing. As first home owners they stepped us through the process made sure we had regular updates. Highly recommend their service
Great communication, really helpful and friendly staff. It's been a pleasure to have you look after us for this loan.
Awesome, everyone great to team to deal with at Gawler. This is why we came to you. Professional, confident and knows the market.
Thankyou.
Helpful and friendly place. Julie was always super fast at responding to any of our questions and forwarding our invoices to our bank.
First home buyer's guide
Purchasing your first property can be an overwhelming process and there may be steps you are unsure or unaware aware of. This guide will walk you through all of the steps involved in the buying process.