Mortgage Broker in Currimundi servicing Caloundra, Aura and surrounding suburbs on the Sunshine Coast
For help with your home loan and to achieve your property dreams Mortgage Choice in Currimundi is your local specialist on the Sunshine Coast. Servicing Buderim, Maroochydore, Mooloolaba and surrounds
Currimundi
5.0 (187+ total reviews)
Aggregated from:







Call Us

Mortgage Choice Currimundi

Office - 07 5390 9766

Fax - 07 5476 9328
Open Hours

Mortgage Choice Currimundi

Monday - Friday: 9:00am - 5:00pm


After hours by appointment

Free Appointment
Address
5A/710 Nicklin Way
CURRIMUNDI,

QLD

4551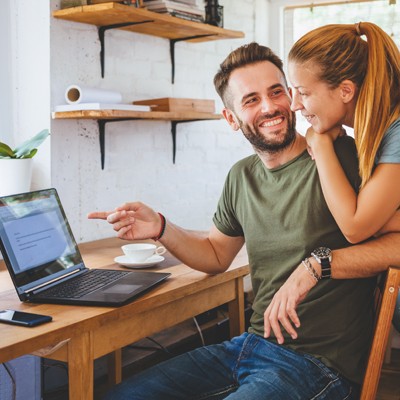 Latest home loan interest rates
Property goals on the Sunshine Coast
If you're looking to get into your first home, or a new home, buy an investment property or just make sure you aren't paying too much on your current home loan repayments, come and talk to us.
We have years of experience helping customers just like you achieve their goals, and our knowledge of the local area means we can also help out with recommending conveyancers, real estate agents and understanding the property market.
What are your goals?
Even if you are not sure you are quite ready, it pays to talk to us when you are thinking about:
buying you first home
investing in property
refinancing your loan if your repayments are high or you want to free up some cash
consolidating your debt
Expert advice
We know that making money decisions can sometimes feel like it's going to be too hard and complicated, but that's exactly why we are here to help. We can guide you through the process - we know exactly which steps you need to take - and we work with the lenders on your behalf. If you need to send in forms, we'll help you get them ready and in the right shape to send off to a lender.
Helping you make better choices
It can also seem like there is an overwhelming amount of choice. With so many banks and lenders offering so many different types of loans, you may worry that you'll choose the wrong deal and end up paying too much. We work with an extensive panel of lenders, and focus on your individual needs and goals, so we can match you with a loan that suits you. We'll narrow your choice right down for you - but the final decision will still be yours.
At no cost to you
Using our services is just like having your own home loan coach. But, best of all, we don't charge you for our home loan services - the lenders pay us after your home loan is settled.
Talk to us today on 07 5390 9766
We'd love the chance to chat to you about what you are trying to achieve and how we can help.
"What can I say - Pete Solomon is a man of miracles. I cannot speak highly enough of this wonderful man who has literally bent over backwards to ensure our family got the house of their dreams and is now helping us to build the business of our dreams.

Pete genuinely cares about your financial and personal wellbeing and we feel so fortunate to have found him at a time we needed him most.

Thank you so much Pete - you are an absolute legend! xx"

- Nicola & Trent Chaffey (Refinancer) Valdora, QLD
The right home loan for your needs
Our mission is to find the right home loan for your individual needs and to always have your best interests at heart. Plain and simple. Which is why we have such a wide range of lenders to choose from. We can search through hundreds of products to find something tailored to your situation. ~
Client reviews
Peter Solomon is the most professional and efficient mortgage broker I have ever dealt with. He and his team are skilled, and extremely experienced. Nothing was too much trouble for them. I cannot recommend Peter and his team enough.
I was very happy with Peter's service in finding me the best options for a new mortgage once mine came off it's fixed rate in April. Being time-poor there was no way I had the ability to search through all the lenders and try to compare them against each other. It is very disappointing that despite being with my previous bank for about 15 years they only offered me a better rate when I asked them for... read more
I cannot thank Mortgage Choice Currimundi enough for their outstanding support throughout our journey to secure our first home loan. As newcomers to Australia, the process of buying a house seemed like a complex maze with numerous unfamiliar steps.
Pete and their incredible team were our guiding light, offering invaluable assistance and expertise at every turn.
From our initial approach to the moment... read more
Pete was down to earth and very easy to deal with, as was the rest of the team. Never made you feel stupid for asking a question, and he got us our home loan when others couldn't.
Pete his team were so helpful professional assisting me with my first home loan. Friendly service this continued after the purchase. Highly recommend them.
Pete is an absolute legend He was recommended to me by a family member and I am so thankful for that Being a first home buyer and having no clue about the process, Pete was incredible at giving me all of the information I needed in a simple way and putting me at ease. He and his equally amazing team always made time to answer my phone calls when I had questions, and made the settlement process as smoo... read more
Can't thank Pete and his team enough for their hard work and assistance over the past few months As a first home buyer, they made the process of applying for a loan straight forward and easy to understand and were always available and happy to discuss the process along the way.
Pete and the whole team have been amazing. We had a very tight budget and timeline to work with and they have gone out of there way to do everything they can to help things along and get our application over the line. Will highly recommend them.
Pete and the team at Mortgage Choice Currimundi were fantastic to deal with. They were extremely professional, responsive and attentive with every interaction. I would highly recommend their services
Pete and the team at Mortgage Choice Currimundi were awesome They helped us so much and made the whole process of buying our first home a lot less stressful.
They were happy to answer any and all questions we had along the way and were great at making us feel comfortable.
I couldnt recommend them more and would happily use their services again.