Mortgage Choice South Morang: Award winning Mortgage Brokers & Home Loan experts in South Morang, Bundoora, Diamond Creek and surrounds
Tony and the team at Mortgage Choice South Morang offer their clients a wealth of experience in lending and finance. They are particularly proud of their high level of customer service, which keeps clients coming back over many years, often also referring family and friends. They offer a personalised service, tailoring solutions to each client's individual needs and goals.

Based in South Morang, they offer a fully mobile service in the Melbourne metropolitan area.
South Morang
4.9 (490+ total reviews)
Aggregated from:






Call Us
Office - 03 9466 3479

Fax - 03 9466 3506
Open Hours

Monday - Friday: 9:00am - 5:00pm


After hours by appointment
Address
Suite 101/ 2 Murdoch Road
SOUTH MORANG,

VIC

3752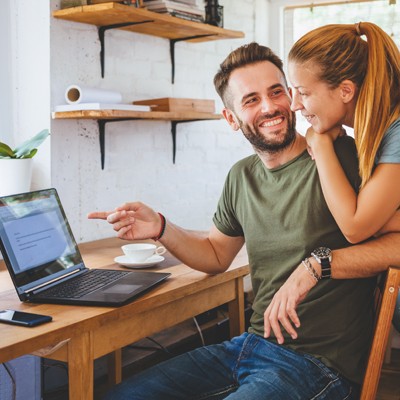 Latest home loan interest rates
Click here to book an appointment!
Our services
An experienced, award-winning team who make your success their priority. The team provide expert advice on lending options to help you build a strong financial future.
Home loans

Investment loans

Refinance loans

Construction loans

Renovation finance

Car and asset finance

Business equipment finance

Commercial property finance

Insurance (third party referrals)
No cost to you
One of our favourite things about being Mortgage Choice brokers is that we offer our service at no cost. That's because your chosen lender pays us a commission when your home loan settles. It means we're focused on the best outcome for you - and not for us.
We do all the research for you & handpick some loans to show you.
We workshop solutions if your needs are a bit outside the box.
We have 35+ lenders on our panel - including the big banks.
We help you put your documentation together.
We complete the paperwork & submit to the lender.
We chase it up on your behalf and ensure a smooth proccess
What makes our Mortgage Broker South Morang team unique?
While your everyday bank might be fantastic, they can only offer their own branded home loans. Chatting to our South Morang team is like sitting in front of 35+ lenders at once, with thousands of home loans on offer: different interest rates, features and terms. We make sure to know what lenders are offering and what loan incentives you could be eligible for.
We believe in choosing the right unique strategy for you.
We keep your end goal in sight, and work together as a team to get you there.
We make the lenders work hard for your home loan and advocate on your behalf.
We have a carefully selected team, who truly care about our clients and their needs.
We have many years of experience in financial service & mortgage broking.
We want to help you!
We believe we can add value to every person we speak to. It's because we're passionate about what you need from your home loan.
Based in South Morang and surrounding areas, our Mortgage Broker team services clients around Australia. We are happy to chat via phone & video, in-person at our office: Suite 101, 2 Murdoch Road, South Morang or meet you at a place that suits you.
Start your home loan journey today
Other areas we service
Bringing a big picture approach to every client relationship, Tony, Stacey & Stephanie offer support throughout the borrowing process and beyond, ensuring your loan remains a good fit as your needs evolve.
They are based in South Morang and offer a mobile service in the surrounding areas and across Melbourne.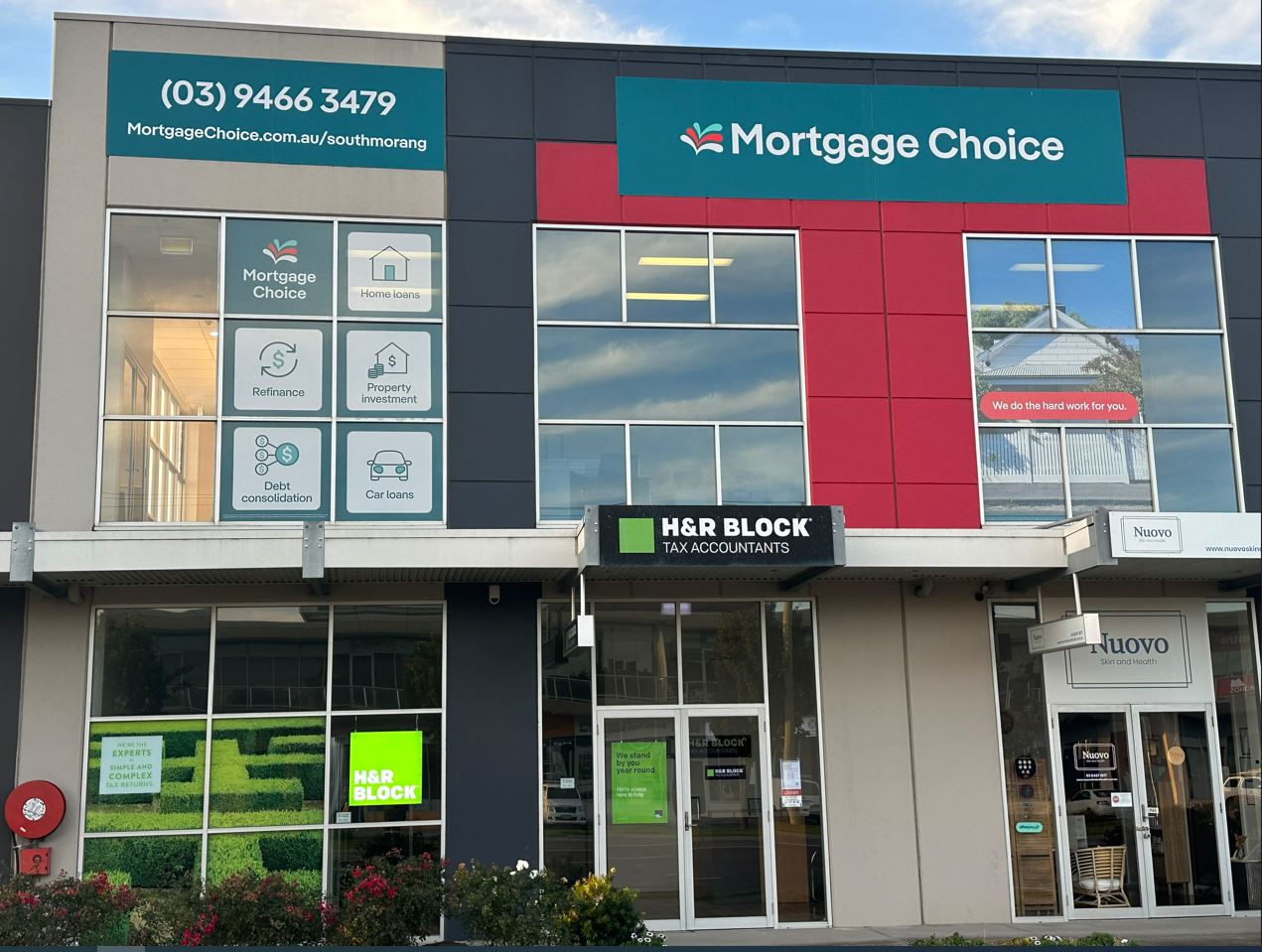 Click here to book an appointment!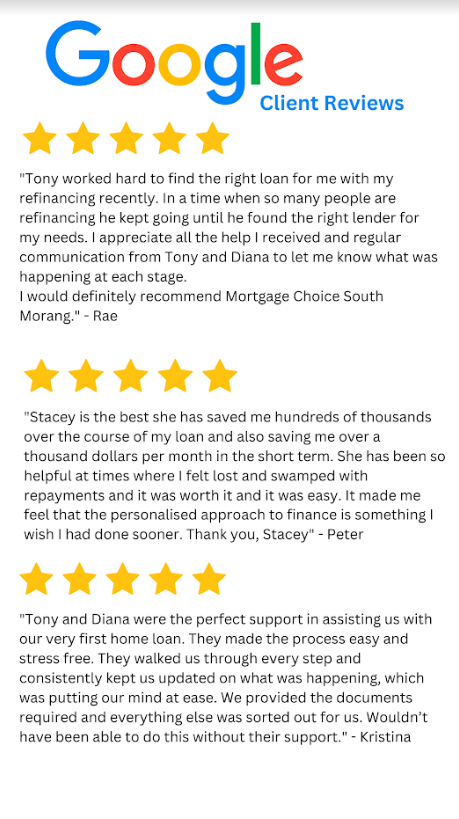 The right home loan for your needs
Our mission is to find the right home loan for your individual needs and to always have your best interests at heart. Plain and simple. Which is why we have such a wide range of lenders to choose from. We can search through hundreds of products to find something tailored to your situation. ~
Client reviews
Mortgage Choice South Morangs Tony and Diana were incredibly easy to work with, professional and compassionate as we worked through my tricky mortgage process. They were immediately available whenever I needed mortgage advice and information - I highly recommend their services for anyone thinking about buying a home.
Stacey was absolutely fantastic through the purchasing process, kept me in the loop and answered all my questions
The team at Mortgage Choice South Morang are exceptional. We worked with Tony to understand our financial options in purchasing our new house. Tony has a wealth of knowledge, he was always prompt with communication and made sure we had the best options for our situation presented to us, making the whole process seamless. We really appreciate all the help and support we received from Mortgage Choice and strongly recommend them for all your financial needs.
Stacey and Tony were amazing throughout the whole process They offered exceptional service and a wide variety of products I will definitely be using them again in the future
I cannot speak highly enough of Stacey and her efforts in helping us with our first home loan. She went above and beyond, keeping us up to date throughout the process. Stacey was friendly, communicated clearly and was very responsive.
I had a very positive experience with Stacey - she made the entire financing process smooth and stress-free.
Stacey went above and beyond, securing a great rate and a loan tailored to my needs. Her communication was excellent, she was in regular contact, readily available, and helped explain anything I didnt understand.
I highly recommend Stacey to anyone seeking a reliable and knowledgeable mortgage broker. She made a complex process feel effortless, and I'm grateful for her support.
Thanks to Stacey getting a loan for our first home felt easy. She was fantastic at communicating, always went through what everything meant and always kept us in the loop. She was available when we needed her and was always did an amazing job. Would definitely recommend. Thank you Stacey.
When looking for a broker we emailed a few places but Stacey at Mortgage Choice was the only one that returned our call and I am so, so glad she did. What a legend. When you have someone helping you with such a big financial purchase such as a home, you really want someone that will do everything to make it happen and Stacey was that person.
Stacey made things clear, she communicated regularly so we kne... read more
Mortgage Choice South Morang has excellent customer service. They will go out of their way to help try and get your loan over the line. Mortgage broker - Tony P. provides professional and friendly advice to help you achieve your goals.
We have used Tony and his team for 20 years Tony is always professional and maintains contact with you every step of the way. For over 20 years, Tony has continued to provide first class customer service to us. Our 3 adult children will endeavour to purchase their first homes in the near future and we're comforted in knowing that Tony and his team will guide them through the process one step at a time.
Exceptional knowledge, was really efficient and got stuff done as soon as possible, was also easy to contact any time for assistance, really went above and beyond for us. Couldnt be happier
My parents used Smartline and recommended them to me! I dealt with Tony, and he was fantastic throughout the entire process. I went through a divorce and had some issues with my accounts due to this occurrence. He made it as easy as he could for me to still find a way to purchase my desired block of land. Thanks to Tony and the team at Smartline, I was able to move forward on my own and start fresh. He... read more
Stacey was a pleasure to deal with and we'll highly recommend to family and friends
Stacey has been so helpful throughout my refinancing process.
She was extremely thorough and made sure I was informed throughout.
I felt that with Stacey's help the process was easy and stress free.
Stacey is the best she has saved me hundreds of thousands over the course of my loan and also saving me over a thousand dollars per month in the short term. She has been so helpful at times where I felt lost and swamped with repayments and it was worth it and it was easy. It made me feel that the personalised approach to finance is something I wish I had done sooner.
Thank you Stacey
Step-by-step guide to home ownership
There are many steps involved in purchasing a property which can vary between residential and investment properties. This guide explains each step in order as well as what is involved at every stage of the purchasing process.