Gavin Rushack Mortgage Brokers in Wembley, Floreat, Churchlands, Daglish & surrounds
Gavin and the team at Mortgage Choice Wembley have well over 50 years combined experience in lending, and pride themselves on their impeccable ethical standards and reliability.

"I am passionate about helping borrowers find the right loan solutions so they can achieve their financial dreams," says Gavin. "My team and I are completely committed to giving objective, trustworthy advice every time."

Gavin is fully mobile in the Perth metropolitan area.
Wembley
4.9 (187+ total reviews)
Aggregated from:







Call Us

Mortgage Choice Wembley

Office - 08 9389 4930
Open Hours

Mortgage Choice Wembley

Monday - Friday: 9:00am - 5:00pm


After hours by appointment

Free Appointment
Address
353 Cambridge Street
WEMBLEY,

WA

6014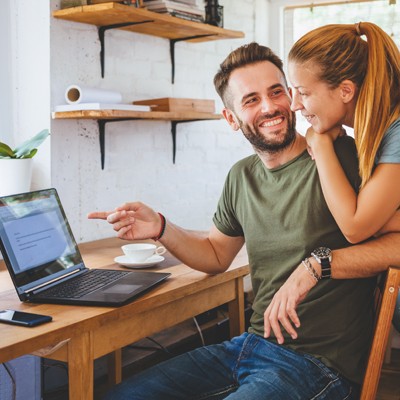 Latest home loan interest rates
Start your home loan journey today
Services
Whatever your borrowing requirements may be, Gavin works with a focus on your individual circumstances and objectives to find the finance solution that's the right fit for you – now and into the future.
Home loans

Investment loans

Refinance loans

Construction loans

Renovation finance

Equity release

Bridging loans

Reverse mortgages (Referred to third party)

Personal Loans

Car and asset finance

Commercial property finance

Business loans
Other areas I service
Professional, informative and dedicated to your financial success: Gavin's expert advice and guidance are aimed at simplifying your borrowing experience while securing a positive outcome. 
Gavin is based in Wembley and offers a mobile service to clients all over Perth.
Check your borrowing capacity
Are you eager to understand your borrowing capacity based on your salary and financial commitments? At Mortgage Choice servicing Wembley, Floreat, Churchlands, Daglish and surrounds. We understand that finding out how much you can borrow for that dream home you've always wanted can be tricky, which is why we have some awesome calculators to make it easy!
Check out our free home loan calculators here or get in touch with us to discuss your unique circumstances.
Ready to kickstart your journey to homeownership?
We'll assist you along the way and do all the legwork for you! Call us today on 08 9389 4930
The right home loan for your needs
Our mission is to find the right home loan for your individual needs and to always have your best interests at heart. Plain and simple. Which is why we have such a wide range of lenders to choose from. We can search through hundreds of products to find something tailored to your situation. ~
Client reviews
My experience with myself and my wife's Adviser was always helpful,reliable and got us a great home lone deal to suit us.I would highly recommend smartline. Darryl
I have been dealing with Gavin for the past 10 years and his customer service skills are excellent and exceptional and he always puts the customers first.
Gavin was excellent throughout the whole process. He was extremely knowledgeable in our initial meeting any the borrowing options available to me, and he was very accessible throughout the finance approval process and settlement. I would highly recommend his services to friends and family.
Gavin is a very diligent, personable professional whom I have used as my broker for many years. I highly recommend him. Thanks for your continued support.
Gavin was so great in helping us not only successfully purchase our first home, but also in assisting us with a loan for renovations and home improvements. Honestly could not have done this without his expert advice! Would highly recommend Gavin's professional assistance to anyone looking for mortgage or loan advice. Thanks Gavin!
Gavin was excellent. He made the process very easy for us. He went out of his way to explain everything to us and he was always available to answer questions. Most importantly, he sourced a great finance option for us which allowed us to buy the house we wanted.
Gavin Rushac was an exceptional adviser. No amount of words can ever tell you the amazing service Gavin provided. From day one Gavins service was professional and informative. The service he provided was out of this world. I have already recommended him to two of my friends. Thank you to Gavin Rushac and Smartline for making buying a house a smooth and carefree process.
Gavin Rushack is an amazing person who took most of the finance arrangement responsibility for my first home loan from the bank. As a first home buyer, I had no experience from where to start, Gavin guided me for each step, provided me customized opinions based on my circumstances for a home loan, and was very friendly and honest in conversation. He kept me informed of the progress of each step that he had to perform,... read more
Very smooth process for two time-poor parents with Gavin Rushack. We particularly appreciated his ungrumbling accommodation of a last-minute change to fix part of our mortgage. We continue to recommend him to others.
Gav was really helpful, efficient and very pro-active. He kept us informed all the way through, making the whole application very simple. Best of all he looked over our whole finances and arranged a reduction in our original loan rate - Brilliant!
Michael has been readily accessible and has helped us find a loan source which we were unable to obtain through our own bank. Very pleased with the outcome.
I\'ve known Mike for many years so may be biased in my ratings but never had an issue with my transaction .
I am most appreciative to Michael for the support he has provided to me on this, and other occasions in the past. Thank you!
Michael Rushack has always been the best advisor to deal with, he is highly professional and always attempts to answer our million and one questions. We would recommend him to anyone who asks!
I found Gavin to be very punctual and always following through with things he said he would do.
Refinancing guide
Considering refinancing? Our guide explains the reasons, costs and steps involved in refinancing your home loan.