Your local Mortgage Broker and Home Loan expert in The Sutherland Shire
Buying a home is the biggest financial decision you will ever make. As such, it is important to work with a Mortgage Broker you can trust. Contact Jason McGregor to discuss your mortgage requirements, and he will find you the best home loan deal.
Kirrawee
5.0 (46+ total reviews)
Aggregated from:







Call Us

Mortgage Choice Kirrawee

Office - 0404 048 840
Open Hours

Mortgage Choice Kirrawee

Monday - Friday: 9:00am - 5:00pm


After hours by appointment

Free Appointment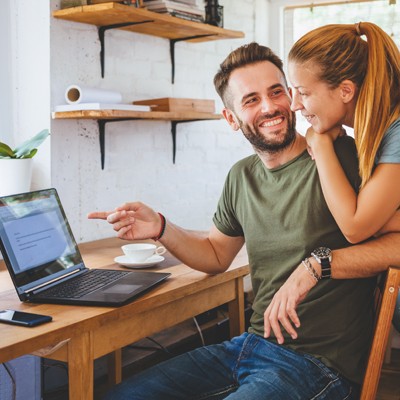 Latest home loan interest rates
Buying a property? Jason McGregor is passionate about helping people through the process of securing their own home.
As your local Mortgage Choice broker in The Sutherland Shire, Jason McGregor will take the time and hassle out of shopping around for the right home loan and guide you through the home buying process with expert advice.
With access to hundreds of loans from a wide choice of lenders, including Australia's big banks and a selection of specialist lenders, we're confident we can help you secure the right loan for your situation.
Home Loan Health Check
If you have a home loan, one of the easiest ways to save more is to take advantage of some of the discounted rates available this year! Let our home loan experts conduct a free Home Loan Health Check on your current home loan to see if we can find you a better deal.
No matter how your life has changed, it's essential that your loan continues to meet your needs. Even if you've had your home loan for only a couple of years, it's possible you could take advantage of different loan features or even secure a lower rate.
We'll compare your home loan with hundreds of competitive loans to see if we can find you a better deal. If you have any questions, feel free to call Jason on 0404 048 840.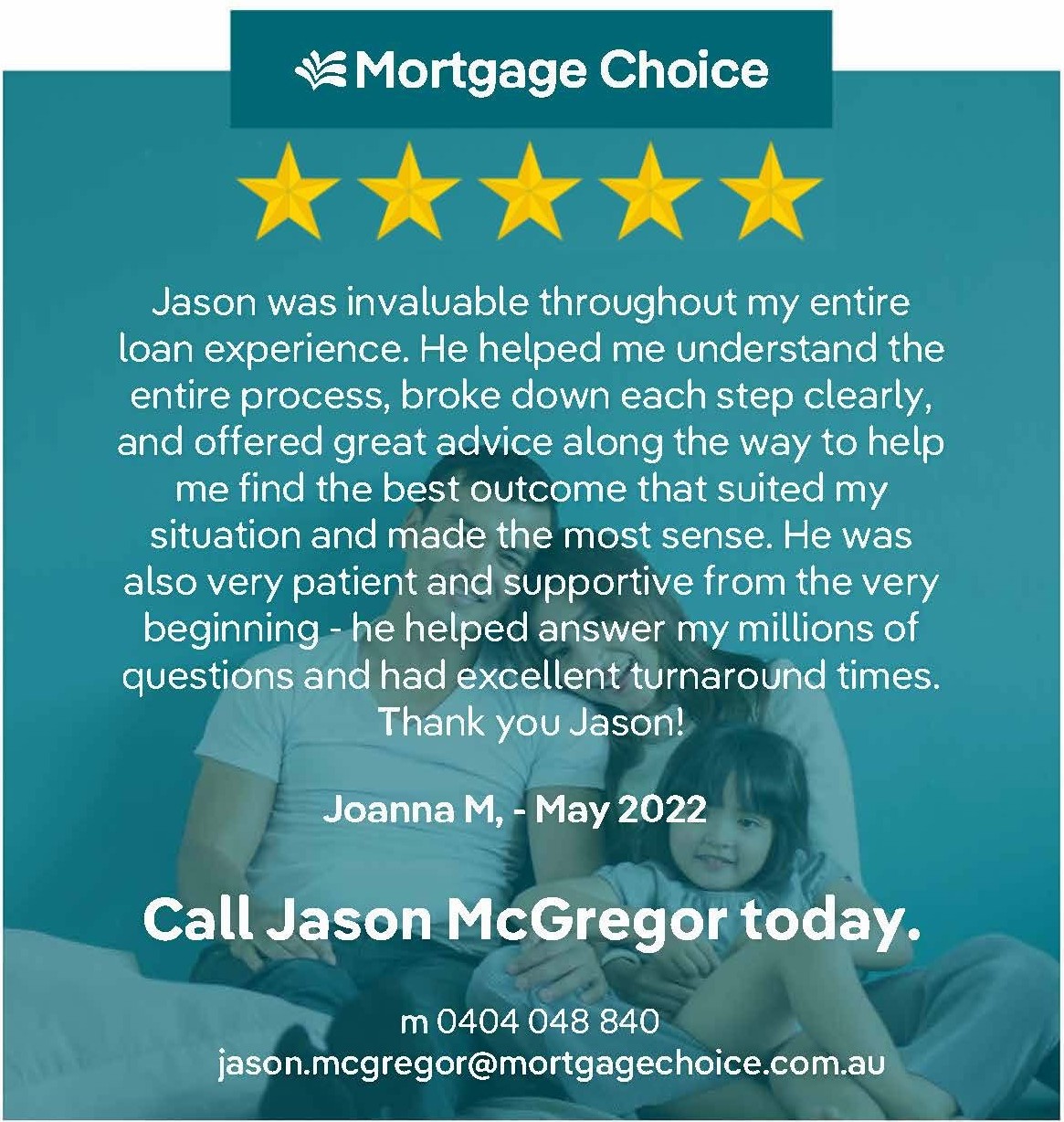 Start your home loan journey today
Proud supporters of our local community

We love supporting our local community in any way we can. From joining the local sporting clubs to helping homeowners secure their own property, we are here to be by your side every step of the way!
Jason McGregor from Mortgage Choice servicing The Sutherland Shire can help you with:
Investment Property Loans
As your mortgage broker, Jason will help you work out your borrowing capacity, organise pre-approval and of course take you through the entire home loan process. We love speaking with our clients, so please give us a call to discuss your situation and any queries you may have. We look forward to helping you.
To discuss your home loan requirements, contact Jason McGregor on 040404 8840
Client reviews
I reached out to Jason about 12 months before I was ready to purchase a property as a first time buyer. Jason put in an immense amount of effort into analysing my circumstances and he kept in touch regularly, answering many silly questions along the way. Jason fought for my best interests when dealing with the banks and did not accept a 'no' if he felt they had made an error. The settlement process... read more
Jason was very helpful throughout the process of refinancing my home loan. Jason was professional and personable, his diligence assisted us in securing a very competitive interest rate against other lender. Jason was able to answer any questions we had and he always responded in a swift and timely manner whether day or night. I would certainly recommend Jason for any brokerage work you may need
I have been in the property market for 35 years owning 6 homes and one investment property and until now I have always dealt directly with banks. Jason was recommended to me by a close family member who described him as awesome and they were not wrong.
Very easy to communicate with, professional and extremely efficient Jason went above and beyond to get the best deal to suit my situation and needs,... read more
We were recommended to Jason through various Facebook groups. He had a fantastic reputation and everyone swore by him. From the get go he was very friendly and he genuinely wanted the best for us. He was always at hand when needed and explained everything very thoroughly and taught us a lot. Jason is extremely hard working, thorough and very efficient at what he does. I could sit here and write his... read more
Would absolutely recommend Jason to anyone buying a property. He kept us fully advised, secured the best possible loan terms for us, and ensured that everything went smoothly throughout the process, which was a huge help to us as first-time investment buyers.
I highly recommend Jason for all of your brokerage requirements. Very experienced and prompt service. He goes out of his way to understand your needs, to ensure that he delivers the right outcome.
Thankyou so much Jason McGregor. His support through every step of the process was unbelievable. Jason even came to the auction to make sure my son stayed within his limit. Jason was up to date with all the latest financial information available and his kindness and respect for people shined through. Highly recommend.
First time having to re finance my investment property and Jason made the experience painless and walked me through the process, always checking in and getting it done. Big thank you to Jason and would have no issues recommending him to others.
Jason has been absolutely outstanding in assisting us with purchasing our new home
His knowledge, professionalism and commitment to his clients has made the whole process easy and stress free
We cannot thank him enough
Jason was an amazing asset to have with getting my first home loan and apartment. I was a complete novice and he was able to help me not only secure a loan with a great rate especially important at the moment, but he was able to answer any questions I had throughout the process. I highly recommend Jason to anyone that wants good service and help with their mortgage
Property investor guide
Our free, downloadable guide explains the costs and steps associated with the purchase of an investment property, positive/negative gearing as well as pros and cons of houses vs. units.