Mortgage Choice for Hornsby and the North Shore
Looking for a home loan? Talk to Mike Perkins, your local Mortgage Choice broker from Hornsby, NSW. Let us research and compare more than 20 lenders for you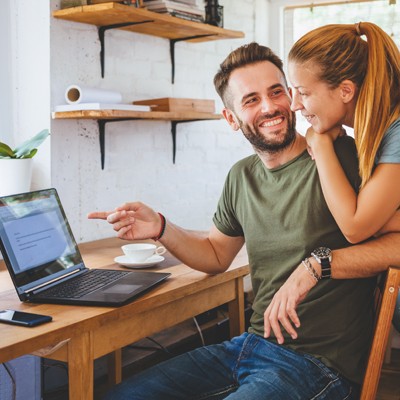 Latest home loan interest rates
Start your home loan journey today
As a professional Mortgage Broker for over 20 years and with a background in finance and banking, not only will I help you find the loan that's right for you, but I can use my expertise to give you insight into other areas of property purchasing, investment strategy and risk protection. It's what I do. Whether you are a first home buyer, you're looking at an investment property or you'd just like to consider options on your existing loan, give me a call. I'd love to chat. 
Hi, I'm Mike Perkins, your Mortgage Choice Mortgage Broker for Hornsby & Districts plus the North Shore area. I can help you with a range of lending and insurance services. Talk to me about:
First home loans
Investment loans
Commercial loans
Personal loans
Vehicle and equipment leasing
Mortgage protection insurance
General insurances
Knowledge Pays
You may have been with your bank for many years, but when it comes to looking for a loan, regardless the type, you need to look beyond the brand on your credit card. Banks will show you the loans they have, but that's where it stops. You need the loan that's suited to you, not just what they have available. That's where I come in.
I look at loans from all types of lenders, including the banks " yours as well " and analyse all the loans to find those that best suit you. I will explain the options, answer your questions and assist you to make a decision based on a detailed understanding of the lending landscape. 
Service Counts
Having made a decision based on knowledge, you're not left to fend for yourself " quite the opposite. I pride myself on my service, my attention to detail and my follow through. From application through to settlement I manage the process and keep you fully informed, giving you time to focus on the more exciting parts of your property purchase, not on chasing the lender.
After settlement, I'm only a call away to answer questions or look at options. I'm here for the long term " for me, it's been over 20 years and I still have the energy and drive I had on my first day.
Give me a call and we'll make a time for an obligation free chat. You can come to me or I can visit you, business hours or after hours.
Looking forward to meeting you,
Mike Perkins
Servicing: Hornsby, Beecroft, Thornleigh, Pennant Hills, Westleigh, Asquith, Mt Colah, Berowra, Cowan, Glenhaven, Berowra Heights, Brooklyn, Wisemans Ferry, Mooney Mooney, Cherrybrook, Kenthurst, Dural, Glenorie, Galston, Arcadia, Waitara, Normanhurst, Wahroonga, Turramurra, St Ives, Pymble, Warrawee.
The right home loan for your needs
Our mission is to find the right home loan for your individual needs and to always have your best interests at heart. Plain and simple. Which is why we have such a wide range of lenders to choose from. We can search through hundreds of products to find something tailored to your situation. ~
Client reviews
Thank you so much for your advice and support. Look forward to speaking with you again soon
Thank you very much Mike, your assistance through the whole process has been outstanding.
Hi Mike, We cannot thank you enough for helping us through this process. It should not surprise you that we were completely lost when it came to this process, and that it was your support and guidance that helped get us through. Thanks also for your patience and perseverance. Sincerely grateful home owners. Nick & Sarah
Everything went smooth, Thanks so much for assisting us through this process. We really appreciate it. Look forward to talking to you soon.
I have enjoyed hearing from you and when the emails come I am reminded of your myriad kindnesses to me over several years. Please know Mike just how much I have appreciated your help and, more, your friendship. It really has been wonderful to know that I could go to you with these issues of mortgage and to know you would be able to tell me what to do. Thank you so much for everything Mike.
I recently engaged Mike Perkins to refinance an investment property. After months of appalling customer service from a big 4 bank with whom I had a 20 year relationship, working with Mike and the Mortgage Choice team was a pleasure. Highly recommended.

Many thanks Mike - this was one of the best banking experiences we have had recently!

Thank you Mike for being so thorough and so reliable during our home loan application. We absolutely love our new home, it is so perfect for us, we made the right choice. Most importantly though, we are thrilled with the mortgage (as much as anyone can be thrilled with their mortgage!)—a low rate and manageable repayments. You made the whole process so easy for us.

We wish you all the best and will not hesitate to recommend you.
Thank you!! Thank you for your help!

Your service is truly professional, tireless and it has been a real pleasure to do business with you.
Hi Mike, We would like to thank you for all your help with our recent property purchase and look forward to working with you again with our future home loans. Thanks again,
Thanks very much for all your help through this process- you have been more than helpful. We are glad this process is all over- we had forgotten how much paperwork and running around selling/buying a house involved!
Step-by-step guide to home ownership
There are many steps involved in purchasing a property which can vary between residential and investment properties. This guide explains each step in order as well as what is involved at every stage of the purchasing process.