Mortgage broker Macedon Ranges
Macedon Ranges mortgage broker & home loan expert
"Peter and the team were exceptional. They were knowledgeable and professional and made the entire process extremely efficient ... A pleasure to deal with."

J.C., Woodend
Why choose me as your Macedon Ranges mortgage broker?
One of the main reasons I joined Mortgage Choice in 2003 was its "paid the same" promise. Why should some mortgage brokers be encouraged to steer you towards loans that are better for them than for you?
As a Mortgage Choice broker, I get the same rate, no matter which loan you choose from our panel of lenders. No hidden incentives. You can count on me to do what's best for you.
A mortgage is a big commitment but it need not be a big headache. I work hard to make your life as easy as possible.

~ Peter Machell
(Owner, Mortgage Choice Macedon Ranges)
Visit our Macedon Ranges office
You'll find us at 87 High St, Woodend
Phone: 5427 4262 | View on Google maps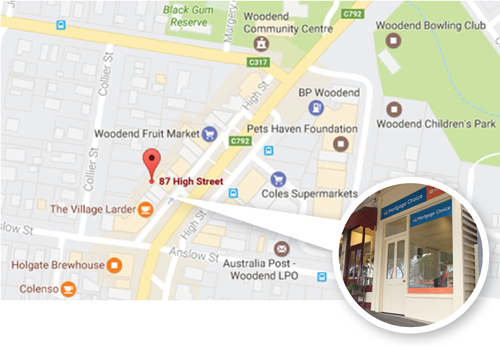 What our Macedon Ranges mortgage clients say
"Thanks to the team at Mortgage Choice Macedon Ranges for their help over many years. From refinancing for renovations, a new building loan, renting out the old house and back again, you have helped with it all and made it all possible. You've been a great help, thanks!"
Richards family, Woodend
"Peter and his team were always very professional and knowledgeable, and were always happy to answer my questions and concerns. The whole process was a stress-free experience because I felt confident to trust Peter with such a huge decision. I can't recommend them highly enough."
S.T., Woodend
"We were extremely satisfied with the service we received from Peter Machell and would have no hesitation in recommending Peter and Mortgage Choice Macedon Ranges to anyone looking for a home loan."
M. & J. Moore, Kyneton
"Peter is always friendly and approachable. He and his team work efficiently to support their customers and explain the process in layman's terms. Very professional and I would, and have, recommended him to others."
D. Thompson, Gisborne
"I was very happy with the way you conducted your service. You explained everything to me and especially asked if there were any banks I would not like to borrow from."
B.S., Woodend
"Peter and the team were exceptional. They were knowledgeable and professional and made the entire process extremely efficient. It was such a pleasure to deal with a local organisation that provided excellent service from start to finish and we would not hesitate to recommend Peter and his team at any time!"
J.C., Woodend
"Peter's professionalism and knowledge made me feel certain that my needs were being put first."
L. Hutchinson, Malmsbury
"Great service. Kept me informed throughout and really listened to what we needed."
J.C., Riddells Creek
"We were happy with the service provided and would recommend your services. We felt our needs were listened to and discussion tailored for us to move forward. Thank you."
A. Guillemet, Gisborne
"Very professional service. Products were explained well and all questions were answered promptly. Thanks for making it so easy."
T.O., Woodend
"We were very happy with your service, very professional and helpful. The refinance process was made easy for us to achieve a much better interest rate as well as great products."
S.H., Tylden
"Thoroughly professional service from start to finish. I could not recommend Mortgage Choice Macedon Ranges enough. Nicole Harman was fabulous."
K. O'Brien, Glenlyon
"Peter and especially Nicole, who we mainly dealt with, were very professional in their approach, often going beyond what we expected. This in turn made the process easier. They both replied to our questions promptly, guided us through the paperwork and even collected the signed forms in person. Thanks again Nicole and Peter."
S. Arkovits, Kyneton
"Great service, and a very high level of professionalism and knowledge to help guide us through buying our first home."
A. Knight, Woodend
Read more client reviews for Mortgage Choice Macedon Ranges
Helpful resources:

As Macedon Ranges mortgage brokers, our services include:
Home loans
Personal loans
Serving Macedon Ranges towns and villages, including Kyneton, Woodend, Tylden, Carlsruhe, Newham, Trentham, Macedon, Mt Macedon.