Mortgage Choice in Beaumaris & Bayside - Your local National award-winning Mortgage Choice Office
Looking for a home loan? Talk to Andrew & Jacqui Kerr, you local National Award Winning broker. We have over 20 Years experience in finding the right option for each of our clients.
Beaumaris
5.0 (101+ total reviews)
Aggregated from:







Call Us

Mortgage Choice Beaumaris

Office - 03 9589 1329

Fax - 03 9589 5879
Open Hours

Mortgage Choice Beaumaris

Monday to Friday
8:00am to 10:00pm

Free Appointment
Address
4 East Concourse
BEAUMARIS,

VIC

3193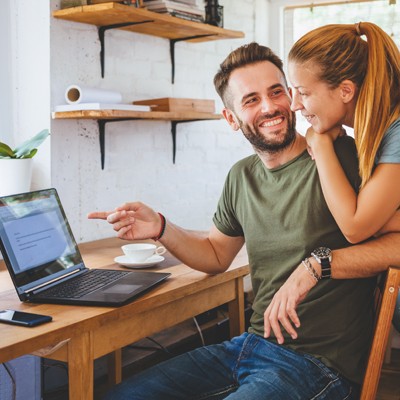 Latest home loan interest rates
Start your home loan journey today
We welcome Jacqui back to the business, spending the last 6 years as a business owner of a local real estate agent Jacqui is excited to return to the family business. Jacqui's experience as Director of Propety Management will be a wonderful resource to tap into when looking at new investment opportunities.
At Mortgage Choice Beaumairs & Bayside, we are here to help.
With hundreds of home loans to choose from, we find the right solution for your needs
Our vision is to secure the right home loan for you - and provide ongoing support to help you meet your financial goals now and in the future.
5 simple steps make your next loan easy
Mortgage Choice Beaumaris & Bayside saves you time, hassle and cost with a clear 5-step process:
We take time to understand your needs
We filter through the hundreds of available home loan options from dozens of Australia's leading banks and lenders
We pinpoint the loan(s) most suited to your needs - you make the final choice
We work alongside you from application to settlement to ensure a hassle-free, seamless loan process
You'll have the benefit of our support over the long term to ensure your loan continues to meet your needs if your circumstances change.
We support you achieving personal goals through our unique personalised cashflow management assistance.
This incorporates annual reviews and assessing your financial structures, including your home loan, to ensure you remain on track to achieve your goals.
Our home loan service is free of charge
At Mortgage Choice Beaumaris there is no cost to you as the lenders pay us.
We can meet with you in any suburb throughout Melbourne. Our phone, fax and email service means we can meet your needs if you are located interstate or overseas.
Experince the exceptional level of customer support that has made Mortgage Choice Beaumaris & Bayside a multi-award winning home loan broker.
The team at Mortgage Choice Beaumaris service the suburbs of: Sandringham, Black Rock, Beaumaris, Cheltenham, Mentone, Parkdale, Mordialloc, Edithvale, Seaford, Carrum, BonBeach, Brighton, Brighton East, Hampton, Hampton East, Moorabbin, Bentleigh, Bentleigh East, McKinnon, Ormond and Heatherton. We also assist clients from anywhere in greater Melbourne and interstate.
A free home loan health check is simple and easy. Call us today on 03 9589 1329 or 0418 306 133 or call in and see us at 4 East Concourse, Beaumaris
The right home loan for your needs
Our mission is to find the right home loan for your individual needs and to always have your best interests at heart. Plain and simple. Which is why we have such a wide range of lenders to choose from. We can search through hundreds of products to find something tailored to your situation. ~
Client reviews
In this climate of interest rare rises dont hesitate to refinance to stay ahead and if you do and want great service and support then I highly recommend Andrew and Jacqui Kerr at Mortgage Choice Black Rock
As first home buyers my partner and I werent really sure what to look for in a broker or with anything related to a mortgage. Andrew and Jacqui were the perfect solution to that, keeping us well informed and updated throughout the whole process which made everything a breeze and stress free. Wouldnt hesitate to use them again and would recommend them to anyone looking for a brilliant broker
Andrew Jacqui are great to deal with always keep you updated with your application progress along with being very quick at responding when you contact them.
Andrew and Jacqui came highly recommended to us from one of my colleagues who recently purchased their first house. We were really impressed with Andrew and Jacqui - both were very responsive, often responding to information we sent through within half an hour. They were very helpful and incredibly quick in looking at our information to find the best option for us. Andrew spent time often outside of wo... read more
I highly recommend Mortgage Choice Beaumaris if you are looking for a home loan to suit your needs. Finding and applying for a home loan can feel like a lengthy and tedious process but Andrew and Jacqui are very experienced they made everything extremely easy for me and things run very smoothly.
Thank you so much
Andrew, Jacqui and Renee are all very knowledgeable and efficient. I highly recommend them for home loan approvals.
Had a great experience with Andrew, Renee Jacqui. Andrew was thorough every step of the way in purchasing our house.
Amazing service from this team. They make everything easy and simple - and provide great overall advice. Couldnt recommend highly enough, simply excellent.
This is our second mortgage obtained with Mortgage Choice in Bauemaris. Andrew, Renee and Jacqui are incredibly helpful throughout all steps of the process. They answered all my annoying questions, made adjustments and took care of so much of the process. I am thankful for their help and responsiveness all the way through
Renee and Andrew have been nothing but incredible, beyond helpful throughout the entire process and always there to help with any hurdle you come across. Couldnt recommend them more
First home buyer's guide
Purchasing your first property can be an overwhelming process and there may be steps you are unsure or unaware aware of. This guide will walk you through all of the steps involved in the buying process.