David Alderdice - Mortgage Broker servicing the areas of Toowoomba, Darling Downs, Roma, Warwick & surrounds
David's mortgage broking expertise is backed by 20 years in finance and banking, and his work ethic is underpinned by honesty, attention to detail and high-level communication skills. David services the areas of Toowoomba, the Darling Downs, Roma and Warwick region.
Middle Ridge
4.9 (136+ total reviews)
Aggregated from:







Call Us

Mortgage Choice Middle Ridge

Mobile - 0405 123 899
Office - 07 4646 4233
Open Hours

Mortgage Choice Middle Ridge

Monday to Friday: 8:00am to 6:00pm
Out of Office Hours: available upon request

Free Appointment
Mobile Broker
Servicing Toowoomba and surrounds. Meet at our Toowoomba office or we can come to you.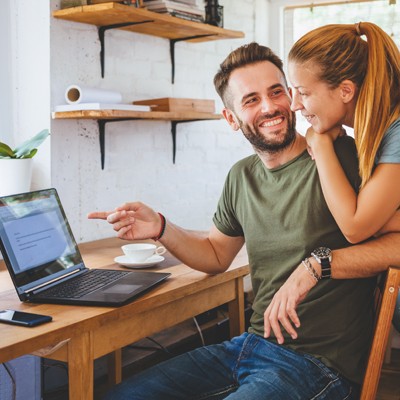 Latest home loan interest rates
Start your home loan journey today
Services
As a trusted mortgage broker, David helps his clients not just with their immediate borrowing needs but with their long-term financial goals. He is dedicated to providing outstanding customer service and provides ongoing support to clients along their journey.
Home loans

Investment loans

Refinance loans

Construction loans

Renovation finance

Equity release

Deposit Bonds

Bridging loans

Personal Loans

Car and asset finance

Business equipment finance

Commercial property finance

Business loans
Areas I service
David can provide expert advice and assistance for all your loan requirements, including construction lending. He is mobile across Queensland's south coast, including but not limited to:
Toowoomba

Darling Downs

Warwick

Roma
What is your borrowing power?
When you're looking to purchase your property, it's important to have a  good understanding of how much you can borrow. We know that finding out how much you can borrow for a property can be a bit confusing, which is why we have some great resources at your disposal.
Why not check out our easy-to-use home loan calculators here or get in touch with David to discuss your unique situation.
Also, consider downloading our range of free property & home loan guides that will have all the information you'll need when researching purchasing your first home, investment or refinancing options.
Check your borrowing capacity
Are you eager to understand your borrowing capacity based on your salary and financial commitments? At Mortgage Choice servicing in the areas of Toowoomba, the Darling Downs, Roma, Warwick and surrounds, we understand that finding out how much you can borrow for that dream home you've always wanted can be tricky, which is why we have some awesome calculators to make it easy!
Check out our free home loan calculators here or get in touch with us to discuss your unique circumstances.
Ready to kickstart your journey to homeownership?
We'll assist you along the way and do all the legwork for you! Call David today on 0405 123 899.
The right home loan for your needs
Our mission is to find the right home loan for your individual needs and to always have your best interests at heart. Plain and simple. Which is why we have such a wide range of lenders to choose from. We can search through hundreds of products to find something tailored to your situation. ~
Client reviews
David, Georgia and the team have been amazing to deal with. Our loan application was certainly trickier than the standard application with moving objectives and nothing seemed too difficult for them and so relieved with the positive outcome. I personally highly recommend them
David has been our mortgage advisor since 2004 when we bought our very first home. Since then he has efficiently and confidently assisted us to purchase other homes here in Australia and Scotland. His Team now with Georgia and Vanessa continue to provide such a high standard of care and explanation through the property purchase process. Highly recommended
David and Georgia have been fantastic to deal with and we highly recommend their services. Their knowledge and advice makes the process smooth and less stressful. We wish we had of known them when we bought our first home
What an amazing team David and Georgia. All the way through 'you'll never walk alone'. They take the time and the patience to explain everything in plain english. You feel secure and in good hands. They make the impossible possible. But over all it was like talking to a long-time friend. Georgia even recommended the solicitor she used before. The three musketiers. They were smashing. You just sit back and celebrate when it is all done for you. Thank you so much friends. Ivonne Roy
David and Georgia are an amazing team. After unexpectedly being let down by a bank close to financial deadline, David did the seemingly impossible getting my loan across the line in just the few days extension granted. I am very impressed with his willingness to avail himself at all hours of the day and evening to answer questions and assist in any way possible.
David minimized the stress of the whole process.
My only regret is that I didn't know about David and his team sooner.
Absolutely recommend David and his team. They were absolutely fantastic in dealing with the bank and the paperwork that makes refinancing frustrating. Honestly, you wont get a better team.
David and his team are absolute legends, so easy to deal with and know their stuff. Very quick and got exactly what I was wanting. Highly recommend
I found David Alderdice very approachable and professional. Would highly recommend his services to anyone.
David provided a very professional service and is obviously a very experienced and knowledgeable financial advisor ably assisted by Vanessa. I would recommend having a chat with David if you are looking for loans advice.
David is a helpful and friendly advisor who went out of his way to help us both in and out of office hours. He was professional and provided a great service. We would definately recommend going with David.
First home buyer's guide
Purchasing your first property can be an overwhelming process and there may be steps you are unsure or unaware aware of. This guide will walk you through all of the steps involved in the buying process.