Call Us
Office - 0421 669 163
Fax - 07 3211 8944
Open Hours
Monday: 8:30am-5pm
Tuesday: 9:30am-5pm
Wednesday: 8:30am-5pm
Thursday: 8:30am-5pm
Friday: 8:30am-5pm

Weekends and After hours by appointment
Mobile Broker
Servicing Sunnybank, Mt Gravatt and surrounds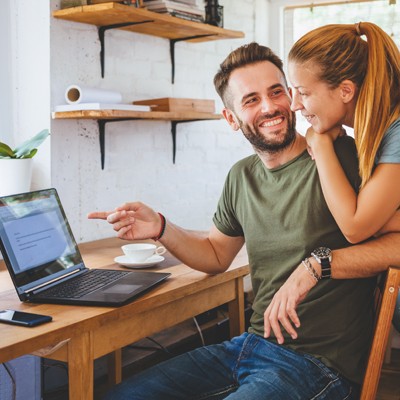 Latest home loan interest rates
The right home loan for your needs
Our mission is to find the right home loan for your individual needs and to always have your best interests at heart. Plain and simple. Which is why we have such a wide range of lenders to choose from. We can search through hundreds of products to find something tailored to your situation. ~
It was a pleasure working with people who were so professional and had the best interest of the client in mind. I was always confident that I was being given the best, current options for me and my family which made the final selection of product easier. I always felt that Brice acted in my best interests and I appreciated that he listened to my needs and sought the best product for us. James' follow up support was extremely valuable and greatly appreciated when our current bank was slow to act. I would have no hesitation in using Mortgage Choice again or recommending them to others.
David Wang was super helpful and patient with us in the process of purchasing our first place. Highly recommended
David is very professional. One of the best brokers I've worked with. He is always contactable and answers all my questions quickly. He always goes the extra mile and looks for the best option for me. Definitely recommend.
My wife and I were recommended to Mortgage Choice Charlie Zhu by our property agent when we were searching for finance for our Chelsea investment in Brisbane Bowen Hills. As newcomers to both the process of purchasing a property investment and to Brisbane, it was a great relief to us to be able to discuss our financial needs, in detail, at each stage of the purchase process and in situation where we felt we could have complete confidence in the straightforward advice and service that we received from Charlie.

We have repeatedly proved to ourselves that we received the best possible advice and assistance from Charlie in negotiating and settling our financial requirements and we have had no hesitation in recommending Charlie to friends who are also engaged in a similar exercise.

Chelsea apartment owner

Danli and Mandy at Mortgage Choice are really helpful and willing to listen to our requirements. We have learnt a lot from the conversations with Mortgage Choice and find the right package we actually need. Danli and Mandy offer useful advices to help ease our worry over the plan to adapt to new mortgage and good followup in terms of mortgage application and processing. They have tried their best to assist us to finish the loan settlement in a short period of time. Daniel and Mandy are also responsive and informative over the communication between the banks and us so we can get the updated information about the progress. We are happy to walk through the plan to our dream house with Danli and Mandy at Mortgage Choice and definitely recommend them to our friends and relatives when they have mortgage needs.
Sara & Myself would personally like to thank Brice and the great support team of James & Rob that have made our dreams come true - Brice's expertise in our loan circumstances truely shined - Hats off to Mortgage Choice CBD - words can't express our Happiness towards the end result our First Home
Dave and Mandy has been very on the job to help secure a loan with great advice. I feel that they have gone beyond good services and went an extra mile or two.

Brice and James from Mortgage Choice Brisbane have made the process for my partner and I very easy to get into our first home. Brice and James worked with our builder and bank during construction to handle all payments. Made it very easy and pain free for us. Highly recommend Mortgage Choice Brisbane.
Staff are all nice, quickly responded and always prepare to help clients solve any problem, even during non-working hours. I'm satisfied with the service and appreciate what Charlie and Mandy have done for us. There's no doubt I will recommend your great service to people around us. Thank you.
I was introduced to Mortgage Choice - Charlie through Ironfish. I will highly recommend them for future projects & loans.

They are very professional and experienced in the loan markets. They were always available and ready to give suggestions regarding your loan and have up to date information regarding what's going on in the market.

We were very happy with them and will recommend them to our friends and family. It was our pleasure to do business with them.
Thanking you

I will not hesitate to put my highest score to Charlie He is one of the best professionals I've seen.I think my assessment is more convincing, because not only my personal broker, at the same time due to work reasons, he is the main representative and maintaining relationships between our two companies.

We work together in many cases for my client's investment loans, including a few of my loans, I feel his superb level of business skill, accuracy is very dedicated to his work and customer enthusiasm, and always responds quickly and efficiently.

Due to the time difference between two hours, I often bother him late at night and ask on the customer's problem, Charlie never complains and very patiently and quickly to help me and my colleagues to find out the answers.

He has also given many non-customers a lot of free advice, some short term is not likely to become his customers, but he has always treating everyone equally.

First saw Charlie, I think he is so young, it is difficult believe and connect him to award-winning broker from his personal introduction, but now I have been convinced of why he would get so many awards. Charlie is a leader in all our dealings with many mortgage brokers, and I am honored to have the opportunity to work with him.

Talking finance is like another language for me and I need people who I trust to translate what's happening in a clear and effective way that is also personal to my circumstances. My questions were always answered clearly and the advice I received exceptional. I would have never considered the financial options I now have and am more than comfortable with. A huge thank you to Brice and James for having a positive impact on a major change in my family's lives and future. To me, the leap was terrifying and these gentlemen were the security net that I am happy I trusted.
Would really like to extend a thank you to Brice and James from the team for assisting us with our first home loan. The prompt service and communication has been outstanding and is still ongoing even after we have settled. Thank you!
Brice has been so professional, helpful and loves what he does. He is awesome at his job and a lovely person too. You guys are lucky to have him there and I am lucky to learn from his expertise. A thousand thanks to Brice.
David was very patient and always responded immediately and professionally to emails. Would recommend to first home buyers or people who maybe need a bit of extra assistance.
First home buyer's guide
Purchasing your first property can be an overwhelming process and there may be steps you are unsure or unaware aware of. This guide will walk you through all of the steps involved in the buying process.