Call Us
Office - 02 9674 8014
Fax - 02 9674 5810
Open Hours

Monday - Friday: 9:00am - 5:00pm


After hours by appointment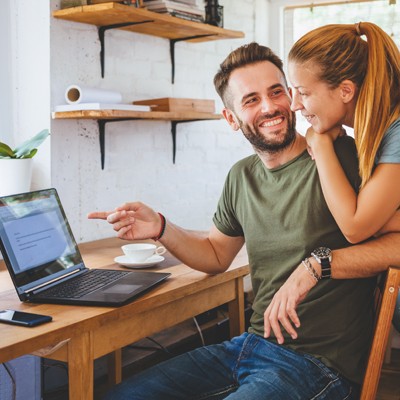 Latest home loan interest rates
The right home loan for your needs
Our mission is to find the right home loan for your individual needs and to always have your best interests at heart. Plain and simple. Which is why we have such a wide range of lenders to choose from. We can search through hundreds of products to find something tailored to your situation. ~
Irene and her staff make the 'Mortgage Choice' easy. They are quick and professional and get the job done without wasting my time. Throughout the process I was kept well informed and if I had any questions or queries the answers were just a phone call away. I have already recommended Irene and her staff to my friends and family and would not hesitate in recommending her to anyone.
The level of service, attention to problems, and advice is rare in this day and age. It takes us back to another era when such personal service, beyond the immediate requirements was more common. Thank you, Irene Cujko.
Irene, you and your team are fantastic. We loved that Mortgage Choice kept in regular contact and kept us updated. Customer service is A1. We are happy with the product and achieved our desired outcome. All our friends know we used you.
All staff were extremely pleasant, helpful and knowledgeable about their products and roles. I have already recommended friends to your service. You all made the process less stressful. Thank you
It has always been our dream to get onto our own acreage. When we learnt that where we had the kids (horses) was going to be further developed into small house blocks we approached Irene for help. She calmly helped in 3 separate applications to finally secure a home where all our 4 legged kids could be at home in one location. When we unexpectedly had to change our purchase property 4 weeks into settlement and renegotiate loans and valuations on a different rural property with mortgage insurance. She took it all in her stride, contacting banking managers and pushing through a brand new application with little over a week to match up with our sale date. She went above and beyond what could be hoped in locking everything down and getting paperwork drawn up. I wouldn't hesitate in recommending Irene and will certainly contact her when we need to renegotiate loans even if it means traveling now to see her !
In terms of services provided 12 out of 10. Why 12? This team will go the extra mile to provide excellent services. From Irene to Serge and Shubha my angel they were all superb at what they do. This team made everything so easy. I will not hesitate to recommend the team to anyone. thank you for making our dream to own a house come true. Without your help this would have very difficult for Evelyn and I. So we wish you all more power and may you continue to make peoples dream come true. Thank you Eddie and Evelyn.
Dear Irene and Shubha,

THANK YOU!!!

All your support and help in organizing my home purchase has been wonderful.

Wishing you a fantastic 2014

Sue Wilson
Every transaction that we have with Irene and the staff at Mortgage Choice Kings Langley, is always quick, easy and convenient. My wife and I are always impressed with the service and the plain English explanations of financial processes which can be very complex.
Hi Shubha,

That is great news and thank you for your assistance in getting this done. Please pass on our thanks to Irene, she's been fantastic in servicing us and we really feel grateful for her efforts.

We have no qualms in recommending friends and family as well as work colleagues to your office. The dedication and professionalism shown is second to none!

Thanks again, and if I have any queries with regards to the loan I will be in contact.
I live a busy life style and don't have a lot if time to shop around for loans. I also find the process if finding the best loan difficult to get my head around. It was great using mortgage choice as I was shown a comparison of different loans and offers and was able to choose the best loan for me. Having a mortgage angel was also great as I had regular updates and never had to call at any time to attend to any issues or concerned. I am very happy with the service and would recommend mortgage choice to anyone needing a home loan.
Irene is fabulous!! She has been our agent and adviser since we purchased our first property in 2001. Over the years she has assisted us with loans and purchases for a few properties. After our initial consult with Irene we have never even considered anyone else. She is unparalleled in her support and commitment to her clients.
I can highly recommend the services of Mortgage Choice and the help I received from both Irene and Shubha. Extremely professional and helpful in getting me the right home loan. From day one to completion I was given updates and kept in the loop as to what was happening with my loan. They genuinely cared and were happy that they could get me the best loan and refinance me from my current mortgage and save me quite a bit of money in doing so. Thankyou Mortgage Choice
A huge thank you to the team at Mortgage Choice. Irene & Shubha were fantastic and I cant speak highly enough of the level of service we received. Our home build, construction loan and now new mortgage loan was a stressless exercise thanks to the professionalism and industry knowledge of the team. Thanks again for making our dream home a reality
I just wanted to thank you and the team for all your help over the 6 months it took to get my loan sorted. You and the team were so professional and helpful through a really stressful time. I will recommend you to everyone I meet. Best of luck to everyone in the future - Thankyou again



We were very impressed with the service, made us feel less stressed about our situation. We felt this is the best organisation we have ever dealt with making us feel at ease through the whole process and would recommend them to everyone.
Step-by-step guide to home ownership
There are many steps involved in purchasing a property which can vary between residential and investment properties. This guide explains each step in order as well as what is involved at every stage of the purchasing process.