Your local mortgage broker & home loan expert | Scarborough, Karrinyup & surrounds
Getting a home loan can be confusing and somewhat daunting. Our home loan service includes finding you the right home loan from our wide range of lenders and helping you through the process to settlement - all at no cost to you.
5.0 (24+ total reviews)
Aggregated from:






Call Us
Office - 0410 349 772

Fax - 08 9296 7867
Open Hours

Monday - Friday: 9:00am - 5:00pm


After hours by appointment
The home loan experts in Scarborough & Karrinyup are ready to help.
There are thousands of home loans on the market right now. How do you know which one to choose? Finding the right home loan can be daunting. The Mortgage Choice team in Scarborough help take the hard work out of the shopping around by doing all the research for you, and helping you through the process, at no cost to you.
Our range of home loan lenders
Going directly to your lender can mean that you only have access to a limited range of home loans, some of which may not suit you.
At Mortgage Choice, we have a wide range of home loan lenders, including all the big banks and some specialist lenders, to make sure we can find you the right one.
We look through the various rates, features and loan structures available and find the product that's going to benefit you most - which could save you money in the long run.
Our home loan service is no cost
As your lender pays us after your loan settles, our home loan service is no cost to our customers.
We do all the paperwork & follow up
After finding you the right home loan, our team help you put together all the documents needed, complete the paperwork on your behalf and submit to the lender for approval.
We then answer any questions from the lender on your behalf and make sure the loan is progressing smoothly to pre-approval and settlement.
We know the market and the process
Husband and wife team, Julia & James know the home loan market and processes well, making sure they get you the right home loan that suits your life.
They also have the experience behind them to ensure the best chance at getting your home loan approved.
Julia worked as a bank manager for many years and knows both sides of the application process - from the lenders perspective as well as the customer's.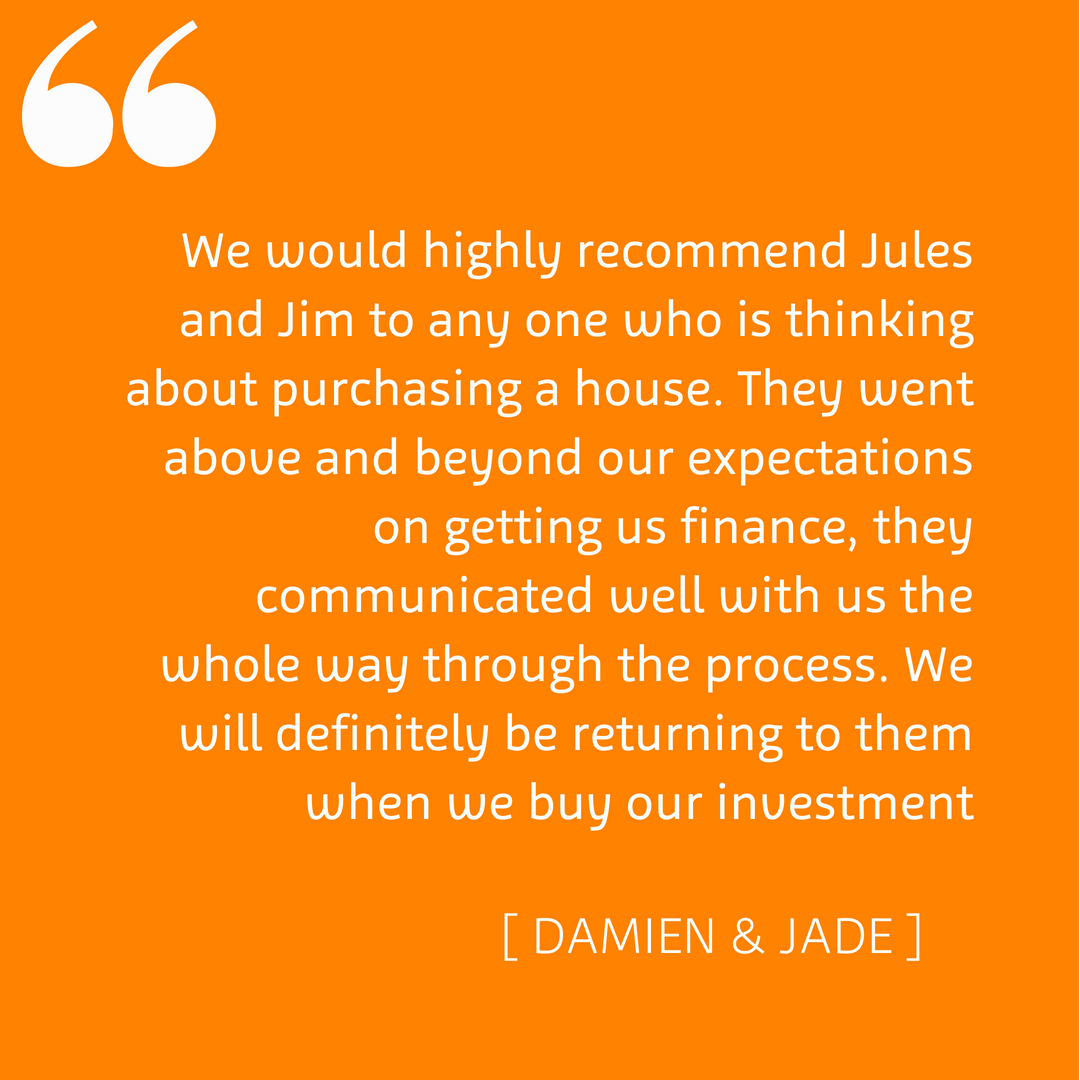 Find out more about what our clients have to say.
Your needs are unique
Your needs are unique so we take the time to understand what's important to you and what you want from your home loan. You might want a guarantor loan, multiple offset accounts or even a portable home loan to take with you when you move. There's lots of great features available to help make your loan feel tailored to your life.
We are a mobile team
Our team are mobile and happy to meet at a time and place that suits you. We would love to help you get started in the process of buying your first or next property.
Call us and book an appointment today on 08 6296 7218 or click on the Contact Us button at the top of the page.
We can help you with
Home loans

Investment loans

First home loans

Personal loans

Car loans & buying

Equipment finance

Business finance

Insurance

and more
Home loan resources
Use our home loan calculators 

Watch our simple home loan videos 

Read our finance & property blog
The right home loan for your needs
Our mission is to find the right home loan for your individual needs and to always have your best interests at heart. Plain and simple. Which is why we have such a wide range of lenders to choose from. We can search through hundreds of products to find something tailored to your situation. ~
Client reviews
I highly recommend Julia She helped me to refinance and I saved heaps. She's really helpful and the whole process was easy peasy.
I cannot recommend Julia more highly. She got us an excellent deal on our mortgage and was able to give us valuable advice. She was also very friendly and took the time to understand our needs and cater to them. I would particularly recommend her for Australians working overseas looking to get a mortgage approved.
I engaged Julia's services from Hong Kong for a complex mortgage application. Throughout the process, Julia was knowledgeable, understanding and worked hard to get our mortgage approved. No other broker that we approached was able to do this. During the process, her advice saved me considerable time and helped me to avoid unnecessary fees. I would recommend Julia without hesitation she really went above and beyond.
Made getting my first home a really easy process.
Julia and Jim made everything so smooth. They were both very professional and knowledgeable. Thanks for all your help in getting us our first home
We've been dealing with Julia and James for the past 9 years and their service is always top notch. We are consistently getting the best rates and they make the refinancing process so easy. Highly recommended.
Jim and Jules are great, honest, hard working people with good hearts. Only want the best for their clients and I have had the privilege to get to know both of them on a personal level. Great communication skills and market knowledge helps get me the best outcome every time. Thank you very much Jim and Jules for all your hard work and efforts over the years. Couldnt be any more happier with the results and to have you guys on my side. My wife and I are forever Grateful. Thank you again
If your looking to buy a house. This is the team you need on your side. From the very start of communication I felt like we were in safe hands and have only ever been given honest and helpful information. Thank you so much for going the extra mile and making everything possible for us.
Good afternoon Jim,

I would like to thank you and Julia for all your hard work getting the
payments reduced. The repayments now are $xxx per fortnight. Which
is fantastic. I always recommend you if I hear anybody talking about
housing loans.
All the best to you both and have a fantastic year next year.

Kind regards

Margaret
Good afternoon Jim,

I would like to thank you and Julia for all your hard work getting the
payments reduced. The repayments now are $xxx per fortnight. Which
is fantastic. I always recommend you if I hear anybody talking about
housing loans.
All the best to you both and have a fantastic year next year.

Kind regards

Margaret