Upwey
5.0 (19+ total reviews)
Aggregated from:







Call Us

Mortgage Choice Upwey

Office - 03 9877 6471
Open Hours

Mortgage Choice Upwey

Monday - Friday: 9:00am - 5:00pm


After hours by appointment

Free Appointment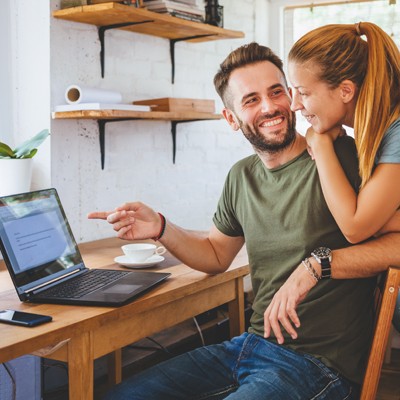 Latest home loan interest rates
Start your home loan journey today
Go to www.mortgagechoice.com.au/whitehorse1
Hi, we're a family run business located in Melbourne's Southeast. Our experienced team is lead by Peter Ruddock (who has been working in the industry for over 20 years), Lynne Ruddock and Simone Ruddock.
Our aim is to get you the loan that fits your needs and then assist you in putting strategies in place to pay it off as soon as possible;  working to your schedule and not the banks.
Buying a property is a big decision but our team is here to do all the leg work, so you don't have to worry. We share our experience with you so you can make the right decision, and when the time comes, we can help with investing, insurances, and addition loans too.
Why you should trust us
OUR HOME LOAN SERVICE HAS NO CHARGE
Lenders pay us, so you don't have to. 
20 YEARS EXPERIENCE
We've been in the industry a while and by choosing us, we do all the leg work and provide you with the advice you need to make an informed decision. 
WE CAN MEET AT A TIME THAT SUITS YOU
Yes, we're located in the southeast but with technology these days, we can meet you via video call.
WIDE CHOICE OF LENDERS
With over 20 lenders on our panel to choose from, we'll help you analyse hundreds of loans, from big banks to small ones to find the loan that suits your needs.
The right home loan for your needs
Our mission is to find the right home loan for your individual needs and to always have your best interests at heart. Plain and simple. Which is why we have such a wide range of lenders to choose from. We can search through hundreds of products to find something tailored to your situation. ~
Client reviews
Truly outstanding Redefined the meaning of customer service
Simone was a tremendous help brokering my mortgage and when all of a sudden everything had to happen in a hurry, she was on top of it all and really put my mind to ease so I could sit back and enjoy the ride
I couldnt be happier with all the help, guidance advice that Simone Peter have provided to us. From the first time we made contact over a year ago, Simone helped us get a better understanding of our savings goal and borrowing power and within a year we were ready to take the next step and both Simone and Peter really helped us through every step of our loan application, understanding all the costs... read more
Could not be happier with the service and assistance Simone and the team provided throughout my home loan process. Simone made an incredibly stressful time for me an easy experience and was constantly available to help assist me and answer any questions I had through the process. Highly recommend contacting Simone and the Mortgage Choice team if you want high quality customer service and expert advice.
Simone was invaluable in assisting me to navigate the options of my mortgage. This was so refreshing amongst the overload of rate reports in the media and widely varying opinions of experts. The banks were very limited in their assistance and explanations, but Simone was able to clearly explain information, listen and provide relevant answers, appropriate to my circumstances. My experience with Mortgage Choice was reassuring at a very stressful time. Thank you Simone.
An absolute amazing service, so helpful and kind. Was able to to answer every question I had and didn't make me feel dumb for asking some silly questions. I would 100 recommend everyone uses these services. And have already. Simone is so knowledgeable and so helpful. It was a real pleasure her on my side when buying a house. And the team that Simone works with is amazing and incredibly hard working and helps you get the best house loan that is out there.
Thank you so much for all your help
Simone was so helpful throughout our whole buying process. We appreciate so much what you guys have done for us
I would highly recommend Simone and the team at Mortgage Choice. It has made the process of organising our home loan as stress free as possible. They have been professional, quick to communicate and offer helpful advice. Thanks guys
Simone has been an absolute pleasure to deal with. She has helped us though the whole process and we appreciate her support. If you need a mortgage broker definitely give her a call.
Simone is an exceptional broker in the way that she goes above and beyond for her clients to achieve the best lending result. Herself and Lynne from Mortgage Choice have proactively communicated updates and absolutely acted in my best interest to ensure a suitable loan product met all my requirements.
First home buyer's guide
Purchasing your first property can be an overwhelming process and there may be steps you are unsure or unaware aware of. This guide will walk you through all of the steps involved in the buying process.