Call Us
Office - 02 9601 4333
Fax - 02 9822 7888
Open Hours

Monday - Friday: 9:00am - 5:00pm


After hours by appointment
Address
Suite 9a, Level 1, 138-140 Elizabeth Drive
LIVERPOOL,

NSW

2170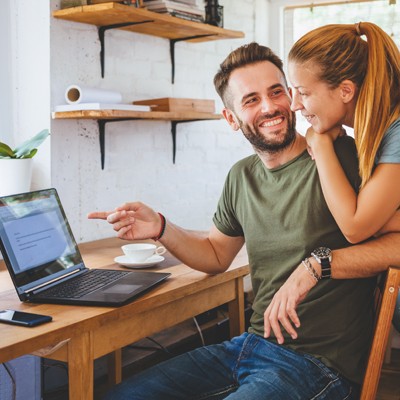 Latest home loan interest rates
The right home loan for your needs
Our mission is to find the right home loan for your individual needs and to always have your best interests at heart. Plain and simple. Which is why we have such a wide range of lenders to choose from. We can search through hundreds of products to find something tailored to your situation. ~
Having dealt with Mortgage Choice Liverpool, we will always cherish the experience.
Armando is a professional and dedicated person you will ever meet.
We had a pleasant time dealing with him for our Home loan and he takes his time to explain to you the nitty gritties of home loans and the best deals available.
We will recommend anyone who wants the best deal on Home loans to visit or contact Mortgage Choice first, and you will never regret the experience. For fast and efficient home loan deals, Armando Iodice of Mortgage Choice Liverpool is the man to see.

We would highly recommend Mortgage Choice - Leichhardt and Phillip for all your home loan needs. He listened to our needs and then structured a loan to suit. We were kept in the loop during the process with everything ready at time of settlement. We really didn't have to do much apart from focus on our new purchase. Great service.
Dear Armando,
I can never repay you enough, but this is just a small token of my absolute appreciation for everything you did for me in helping me achieve buying my own home. You really went above and beyond, and for this I am truly grateful.
Thank-you again.
I have had interest in starting my own investment portfolio for quite some time but like most people didn't know if I could get a loan. I made a simple enquiry on the Mortgage Choice website and that's how I got in touch with my Mortgage Choice broker, Armando.

But I wasn't too keen about meeting with a stranger and going through all my personal financial details. Plus, it just felt like a lot of work so I kept putting it off but Armando's persistence convinced me that all it took was just one meeting with him to see if this is possible or not. And it was at the first meeting, I began to realise that starting my own investment portfolio is not a dream. It was because Armando took the time to listen and asked good questions to clarify what I wanted to achieve. He showed me that having an investment portfolio is not a distant dream but a possible reality.

During the process of the loan, he was always available to talk and he explained things in layman terms. I felt empowered and well assisted throughout the whole process. He has a good grasp of the nature of property investment so I was convinced that I was in good hands, someone who is not just a mortgage broker but with a wealth of knowledge about investment and most importantly, I was happy with the competitive rates he was able to negotiate with the bank on my behalf.

I believe there has never been a better time to start your own investment portfolio. And the first thing the experts would tell you about investing in properties is to find a good broker who would fight for you, and find the right loan. I believe I have found my choice.
As a long time client and mortgage holder with one of the Big 4 Banks, I was continually frustrated with the lack of service and customer loyalty shown by my bank back to me as a consumer.

In working with Armando Iodice at Mortgage Choice, I got to see the choices I should have explored years ago that would have saved me years in interest repayments. As an Advisor, he understood my situation, presented me with a variety of options that allowed me to take control of how I managed my own mortgage. In addition, Armando's background in car financing also gave me invaluable insights into car loans and leasing options.

So take back control of your mortgage, use Mortgage Choice to make it happen.
It all started like this, the day came when we decided it was time to look into borrowing money to buy a house. We heard about Mortgage Choice so we rang them and Armando from Mortgage Choice spoke to us by phone and not long after that he came to our house and spoke to us about borrowing money and to discuss our options. Armando helped us in so many ways, he is very professional and easy to talk to. His communication was excellent and always kept us informed as to
what was happening over the course of time.

As we did not know much about borrowing money and all that goes with it Armando did everything for us, he even came to meet us where we have lunch to discuss matters. Armando is a great person and easy to talk to. He will go out of his way to help you. If you need a good broker then Armanda from mortgage choice is your answer, you will not be sorry. We were very happy and fully recommend Armando from Mortgage Choice in Liverpool.

Re-financing can be extremely stressful and is often laborious and time consuming. Armando Iodice and the team at Mortgage Choice are not only first class professionals but absolute gentlemen. They made the process painless, engaging and their sensitivity and attention to detail is invaluable. I would recommend them unconditionally.
We've been working with Armando at Mortgage choice since 2016 and have found him to be an extremely knowledgeable mortgage broker. On countless occasions Armando has gone above and beyond what is expected and has saved us ten's of thousands of dollars in the process. We look forward to working with Armando on our next property purchase.

Dear Phillip, Thank you so much for all your efforts. We know that you were one of very few brokers that could have dealt with our complex request. Would have no hesitation in recommending Phillip to our friends, family or colleagues.
Phillip made the whole process so simple. His calm attitude and explanation throughout the loan process placed us at ease. His guidance in the structure of our new loan was invaluable.
This was our first experience in using a Mortgage Broker, previously going through a major lender. From the outset our experience was fantastic, the attention to detail and knowledge of products and loan structures helped to guide us. Above all we were kept in the loop and Phillip was always on hand to answer our constant questions. Happy to recommend Phillip and Mortgage Choice.
Dear Armando, After seeing some reviews on internet about you, We have decided to approach you for our home loan. I wasn't sure initially about reviews thinking is it too good to be true? but it didn't take long for me to know, your professionalism, dedication, knowledge and getting the best deal within the circumstances are some of the things that no one can match you. And for anyone who is reading this - you can rely on Armando if you want a trusted advise about your finance needs. Thanks again for fulfilling our dreams and getting best deal
Great Service. The time spent discussing our options, risks and benefits helped guide us to set a realistic expectation on our borrowing capacity and ultimately our new purchase.
Excellent service provided by Armando. He constantly kept us updated throughout the whole process, from application through to settlement, and provided us with many options. I highly recommend Mortgage Choice Liverpool.
As a first home buyer, I highly recommend Armando as I received exceptional service from the initial application to settlement. Not only did Armando find the best home loan for me, but he was able to assist me with all my queries every step of the way. As I had very little knowledge in purchasing property, he was able to talk me through every step which helped me tremendously. Armando was always quick to respond to emails and calls... even if it was on the weekend! I will happily continue working with Armando from Liverpool Mortgage Choice in the future.


Step-by-step guide to home ownership
There are many steps involved in purchasing a property which can vary between residential and investment properties. This guide explains each step in order as well as what is involved at every stage of the purchasing process.