Call Us
Office - 0435 467 512
Open Hours

Monday - Friday: 9:00am - 5:00pm


After hours by appointment
Address
Unit 14/87 McLarty Avenue, Joondalup 6027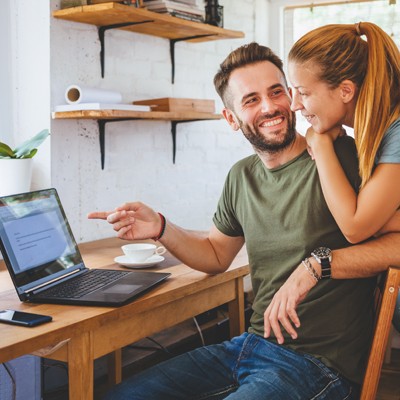 Latest home loan interest rates
Start your home loan journey today
Expert support with your next home, car or business loan
Hi, I'm Danni! My focus as a Mortgage Choice broker is finding everyday Australians just like you, the right home loan option for their property purchase.
With over 20 years in the finance industry, I am well-equipped to help you make better choices with your loan, lender and loan features - so that your finances work well for you in the long run.
I work closely with my clients to understand their goals, and can find the finance options to get them there. I do all the legwork, research and paperwork to make your next home loan as easy and stress free as possible. My promises to you:
We have great home loan options to choose from
Your local bank will only have home loan options from that particular lender for you to choose from. Having more options for features and interest rates can often mean you're better off in the long run.
As a Mortgage Choice broker, I am accredited with over 25 good quality lenders - from the big banks like ANZ, down to more specialist lenders like Pepper Money. That means, you have thousands of home loan options to choose from, to find one that fits you best.
I will go through each offering, comparing these options to your goals until I find a great one for you.
Our service is no cost to you
As a mortgage broker, my home loan service is no cost to you as the lender you choose pays me a commission after your home loan settles. It means that you don't pay me anything for helping you secure the right loan for your home or business.
Lenders get a lot of business from mortgage brokers, so it makes sense for them to work closely with us to give us competitive options for our clients.
We do the legwork
It would be no exaggeration to say that the home loan process - not to mention your initial research - can take hours and hours. It can sometimes be a stressful process and there are some inside strategies that can give you the best chance of approval.
As your local home loan expert at Mortgage Choice in Joondalup, I will do the legwork for you - with as little interruption to your busy life as possible. My experience gives me a unique insight into the bank's processes and mechanisms, to use to your advantage to get you the best deal.
We work for you and not the banks, which means we work hard to get you the best deal! I will do all the paperwork and follow-up with the banks - answering any questions on your behalf.
Always get straight advice
Your finances are an area in your life that you need transparency and trusted advice.
Small things can make a big difference when you're choosing a home loan. I will cut through the jargon to recommend the right finance options for your next property or business.
I service Joondalup and its surrounding suburbs
Your trusted home loan expert
I would love to get started on finding you the right loan. Call me today on 0435 467 512 or book an appointment. I have an office on McLarty Avenue in Joondalup, as well as the flexibility of being mobile - so I can meet you at a time and place that suits you best.
The right home loan for your needs
Our mission is to find the right home loan for your individual needs and to always have your best interests at heart. Plain and simple. Which is why we have such a wide range of lenders to choose from. We can search through hundreds of products to find something tailored to your situation. ~
Client reviews
Danni and Russell have been nothing short of amazing through the refinancing of my property. I felt I was in safe hands the entire way. They explained the process, answered all my questions, and were diligent and detailed with lodging the paperwork to get the refinancing done. I would not hesitate to recommend Mortgage Choice Joondalup, and will be using them again in the future.
Danni was extremely helpful and friendly and she made the process extremely stress free. I'd highly recommend her to anyone.
Danni was nothing short of amazing - despite the issues the bank threw at us she managed to get everything over the line and kept this first-time home builder's dream alive. Can't recommend her services highly enough.
Danni has been a pleasure to work with. Very professional and thorough. Will highly recommend her brokerage services to family friends.
So glad that I found Danni. She is amazing and professional. She helped me get my first home loan and answered all of my questions. I would highly recommend Danni to anyone looking for a home loan. You won't be disappointed ?
Danni is amazing She helped us purchase our new family home and refinance our previous property all in one She is efficient and very reliable, also brilliant on following up things and keeping things on track. Her professionalism and friendly attitude makes her a dream to deal with and will be using her for any new things to come. Highly Recommended Thank you so much Danni
Danni came recommended by a family friend. With her help and guidance between home loans from various vendors, we're well on our way to achieving the goals we've set out.
So glad that we found Danni. She is amazing and nothing is too much trouble for her. She helped us get our home loan and answered all of our questions, always returned our calls and emails, is polite and professional, and secured us a great deal. We would highly recommend Danni to anyone looking for a home loan. You won't be disappointed
Danni is the best she made our dreams come true - we have our very first house Our situation was complicated but this didn't phase Danni - she researched and went above and beyond to get us over the line with the one lender we could use. She was also on call 247 - we had many phone calls back and forth, after hours as my husband and I were working long hours. Would I recommend Danni to anybody else -... read more
Danni has been extremely helpful throughout the mortgage process helping me to access a highly competitive rate. Danni responds to any queries promptly and has a great deal of knowledge and experience. Appreciate all you efforts Danni and thanks again
Danni Russell has been a wonderful mortgage broker for us. She provided helpful advice on options in the period leading up to us making an offer on a house and then assisted us to obtain the best finance option quickly once our offer was accepted. She has been very friendly, professional and prompt. Thanks so much Danni!
Danni did a great job in assisting us to attain finance for our new property. Our income situation wasn't straightforward with one of us being self employed and Danni was great in finding a lender willing to work with us. Feedback from our settlement agent was that Danni was well organised and her communication was excellent and this aligns with our own experience. We will be using Danni again for future purchases and would recommend her to anyone looking to obtain finance.
Highly recommend Danni. My wife and I met Danni 3 years ago and first impressions were fantastic. Very professional, relaxed and easy going but factual in her information to us. We recently contacted Danni for a catch up and advice. She again was fantastic, fast in response, came out to us and again gave us factual information. Followed up with a call like she said she would confirming. Now fixed for 4 years at a very competitive rate. Danni, thank you again for being awesome.
Danni was fantastic in assisting us in the purchase of our home and refinance of our mortgage. On the occasions we met, her professionalism, quality of work and willingness to help always amazed us. Her beautiful personality made the process enjoyable and she has the ability to explain everything thoroughly and made everything so easy to understand. Communication was always open as she guided us through every step of the way. I would highly recommend Danni to anyone who is looking for a great Mortgage Broker.
Danni from Mortgage Choice in Joondalup was absolutely amazing. She was always available to take our calls and was very prompt to return them, including emails. Danni went far and beyond to make things happen. Danni was very informative and displayed much integrity throughout the transaction. We had complications with our application, but Danni went head first and tackled the situation, leaving nothing behind. Danni was a pleasure to work with and I would not hesitate to recommend Danni to help bring your dreams to reality. Thank you Danni!
Danni recently helped us with our first home loan. We appreciated her attention to detail and she took most of the weight off our shoulders. Danni is always pleasant, helpful and sincere. Danni has the right mix of friendliness and professionalism. She responded very quickly to every email and phone call. She made the whole process seem easy. I would highly recommend her to anyone looking for a Mortgage adviser.
I was clueless as to how I should go about refinancing my property until I met Danni. Danni was really professional, efficient and timely in processing all the required documentation. After our final meeting everything went well and the process was eventually finalised. I am thankful and really appreciate Danni's commitment.
As an ignorant first home buyer, I had no idea where to start, after one meeting with Danni I was on my way. Her knowledge of getting all available government schemes saved me heaps, along with the ultra low interest rate she found. For such a large undertaking, Danni made it oh so simple and went out of her way to collect paperwork from me. Could not recommend Danni and the Mortgage Choice team highly enough!
First home buyer's guide
Purchasing your first property can be an overwhelming process and there may be steps you are unsure or unaware aware of. This guide will walk you through all of the steps involved in the buying process.