Your local mortgage broker & loan expert | Danni Russell in Sorrento, North Beach & Karrinyup
As a Mortgage Choice broker, Danni Russell is accredited with over 25 lenders and can search thousands of loans for you. And with our Paid the Same philosophy, you can rest assured that Danni also has your best interests at heart.
Call Us
Office - 0435 467 512
Open Hours

Monday - Friday: 9:00am - 5:00pm


After hours by appointment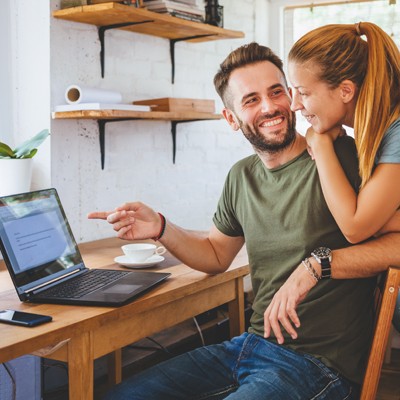 Latest home loan interest rates
Expert support with your next home, car or business loan
Hi, I'm Danni! My focus as a Mortgage Choice broker is finding everyday Australians just like you, the right home loan option for their property purchase.
With over 20 years in the finance industry, I am well-equipped to help you make better choices with your loan, lender and loan features - so that your finances work well for you in the long run.
I work closely with my clients to understand their goals, and can find the finance options to get them there. I do all the legwork, research and paperwork to make your next home loan as easy and stress free as possible. My promises to you:
We have great home loan options to choose from
Your local bank will only have home loan options from that particular lender for you to choose from. Having more options for features and interest rates can often mean you're better off in the long run.
As a Mortgage Choice broker, I am accredited with over 25 good quality lenders - from the big banks like ANZ, down to more specialist lenders like Pepper Money. That means, you have thousands of home loan options to choose from, to find one that fits you best.
I will go through each offering, comparing these options to your goals until I find a great one for you.
Our service is no cost to you
As a mortgage broker, my home loan service is no cost to you as the lender you choose pays me a commission after your home loan settles. It means that you don't pay me anything for helping you secure the right loan for your home or business.
Lenders get a lot of business from mortgage brokers, so it makes sense for them to work closely with with us to give us competitive options for our clients. But what makes Mortgage Choice different from other mortgage brokers? It's our Paid the Same philosophy!
That is, as a Mortgage Choice broker, I get paid the same rate of commission regardless of the home loan you choose, from our wide panel of lenders. It ensures that we're focused on the best outcome for you - and not for us.
We do the legwork
It would be no exaggeration to say that the home loan process - not to mention your initial research - can take hours and hours. It can sometimes be a stressful process and there are some inside strategies that can give you the best chance of approval.
As your local Mortgage Choice broker in Sorrento, Karrinyup & North Beach, I will do the legwork for you - with as little interruption to your busy life as possible. My experience gives me a unique insight into the bank's processes and mechanisms, to use to your advantage to get you the best deal.
We work for you and not the banks, which means we work hard to get you the best deal! I will do all the paperwork and follow-up with the banks - answering any questions on your behalf.
Always get straight advice
Your finances are an area in your life that you need transparency and trusted advice. Our Paid the Same philosophy is in place so you can rest assured that we have your best interests at heart, and focused on your best outcome.
Small things can make a big difference when you're choosing a home loan. I will cut through the jargon to recommend the right finance options for your next property or business.
Your trusted home loan expert
I would love to get started on finding you the right loan. Call me today on 0435 467 512 or book an appointment directly on the button above. I am mobile and can meet you at a time and place that suits you best.
I service the areas of Karrinyup, Sorrento, North Beach, Innaloo, Mount Hawthorn, Osborne Park, Scarborough, Balcatta, Hamersley, Trigg & surrounds.
What makes us different?
What services can we offer?
The right home loan for your needs
Our mission is to find the right home loan for your individual needs and to always have your best interests at heart. Plain and simple. Which is why we have such a wide range of lenders to choose from. We can search through hundreds of products to find something tailored to your situation. ~
Step-by-step guide to home ownership
There are many steps involved in purchasing a property which can vary between residential and investment properties. This guide explains each step in order as well as what is involved at every stage of the purchasing process.
Help me
calculate