Your local Mortgage Choice broker in Coffs Harbour, Sawtell & Woolgoolga
We believe that finding the right home loan starts with having a wide range of loans to choose from. With over 25 lenders on our panel, the team at Mortgage Choice in Coffs Harbour do the research to find a home loan to that fits you.
Call Us
Office - 02 5642 4994
Open Hours
Monday - Friday: 9:00am - 5:00pm
After hours by appointment
Address
E2 The Promenade, 321 Harbour Drive
COFFS HARBOUR,

NSW

2450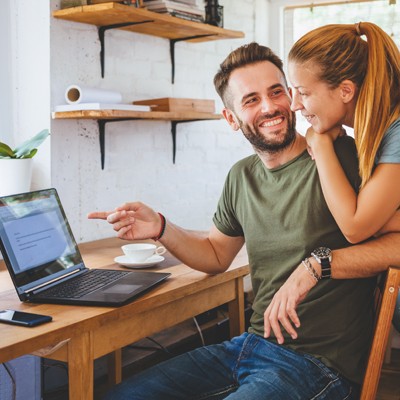 Latest home loan interest rates
Start your home loan journey today
Find a home loan that suits
With over 25 lenders on our panel and hundreds of home loans to choose from, the Mortgage Broker Coffs Harbour team will help find a home loan that suits you and your property.
We complete all the research for you, searching through a wide range of home loans to find options to suit your finances, budget and priorities. Once we have found the right home loan, we'll complete the paperwork and do all the running around to make sure that your application is going smoothly.
We focus on simple, quality advice
With so much information out there, it's hard for people to make an informed decision about their finances. The Mortgage Broker Coffs Harbour team focus on providing simple, good quality advice to help you understand what's available and how your home loan choice affects your future finances. We work towards the best outcome for you.
We'll let you know:
what lenders will suit you best
the lowest interest rates available to you
which great features would benefit you
what repayments, fees and borrowing amount you can expect
how long the process will take
answers to your questions: fixed vs variable etc
Our service is no cost to you
Our service comes at no cost to you as your chosen lender pays us a commission after your home loan settles.
Tell us what you need
The only thing left to do, is to let us know what you're after - and we'll get started! The Mortgage Broker Coffs Harbour team are here to make your life easier and get you into your new home with great finance to support you. We are a locally run & owned business in the heart of the Coffs Coast.
Call the Mortgage Broker Coffs Harbour team on 02 56424994 or click the button below to book a chat.
The right home loan for your needs
Our mission is to find the right home loan for your individual needs and to always have your best interests at heart. Plain and simple. Which is why we have such a wide range of lenders to choose from. We can search through hundreds of products to find something tailored to your situation. ~
Client reviews
Prompt, personable and knowledgeable advice.
Duane and the team made this process really simple and time effective. Would definitely recommend.
Duane and his team were extremely helpful in setting up our investment loan. Duane was patient, always available to answer questions and explained everything thoroughly. I would highly recommend Duane to anyone wishing to take out a property loan.
Super professional service - totally recommending the Team at Mortgage Choice
Kept me well versed with what was happening during my loan application as I was a 1st time home owner.
Was left feeling very comfortable and confident with my choice.
Go see Duane Mel
2022 As an addition to the below I recently had need to avail myself of Mortgagechoice Coffs Harbour again. As before Duane, and Melissa, went above and beyond to assist me in obtaining a loan. Duane went through my options to start with, and then with Melissa, arranged for everything to happen. I am more than happy to recommend Duane for a loan. Thankyou to all at Mortgagechoice Coffs Harbour for you... read more
Great experience and very professional team.
Duane, Melissa and Lee were great in helping us get the right mortgage
Did an outstanding job and tailored to my situation. Would recommend to everyone. The team is the best I have seen.
Had the answers I needed to know about how much I could borrow within an hour of the first phone call, prompt replys to any further questions. Easy to follow process even in a contactless world. Knew everything we needed to provide to not have to be chasing up paperwork meaning fast approval. Faultless service. Highly recommended.
Our lives definitely changed for the better with less stress and a more manageable commitment thanks to Duanes assistance.
A seamless and trustworthy experience was very welcomed and appreciated.
Duane made, what I deem the daunting task of re-mortgaging incredibly easy. A short conversation gave him the understanding of exactly what we needed. After not too long he replied with his top 5 choices and all of these presented savings compared to our current package. When asking for advice the language used was jargon free, clear and simple which allowed us to make a considered decision. Duane did all the heavy lifting for changing our mortgage from the old lender to the new. Overall it was a seamless process and effortless to work with Mortgage Choice Coffs Harbour.
Duane was amazing from start to finish helping me buy my first home, he made the experience completely stress free on my behalf and made sure everything ran smoothly for me at all times while teaching me about the process ! I highly recommend Duane for any process you are trying to achieve and couldn't thank him enough for getting me into my dream home so quick and easily!
My recent experience with Mortgage Choice was extremely positive and I highly recommend him.
From the very first time I spoke with Duane over the phone, I felt very confident I had found the right mortgage broker. He took the time to talk me through the process and to answer all my questions. From that initial conversation, I then went to see him at his office and found him very approachable and competent throughout the subsequent meetings. Once the purchase was finalised, he kept in contact with me, regularly checking how everything was going.
I used Duane recently to obtain a home loan. He went above and beyond to get things sorted for me. His communication was great and no question was to difficult. I recommend him to anyone looking for a loan and will use him again if the need arises. Thanks Duane.
Duane helped my husband and I get a home loan, throughout the process he explained everything to us in terms we could understand, answered our many questions, responded quickly with our phone calls and emails, and made the experience worry free taking the stress out of it. Duane is easy going, approachable and trustworthy. I highly recommend him, and will be dealing with him again in the future!
Great seance of humour and always positive. Kept me informed through whole process and answered all my questions. Putty the banks weren't as efficient as Mr Mental. Thank you
Step-by-step guide to home ownership
There are many steps involved in purchasing a property which can vary between residential and investment properties. This guide explains each step in order as well as what is involved at every stage of the purchasing process.