Mortgage Choice Double Bay | Mortgage Broker Eastern Sydney
Looking for a home loan? We are your local Mortgage Brokers in the Eastern Suburbs of Sydney.
Call Us
Mobile - 0438 778 812
Office - 02 9326 1894
Open Hours

Monday - Friday: 9:00am - 5:00pm


After hours by appointment
Address
Suite 306, 377 New South Head Road
DOUBLE BAY,

NSW

2028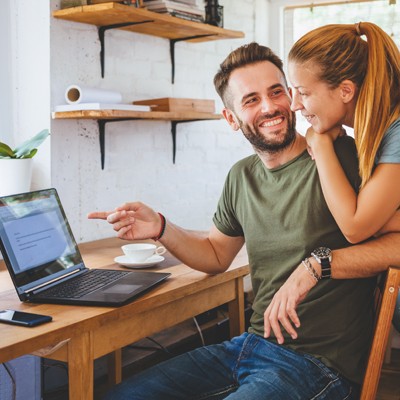 Latest home loan interest rates
Start your home loan journey today
Marianne and Loris Snaidero are your local Mortgage Choice brokers!
Marianne and Loris Snaidero are your local Mortgage Choice brokers in Double Bay, Elizabeth Bay, Potts Point, Bondi, Bellevue Hill, Vaucluse, Bondi Beach, Edgecliff, Paddington, Woollahra, Waverley and surrounding Sydney's Eastern Suburbs.
Our team of mortgage brokers in Double Bay, Potts Point and Bondi look forward to helping you achieve your dream of buying your own home or investment property.
Our office is located in Double Bay, within walking distance of Edgecliff station and we are more than happy to meet you at a time that suits you best, including after hours.
Helping you with home loans, car loans and business loans!
We have been in business since 2001 and we have assisted hundreds of clients to secure their dream home. Since starting, our main focus has been making sure people in our local community secure the right loan for their situation and to build strong & lasting relationships with each client.
We pride ourselves on the fact that many of our clients continue to work with us for all their property needs and investments.
Hear what our customers say about our service!

Our Double Bay & Potts Point mortgage brokers can also help you with:
Access to expert home loan advice and property knowledge
We will focus on helping you answer questions like "How much can I borrow?" and "Can I afford an investment property". Our experience in the Financial & Customer Service sector provides us with the knowledge and skills required to assist our clients achieve their property goals.
We are also long time locals of the inner east and city areas from Potts Point, Elizabeth Bay and Double Bay. We aim to give you not only our financial knowledge but also our local property knowledge to help you make the right decisions.
To discuss your home loan requirements, contact our team from Mortgage Choice Double Bay today on 02 9326 1894.
What makes Mortgage Choice Double Bay different?
Our home loan service is at no charge to our customers because the lenders pay us a commission after your home loan settles, so you get all of our expertise at no cost to you.
Having been in the property market ourselves from a fairly young age and buying and selling over the years we naturally have empathy and understanding of the stresses (both good and bad) in owning one's dream home or making that important investment decision.
What happens during your first meeting with a mortgage broker? 
We will assess and evaluate the most appropriate home loan for your needs and circumstances
During your loan process, we will do all the follow-up and general running around for you and
We will save you time, energy and stress - leaving you to enjoy this exciting time in your life.
With our diverse background and skills, we do what we like best, which is to assist people in achieving their dreams and goals. We enjoy having our own business and being able to share in the joys of property ownership with many people.
If you're ready to speak with a mortgage broker from Double Bay, then please contact our team from Mortgage Choice on 02 9326 1894.
Servicing Sydney's Eastern Suburbs including Bondi, Bondi Junction, Bondi Beach, Coogee Potts Point, Elizabeth Bay, Double Bay, Bellevue Hill, Paddington and surrounding areas. 
The right home loan for your needs
Our mission is to find the right home loan for your individual needs and to always have your best interests at heart. Plain and simple. Which is why we have such a wide range of lenders to choose from. We can search through hundreds of products to find something tailored to your situation. ~
Client reviews
Marianne is an absolute pleasure to work with. She works tirelessly to ensure that you are equipped with all the information you need to make an informed decision as to which home loan product best suits your needs.
Marianne is extremely responsive with any queries you have over the course of your application and we always felt supported throughout the process.
I would not hesitate to recommend Marianne to anyone seeking a home loan or home loan advice, she will exceed your expectations.
Fantastic experience with Loris Snaidero at Mortgage Choice. He was very thorough and took the time to explain all options with us. Service was excellent, with prompt email responses and phone calls.
Marianne puts her client's priorities first and she has been extremely helpful, always responsive and completes her tasks extremely quickly. I strongly recommend Marianne for anyone who needs her help.
Marianne provides an excellent service. Communication throughout the whole process was concise and informed. She was able to secure a much better result for me than I expected, and I would thoroughly recommend her services to anyone. An excellent operator and well worth considering. Will definitely be using her again next time.
I've been using Loris for all my mortgage and refinancing needs for the last 7 years and will continue to use him in the future. He's knowledgable, responsive and a very genuine person who gives great advise. I've been very happy with the outcomes and consultative advise he's provided.
Marianne and the Mortgage Choice team in Double Bay are phenomenal
Being first home buyers, Marianne was so helpful in walking us through the process of applying for a loan.
She is very friendly and answered all of our questions.
We ended up with a great rate thanks to Mortgage Choice
Marianne was fantastic as always, very responsive and provides fantastic advice, she's always doing everything she can to assist, have already recommended Marianne to several friends and family.
We were completely satisfied with Marianne's help with our mortgage. She was always helpful and highly professional. And she gave us the result we wanted.
As soon as I met Marianne I was reassured by her calm and friendly demeanour. She speaks clearly and explains the process with a sound knowledge of her service. We had a number of stop-starts, but Marianne never lost patience and her fervour in getting me the best loan, figuring out different possibilities and strategies, was reassuring. Her positivity during this nerve-racking and frustrating pr... read more
Marianne helped my wife and I navigate the path of refinancing our property loans after we experinced incredably bad service from our bank . Marianne was both professional and very diligent and extremely respronsive to our needs. She also helped to alleviate any concerns and offered constructive and cost-effective solutions to the issues we faced. I would have no hesitation in using their services again as well as recommending them to other prospective clients.
Great service, Marianne was able to get the best loan for me in comparison to my own bank and accountant. No effort was spared in getting my loan approved with speed and efficiency.
Marianne was professional, knowledgeable and went above and beyond. Thank you for your advice, knowledge and patience, we could not have purchased our property without you.
Marianne without a doubt you allowed me to seek and obtain a loan for my new home I doubt I could have managed myself. Highly organised, responsive and supportive. Your experience is very evident. Truly appreciate and grateful of your wonderful service. Thank you.
Marianne dealt with my request in an efficient and professional manner. No stone was left unturned and my loan was approved in no time. I was happy with all the services provided and the level of communication.
Can't improve on perfect - Thanks Loris
Loris is a genuine and warm person. I trusted that he would give me the right advice and had my best interests at heart.
Very happy with service. Always followed up to make sure everything was going ok. Everything was explained properly and you always made sure I understood. Thank you again.
There is nothing to improve, service is always quick and efficient, top notch!
Loris always takes the time to explain anything that we need clarification on, ensuring the customer is matched with the right product. Nothing is too much or too difficult for him, he is a pleasure to deal with. I would and always do recommend Loris to anyone looking for a Mortgage Broker.
As always it is a pleasure dealing with you! I feel reassured that with your guidance and sincerity, I am getting the best possible loan and service. You've got me for life!!!
Thank you for your persistence and amazing patience. Over the past 12 months you have been a reliable source of information in my quest to secure a new home. I have lost track of the number of loan scenarios that you have generated for me whilst I screened different property options. You always willingly and comprehensively provided me with the right advice and expertly guided me through the maze of financial options. Your service is amazing. Thank You Marianne and Mortgage Choice.
I could not have been more confident throughout the entire process due to your knowledge, skills and obvious experience and true understanding of our needs. I wouldn't dream of going anywhere else. 10 out of 10.
Marianne I can't thank you enough for helping us to finally get into our new home. You have helped us so much over the last 7 years and we are so grateful.
Thank you Loris for all your help. Thanks for being so professional, thorough, patient and helpful in explaining the products to us. Thanks for your prompt follow ups on all matters its much appreciated
We were tight on time to have everything organized and Loris and Marianne made sure all was completed and took away a lot of the stress. We have now used their services twice and have been very happy with the advice and ease with which everything is organized.
Marianne, Thank you for all your advice, guidance and help with all the work you did for our refinance. We will certainly recommend your services (already have !!).
Step-by-step guide to home ownership
There are many steps involved in purchasing a property which can vary between residential and investment properties. This guide explains each step in order as well as what is involved at every stage of the purchasing process.