Mortgage Brokers and Financial Services experts in Blaxland, Penrith & Glenmore Park
Our team of experienced mortgage brokers and financial services specialists offer expert advice within the Blue Mountains, Penrith and Glenmore Park regions.
Blaxland
5.0 (142+ total reviews)
Aggregated from:







Call Us

Mortgage Choice Blaxland

Office - 02 4739 9749
Open Hours

Mortgage Choice Blaxland

Monday - Friday: 9:00am - 5:00pm


After hours by appointment

Free Appointment
Address
Suite 3 /13 Hope Street
BLAXLAND,

NSW

2774



Start your home loan journey today
Need Home Loan or Financial Advice? We are your finance experts in the Blue Mountains, Penrith & Glenmore Park!
Our team of mortgage brokers in Blaxland, Penrith and Glenmore Park are locals and we love welcoming a new face or family. As experienced mortgage brokers, we can provide the professional insight to help make your property dreams come true. 
Book a convenient meeting time right now by calling 02 4739 9749!
Key benefits of using Mortgage Choice Blaxland, Penrith & Glenmore Park:
Flexibility and convenience - With offices in Blaxland, Penrith and Glenmore Park our team of mortgage brokers make it easy to meet. You can choose to come to us or we can come to you.
Experience for peace of mind - With over 40 years combined industry experience we are able to offer more than just a home loan. We specialise in a range of Home Loan and Financial Advice services and we can develop a complete lending strategy with consideration of your immediate and future property goals.
Service excellence and clear communication - Providing the highest level of service is important to us. We understand that securing finance can be stressful, so we work hard to ensure that you are fully informed throughout the process and that every question you have is answered promptly and in plain English.
We do the leg work, from start to finish - From our first chat, whether over the phone or by appointment, we'll take the load off you.
Hear what our customer's say about our service!

To find out more about how we can help or just to get an understanding of what options are available, call us on 02 4739 9749 to arrange an obligation free consultation with one of our mortgage brokers.
Many of our happy clients have done just that and gone on to realise their property dreams. We hope you're next.
Our offices:
Blaxland
02 4739 9749
Suite 3 / 13 Hope Street, BLAXLAND, NSW 2774
Penrith
02 4721 1733
Shop 1A, 1-3 Castlereagh Street, PENRITH, NSW 2750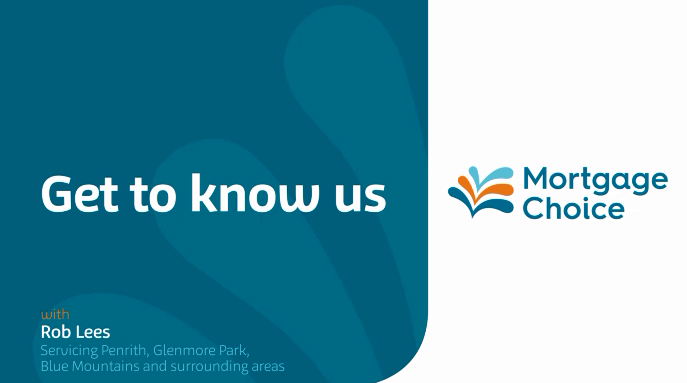 We make the home loan process easy and stress-free!
No matter where you are, we can provide you with professional advice on your home loan at no cost to you. 
With access to hundreds of loans from a wide choice of lenders, including Australia's big banks and a selection of specialist lenders, we're confident in finding all of our clients the right finance option for them.
Call Rob Lees and the team at Mortgage Choice Blaxland, Penrith & Glenmore Park this week. 
We can also help you with:
The right home loan for your needs
Our mission is to find the right home loan for your individual needs and to always have your best interests at heart. Plain and simple. Which is why we have such a wide range of lenders to choose from. We can search through hundreds of products to find something tailored to your situation. ~
Client reviews
I had a great experience with Rob and the team, they looked after me and are very responsive, professional, and down to earth.
The experience was excellent, with Rhonda McNicoll leading my query, the service was efficient, exceptional and effective, thank you immensely.
Rhonda was great to deal with. She was very clear and prompt to deal with, always going above and beyond.
We recently refinanced with Daniel at Mortgage Choice. He was very helpful and informative and made the process run very smoothly. Daniel made sure that we were regularly updated in regards to the progress of the refinance. We would definitely recommend Daniel and will be seeking his services again in the future.
Krystal made the whole process so easy and we couldnt have done it without her
Mortgage Choice are the best, they helped us get our first home. We are forever greatful. Special thanks to Daniel Hoegel who bent over backwards to assist us, couldn't be happier, will definately recommend for anyone looking to get into their own home. Thanks guys.
So amazing to work with. I am a first home buyer and Krystal made the process so much simpler
Daniel from Mortgage Choice Blaxland recently assisted us with refinancing our home loan, and he was absolutely fantastic. Not only did Daniel secure us a great rate, he was also professional, friendly, and highly responsive. He kept us up to date every step of the way and the entire process was entirely stress-free. Thank you, Daniel Highly recommend.
Recently my wife and I engaged Rob and his team at Mortgage Choice Blaxland to acquire a mortgage for an investment property. We couldn't have had a better experience. The team were very responsive to all our enquires and all done in a very friendly manner. We ended up with a really good product. Would definitely recommend.
Rob Lees is amazingly patient and responsive. He stuck with us for years, always answered our questions, and made the process of buying our first home easy. Thanks Rob, we love you
First home buyer's guide
Purchasing your first property can be an overwhelming process and there may be steps you are unsure or unaware aware of. This guide will walk you through all of the steps involved in the buying process.