Sally Richards & Karen Smart, Mortgage Brokers in Malvern East, Wantirna, Richmond & surrounds
Sally and Karen have an enormous breadth of knowledge and finance experience, giving them a unique understanding of the lending industry, its products and policies.

They are passionate, approachable, trustworthy brokers who strive to provide an outstanding customer service each and every time. They are committed to building long term relationships with their clients, who always remain their number one priority.

They offer a mobile service in the Melbourne metropolitan area.
Darling South
4.9 (320+ total reviews)
Aggregated from:







Call Us

Mortgage Choice Darling South

Office - 0419 049 445
Open Hours

Mortgage Choice Darling South

Monday - Friday: 9:00am - 5:00pm


After hours by appointment

Free Appointment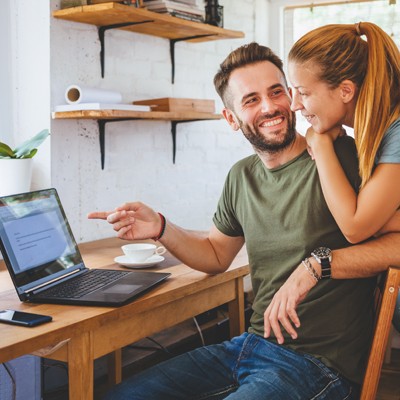 Latest home loan interest rates
Start your home loan journey today
Services
Karen and Sally have the expertise to assist all lenders from first home buyers to investors. Empathetic and knowledgeable, they'll identify suitable loan options and help you make educated decisions about your financial future.
Home loans

Investment loans

Refinance loans

Construction loans

Renovation finance

Equity release

Bridging loans

Reverse mortgages (Referred to third party)

Car and asset finance

Business equipment finance

Commercial property finance

Business loans
Other areas we service
Sally and Karen are results-focused mortgage brokers who take the time to listen and understand your needs, demystify the borrowing process, and deliver a positive outcome.
Sally is based in Malvern East and is mobile across Melbourne and regional Victoria.

Karen is based in Wantirna and offers a mobile service throughout Melbourne.
Check out our free calculators!
Wanting to find out your borrowing capacity based on your salary and financial commitments? At Mortgage Choice servicing Malvern East, Wantirna, Richmond & surrounds, we understand that finding out how much you can borrow for a property can be tricky, which is why we have some awesome calculators to make it easy!
Check out our free home loan calculators here or get in touch with us to discuss your unique circumstances.
Ready to kickstart your journey to home ownership?
We'll assist you along the way and do all the legwork for you! Call Sally on 0419 049 445 or Karen on 0405 539 750.
The right home loan for your needs
Our mission is to find the right home loan for your individual needs and to always have your best interests at heart. Plain and simple. Which is why we have such a wide range of lenders to choose from. We can search through hundreds of products to find something tailored to your situation. ~
Client reviews
Thank you Karen Lauren. Best in the business
My partner and I kept Karen busy working with us through the process of purchasing an off-the-plan apartment, there was no point that Karen wasn't responsive, informative and available to support us. We are very grateful for Karen's support and know that we now have a great broker for the future too Thanks so much.
My partner and I worked with Karen, Aleisha and Lauren to secure our home loan. As first home buyers, we were a bit nervous about the process but found ourselves in very safe hands with Karen and the team. We felt supported throughout the entire process and could feel that Karen was going above and beyond to help us achieve our goal. A massive thank you, Karen and team. We'll be recommending this service to all our loved ones who are looking to buy.
Karen and her team assisted us in buying our first property. They were extremely knowledgeable and professional. We really appreciated their support throughout the process and would highly recommend them to others.
Karen and her team Lauren Aleisha were truly exceptional. Her professionalism, expertise, communication and responsiveness is unparalleled. We were first home buyers and didnt have any idea where to start, but after our first meeting with Karen we felt at ease and confident that we would be guided and supported throughout our journey toward obtaining pre-approvalapproval for our mortgage and ultima... read more
Karen and her team were very communicative, supportive and went above and beyond. I highly recommend their services.
Karen, Aleisha Lauren, thank you for all your amazing service and support throughout the entire process. As a first home buyer, you made the process feel seamless. And not only did you support me, but you also taught me a lot. I will stay connected should I need to review my banking. 100 will recommend you.

Many thanks,
Heidi
Karen was amazing and made the loan application process a breeze. Karen was easily contactable and able to answer any questions we had. Thanks again Karen really appreciate your help on purchasing our new home
Once again Karen Smart and her team have provided exemplary service in a friendly and cheerful manner that actually makes loan refinancing and paperwork an almost enjoyable experience! She kept us up to date and went to bat for us when the Bank dragged its feet a little in the application process. We also appreciate the regular updates and reviews over the years that make us feel truly valued as a customer and confident our mortgage setup is always at its most competitive. Thanks again Karen!
Once again Karen and her team have continued to look after us and our mortgage to ensure we enjoy a most competitive offering in the current market. Always friendly and approachable Karen almost makes refinancing an enjoyable experience next time Im sure she and the team will achieve that too. The scrum diddly scrumptious Maggie Beer hamper received upon completion of our recent refinance was also a lovely surprise Would not hesitate to recommend Karen and her teams services
Sally and her team provide an excellent service, assisting with forms, calling the bank to speed up a valuation and ensure a progress payment to our builder was paid on time. I don't know how we would have managed this complicated process without her.
Having worked with Sally for almost 15 years - she has never failed to help us and offer us super helpful advice. As her team has grown, she has obviously attracted the best people to keep up the exceptional standard of service to keep us informed every step of the way! Thanks again!
Sally was recommended to us by a friend. We were drawn to Sally as she respected our careers in the arts and helped us get the best loan possible with a sole trader income and job loss from covid. As first home buyers, no question felt too silly either, which was greatly appreciated.
Sally was incredibly patient, attentive and knowledgeable. She had brilliant attention to detail and knowledge of the available products, but also the time and ability to clearly explain it all to us. I felt throughout the entire process that I was in safe hands and that I could fully trust her to get us the best possible deal. I would recommend Sally to anyone and everyone - I can't imagine going through this process without her guidance and wisdom.
Sally and her team were there to support us throughout the entire process, from determining how much we could borrow thru to Settlement. They went above and beyond and we cannot recommend them enough.
Refinancing guide
Considering refinancing? Our guide explains the reasons, costs and steps involved in refinancing your home loan.