Your local home loan specialist & Mortgage Broker for Drummoyne, Balmain and the Inner West
We can help with home loans, car loans, and business lending. Let us help you to get the best our of your finances.
Call Us
Office - 0426 297 151
Open Hours

Monday - Friday: 9:00am - 5:00pm


After hours by appointment
Mobile Broker
Servicing Drummoyne, Glebe, Balmain and surrounds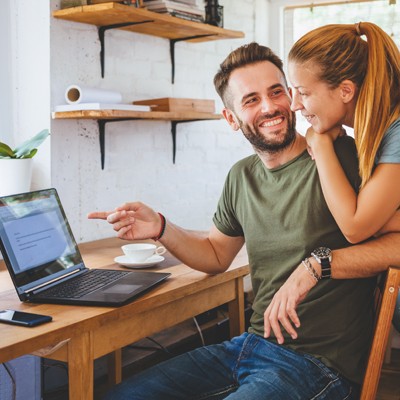 Latest home loan interest rates
Start your home loan journey today
Welcome to your Inner West Mortgage Broker, where you can save time and money by finding an individualised financial solution for you.  
I'm committed to helping our customers get the right lending solution and financial advice, by focusing on the individual circumstances and using Mortgage Choice's extensive panel of lenders and suppliers.  This way I can help first home buyers, refinancers, upgraders, downsizers and business owners, to get the right lending solution, so you can get on with doing what you want from life.
Having family ties in the Inner West that date back generations, and now raising my own family in the area, I'm happy to be able to help other families living and working in the area.
With almost 20 years in financial services, both locally and for international firms, and involvement in our family business, I can leverage off that experience to help you achieve your financial goals.
How do I help you?
When you work with me at Mortgage Choice, we will assess your current financial position and your longer-term goals, to identify a plan to work towards those goals.
If a lending solution is a preferred strategy, we can access over 3,000 products from more than 20 of Australia's leading banks and lenders to find the lending solution that will meet your needs.  This may also require working with other professionals in your network, but we can do that quite easily.
Once we have agreed on the lending solution, we will arrange the paperwork and work with the lenders to get the loan settled, so that you can get on with your life.  But reviewing your lenders and your situation is also an important part of this process, so we will continue to work together into the future.
I can cover professional advice across a wide range of areas including:
First Home Buyers Finance - including savings plans and finding the right loan
Home Loan Refinance - you would be amazed at how much can be saved by reviewing your home loan
Investment Property - whether you are looking to start a portfolio or review your current property and whether you have the best set up
Debt Consolidation - this can be a complex arrangement, so you want to get it right to save money
Upgrading / Downsizing - we can help with bridging finance, as it isn't as scary as it sounds, but there are complexities you want to get right
Business Finance - whether looking for a new business property, a work van, or every day tools of the trade, we can help
Personal / Car Loans - whether it be for home improvements or a new car we can find the right way to do it
Car Buying Service - if you are looking for a car, but don't want to have to negotiate with dealers, our car buying service can save you money and stress
How to Start:     Call, email or use the contact tab above, and we can arrange a free appointment.
Call: 0426 297 151
Email: todd.coleman@mortgagechoice.com.au
We look forward to working with you to provide your financial solutions throughout Sydney's Inner West including Annandale, Balmain, Balmain East, Birchgrove, Drummoyne, Forest Lodge, Glebe, Leichhardt, Lilyfield, Rozelle, and Summer Hill.
The right home loan for your needs
Our mission is to find the right home loan for your individual needs and to always have your best interests at heart. Plain and simple. Which is why we have such a wide range of lenders to choose from. We can search through hundreds of products to find something tailored to your situation. ~
Refinancing guide
Considering refinancing? Our guide explains the reasons, costs and steps involved in refinancing your home loan.