Your local mortgage brokers & home loan expert in Ringwood, Croydon & Lilydale
When it comes to a big decision like your home loan, having the right team on your side - a team like Mortgage Choice Ringwood - can make a big difference. Our free home loan service will save you hours of research and paperwork, and help make your next step a great one.
Ringwood
5.0 (92+ total reviews)
Aggregated from:







Call Us

Mortgage Choice Ringwood

Office - 03 9876 8455

Fax - 03 9876 8488
Open Hours

Mortgage Choice Ringwood

Monday - Friday: 9:00am - 5:00pm


After hours by appointment

Free Appointment
Address
Suite 1, 1st Floor, 164 Maroondah Hwy
RINGWOOD,

VIC

3134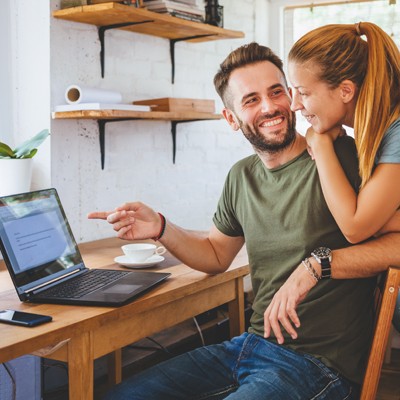 Latest home loan interest rates
Expert advice for the next step in your finances
With a big step like choosing the right home loan, you'll need a team of experts on your side - like our team at Mortgage Choice in Ringwood. We know what's available & can get you the right loan with a great rate & features.
How we can help with your hmoe loan
You might already know just how many loan options are available in the market right now. If you have information overload or are just short on time, our Mortgage Broker Ringwood team will do the work for you. We have over 30 lenders on our panel and know where to look to find you a great one.
We sit down with you to figure out your budget & goals. The Mortgage Broker Ringwood team will figure out how much you can borrow & what your repayments might be.
We do all the research and shopping around for you, searching through thousands of home loans to find you a small selection of great loans to suit. We'll talk you through the pros and cons of each.
We explain everything in a way so that you fully understand of each home loan product and can confidently make an informed decision. With our guidance, you make the final choice on what product you think will suit best.
We'll complete the paperwork on your behalf and keep you updated on how the loan is progressing all the way through to settlement.
All at no cost to you
As Mortgage Brokers in Australia, we offer our home loan service at no cost to our customers! It means that everyone, no matter what you're looking to purchase, has access to expert home loan advice that is separate from the banks and in your best interest.
We'll help you take the next big step
Our Mortgage Broker Ringwood team have years of experience in finding the right home loan for our customers. With the right rate and right features, we will structure your home loan to work for you in the long run.
Our team of brokers are mobile and able to come by at a time & place that suits you. We also have a conveniently located office at 164 Maroondah Highway in Ringwood.
Call Mortgage Choice in Ringwood on 03 9876 8455 to chat about your next steps in property. We're excited to get started!
Call: 03 9876 8455 Request a call back
The Mortgage Broker Ringwood team service the areas of: Wattle Glen, Hurstbridge, Strathewen, Donvale, Warrandyte, Park Orchards, Chirnside Park, Ringwood, Ringwood North, Warranwood, Heathmont, Ringwood East, Croydon, Croydon Hills, Croydon North, Croydon South, Kilsyth, Kilsyth South, Mooroolbark, Seville, Wandin East, Wandin North, Lilydale, St Andrews, Tarrawarra, Yarra Glen & across Victoria.
The right home loan for your needs
Our mission is to find the right home loan for your individual needs and to always have your best interests at heart. Plain and simple. Which is why we have such a wide range of lenders to choose from. We can search through hundreds of products to find something tailored to your situation. ~
Client reviews
Graeme and Stacey played a crucial role in making our dream of owning a home a reality. Their expertise and diligence in securing a loan were commendable. They guided us through the entire process, patiently addressing our concerns and ensuring we understood each step. We are incredibly grateful for their invaluable assistance in helping us purchase our first home. Highly recommended
Stacey's the person you would want to go to for any mortgage advice. We went to her to repackage our mortgage and she was so so helpful, helping explain big terms in an easy to understand manner, and goes above and beyond in helping her customers. I 10000 recommend her
Graeme Stacey were fantastic to deal with in every aspect of our refinancing process. They followed up any issues I had
and answered all our questions, most importantly they didn't make us feel like a number in their system. Highly recommend their services.
Graeme and Stacey were so helpful throughout our long house hunting journey and provided excellent advice when we finally bought our house Highly recommend
I highly recommend Mortgage Choice Ringwood. Father and Daughter team Graeme and Stacey will go out of their way to get you the best loan to suit your needs. No matter how out of the box it seems. I have used them twice to negotiate the best deal for me and they have always come through.
They are both very personable and a pleasure to work with. They make it seem all too easy when I am sure at times its not. Great communication and always readily available to help with any enquiry.
We have been dealing with Graeme and Stacey for 20 years, they have been most helpful in getting us the best service and outcome every time. Highly recommend their service
Graeme Stacey were incredibly helpful throughout the process of getting my first home loan approval. Always happy to chat and answer my many questions.
Graeme and Stacey make a great team and made the selection and loan application process very simple to navigate and complete.
Right down to Stacey providing phone technical support.
Happy to recommend
Graeme, Stacey and Deepak have all put so much effort and care into our First Home Builder experience. With no shortage of road bumps, delays and unexpected hiccups, the team went above and beyond to make us ecstatic brand new land owners.

My wife and I wholeheartedly recommend Graeme and his team in Ringwood.

2022 update We have also had a wonderful experience refinancing with the team here just in time and cannot thank Graeme and Stacey enough for their continued support
Graeme and Stacey were fantastic to deal with. Refinancing our loans was made an easy process, both very informative and had great communication .
Factsheet: The different home loan types | Mortgage Broker Croydon
Choosing the right home loan is important, and can be a tricky decision if you don't understand what makes each type different! Our team at Mortgage Choice in Ringwood & Croydon can help you understand more about the lender & home loan type that will suit you and your budget. In meantime, download our free factsheet on the different home loan types along with pros & cons of each.