Mortgage Broker Penrith - your local expert for home loans in Penrith
Paul Holland is your local Mortgage Broker in Penrith and has been providing quality home loan advice to customers for over 14 years. Using everyday language, he has helped hundreds of customers achieve their home and investment property goals in that time.
Penrith
5.0 (41+ total reviews)
Aggregated from:







Call Us

Mortgage Choice Penrith

Office - 0410 787 607

Fax - 02 8089 1130
Open Hours

Mortgage Choice Penrith

Monday - Friday: 9:00am - 5:00pm


After hours by appointment

Free Appointment
Address
Shop 1A / 1-3 Castlereagh Street
PENRITH,

NSW

2750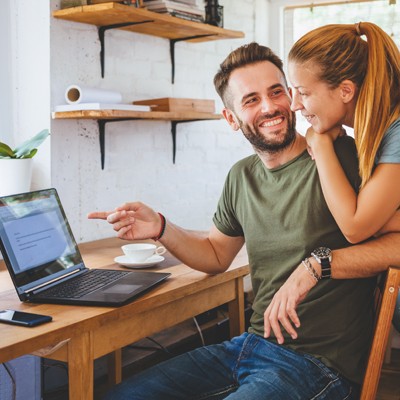 Latest home loan interest rates
Start your home loan journey today
Mortgage Broker in Penrith - Home loan advice explained in everyday language
As your local mortgage broker, Paul Holland has been the owner and senior home loan broker of the Penrith Mortgage Choice franchise for over 14 years and helped hundreds of customers achieve their home and investment property goals in that time.
Book a convenient meeting time right now! Call now on 0410 787 607 OR Click on the orange Book an Appointment button above at any time to choose an available time.
We simplify home loans in Penrith
Whether you are buying a home in the Penrith area or looking for a property investment, we take the confusion out of the loan process, and explore every option to help you save with the best possible deal.
Our customers say they appreciate the way we take the time to answer all questions and explain home loan options once we fully understand your goals and preferences, we'd love the opportunity to offer you the same service.
Our service is fast, streamlined, and our expertise lets you enjoy the home loan that matches your needs at a very competitive rate from a choice of over 35 different lenders.
Having a young family (and a mortgage!) Paul understands the needs of our Penrith home loan customers.
5 key benefits of using Mortgage Choice Penrith:
Our service is at no cost to you – We're paid by lenders.
Convenient – We can meet with you at your home, workplace or at our office located in Penrith. Contact us on 0410 787 607 to make an appointment today.
Knowledge and experience – With over 14 years experience, we will listen to you, answer any questions you have, offer a range of options and help you decide which home loan is right for you.
A network you can tap into – When you're ready to buy a home, we can refer you to trusted local solicitors and real estate agents.
We've got you covered – We can help with all your financial needs including insurance, car loans, and equipment leasing.
We specialise in the following Mortgage Broker & Financial Advice services:
First home buyer loans in the Penrith area.
Property investment loans.
Using home equity to renovate or invest.
Refinancing your current home loan.
Upgrading to your next home.
Experience our friendly, positive attitude
Start achieving your goals today. Call Paul on 0410 787 607 or click on the link above. Or call in and see us at our conveniently located Penrith office. We look forward to speaking with you.
The right home loan for your needs
Our mission is to find the right home loan for your individual needs and to always have your best interests at heart. Plain and simple. Which is why we have such a wide range of lenders to choose from. We can search through hundreds of products to find something tailored to your situation. ~
Client reviews
I came to Paul needing a refinance, equity release and new investment property mortgage. He has always been quick to respond to emails and phone calls. Paul has explained everything along the way and his advice was always accurate. Whenever I asked about tax and other non mortgage broker issues, Paul would always tell me his thoughts but suggest I talk to an accountant or other relevant professional f... read more
Paul Holland of mortgage choice Penrith. Has always gone over and above to help his clients. To the extent that he secured a substantial rate reduction on my wife and I mortgage. I'm more than happy to give Paul a 5 star rating. I look forward to his help in the future.
Paul is a very experienced mortgage broker. We have been using him for our mortgage purposes for many years. Paul responds and acts quickly and always strives to deliver the best possible outcome
I cant recommend Paul from Mortage Choice highly enough. He proactively looks after his clients. In our case it has been by ensuring we have the best deal across the life of our loan. We had a complex purchase which he navigated with ease, due to his experience and knowledge.
We chose Paul at Mortgage Choice, Penrith, after reading the glowing reviews on the website. After dealing with him, I can assure you that they are not exaggerated.
He is knowledgeable, professional, thorough and very likeable.
Paul suggested an alternative structure for our investment loan which perfectly addressed our situation. He is also proactive in periodically renegotiating our interest rate to... read more
Paul is a highly experienced mortgage broker. He has extensive experience and knowledge. He is highly personable and explains things very well. I highly recommend Paul
Paul is truly one of a kind. We had no idea of the process, what to do or where to start. Paul was patient with us, he listened and then guided and supported us through the whole process. He cares about his customers and really knows his stuff.

Thank you again Paul couldnt have done it without you
Paul is a very experienced professional. Thorough, patient and understanding. I have used him for the purchase of 3 properties in the last 15 years. I highly recommend him.
We would highly recommend Paul at Mortgage Choice to our friends and family. Paul made the process easy and was always available to answer our questions and explain the processes to us. He is extremely knowledgeable and professional but also very approachable. By the time we purchased our new home, it felt like we were talking to an old friend And a big thank you to Wendy who also kept us updated and made the whole process very smooth and easy. Thank you both
A huge thanks to Paul and Wendy at Mortgage Choice for helping to make my recent home purchase so easy. Paul was very knowledgeable and extremely pleasant to deal with.

Communication was excellent throughout and Paul was always happy to take the time to answer any questions that I had about the process. Highly recommended
First home buyer's guide
Purchasing your first property can be an overwhelming process and there may be steps you are unsure or unaware aware of. This guide will walk you through all of the steps involved in the buying process.