Call Us
Office - 0488 839 212
Open Hours
Monday to Friday 9:00am - 5:00pm
After hours by appointment
Address
Kingsley Professional Centre, Suite 18, 56 Creaney Drive
KINGSLEY,

WA

6026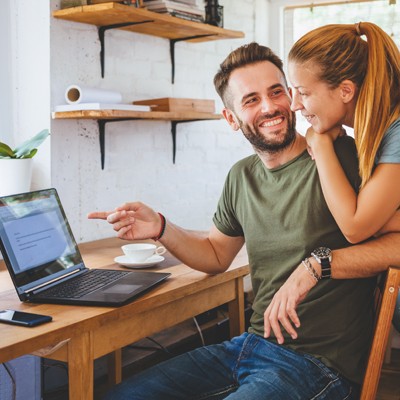 Latest home loan interest rates
The right home loan for your needs
Our mission is to find the right home loan for your individual needs and to always have your best interests at heart. Plain and simple. Which is why we have such a wide range of lenders to choose from. We can search through hundreds of products to find something tailored to your situation. ~
We can't thank you enough for all the support and hard work you have put in to help us achieve this move in our lives.
You and your team have gone above and beyond to help us out.
We are most grateful for everything, this is the start of a long working relationship with you and Mortgage Choice.
The best thing we ever did back in October 2017 was to make an appointment with you.
Our sincerest thanks and appreciation.
We were referred to Mortgage Choice in Kingsley. And we certainly can see why. The time was given so freely by Tim, he had researched the papers we had sent him and just knew the questions to ask, and of course the answers we were looking for. At no time did we feel like he was in a rush to push us out the door. Thank you Tim much appreciated for you time and your solid advice.
Tim and the team at Mortgage Choice in Kingsley were invaluable in helping us buy our first home.

Tim helped us out from the very start, carefully going through all the details we needed to know for getting together a deposit. This initial advice steered us in the right direction and ensured we didn't waste our time looking at properties we couldn't afford.

Once we found our home, Tim and Jim were likewise invaluable in helping us to secure finance. When it came to choosing a mortgage, Tim did an amazing job at explaining complex ideas and processes in a way that we could easily understand, enabling us to evaluate all of the options in an informed way.

Throughout this process Tim was always willing to meet or speak on the phone at any time to explain what was going on, what we needed to do, or to lend advice.

I genuinely think that we wouldn't have been able to do any of this without Tim and his excellent team at Mortgage Choice in Kingsley.
I don't know how anyone could buy and sell a house without dealing with experts like Tim and Jim at Mortgage Choice in Kingsley. From the very first meeting to the conclusion of the whole matter, they were super friendly and super helpful. Nothing seemed to be too much trouble for them. They were so obviously experts in their field it really gave you, as a lay-person, real confidence. All along it was clear that they were actually fighting for a good deal for you as their client. We could not recommend them more strongly to others - and in fact, we have.
Tim and his team were absolutely fantastic to work with, they made the whole process easy from start to finish. They were always there to answer any questions we had and we would highly recommend them.
This is the third time that we have used the services of Mortgage Choice and Tim Kerin. We would have no hesitation in recommending Tim - he handled our refinancing with professionalism and a sense of humour, and ensured that the application process was as straightforward as possible. Tim brings a personal, friendly side to finances that we have greatly appreciated.
The service and advice we received was spot on and all our questions were answered. We received updates along the way on our application and the follow through was fantastic. Thankyou!
A great team that matches your needs with a mortgage that suits you and then follows through with exceptional service until settlement.
We had nothing but amazing service from the whole team at Mortgage Choice in Kingsley. We had several issues refinancing our loan yet they were on top of everything and helped us at every stage. This was the second time we've used the Mortgage Choice in Kingsley team and we would happily use them again. Will be recommending them to our family and friends.
My experience of Mortgage Choice in Kingsley and of Tim Kerin in particular has been extraordinarily positive.

Tim is one of the most thorough people I have ever dealt with in a professional capacity. He explores every possibility and explains every nuance. I took him down some dead ends, and changed my mind several times. He didn't bat an eye. He was patient with me and responded to new information rapidly. He drew on a wide knowledge base, and didn't push me toward any particular outcome.

As we moved closer to approval and settlement, I was in touch with other members of the team who were equally attentive and helpful.

As a first home buyer, I feel deeply grateful that Tim and the team were with me for the whole journey.
I found Tim and the team at Mortgage Choice in Kingsley to be extremely helpful, knowledgeable and super patient with a home buying novice like myself. I have already recommended them to my friends and wouldn't hesitate to recommend them to others.
Mortgage Choice in Kingsley have been looking after my mortgage for the last 3 years and they have been so accommodating, helpful and always willing to go above and beyond!! I have referred several friends to them and they always come away stoked with the level of service and friendly guidance from the amazing team!!
After many tries with Mortgage Brokers and feeling desperate I went into the Kingsley office thinking I would be stuck struggling with my previous lender forever. The service I received was absolutely fantastic and made the whole process much easier and less painful than I ever could have imagined. They couldn't have been more helpful and friendly. I won't hesitate to recommend you guys to any one. Thank you for making my life a lot less stressful!
Mortgage Choice in Kingsley were recommended to me by a friend. The service I have received from start to finish has been exceptional and made the whole apartment buying process so much easier than I have ever experienced before. I wouldn't hesitate to use the team again.
I would recommend Mortgage Choice in Kingsley to any one! I came into your office thinking I would never be able to afford my own home! You made the process relatively pain free and simplified things so it was easy to understand. When I found out I had my bank approval I think I spent the day crying! Happy tears as you made my dream a reality! So thank you for making my year!
Refinancing guide
Considering refinancing? Our guide explains the reasons, costs and steps involved in refinancing your home loan.