Call Us
Office - 03 9681 8182
Fax - 03 9645 9734
Open Hours
Monday to Friday: 8:00am - 6:00pm
Saturday: 10:00am - 1:00pm
Address
Level 1, 147 Cecil Street
SOUTH MELBOURNE,

VIC

3205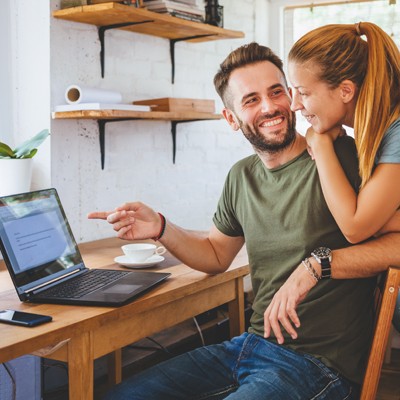 Latest home loan interest rates
The right home loan for your needs
Our mission is to find the right home loan for your individual needs and to always have your best interests at heart. Plain and simple. Which is why we have such a wide range of lenders to choose from. We can search through hundreds of products to find something tailored to your situation. ~
I would recommend without hesitation Monica and her team at Mortgage Choice to anybody looking for a home loan. It took us nearly 2 years to find our home. Monica was there to help us every step of the way, going above and beyond simply helping us find the best loan. She helped us find good building inspectors and conveyancers and provided us with countless free valuation reports on any houses we were interested in purchasing. After purchasing our home at auction Monica, Becky and Fiona were very proactive in ensuring the loan application progressed smoothly, providing us with regular updates and quickly addressing any issues that arose. It was very reassuring to know that Monica and her team were there to support us right up to settlement and beyond. I look forward to dealing with Monica again in the future
Paul and his team worked incredibly hard over many weeks and to successfully obtain mortgage approval. Not an easy feat when you are an Expat and very restrictive banking regulations mean that Expats are at an enormous disadvantage when trying to borrow for investment properties in Australia. Paul and his team, most notably Ina, did an outstanding job and their dedication and persistence was exemplary and so greatly appreciated. I could not recommend them highly enough.
All the staff at Mortgage Choice are lovely! They would answer any question we had day or night! They have made the experience of buying our first home as relaxing as it can be. Thank you Mon and team!
Thanks also to Mortgage Choice South Melbourne & Southbank again for providing such good advice and timely service. The deal you found with CBA is great... Getting everything processed and approved within the fairly tight timeline is much appreciated and we only wish we had chatted to you sooner.
We have worked with Monica and her team for four years and through a number of mortgages. She and her team provide a very personalised, professional and thorough service that we would have no hesitation in recommending to others
The team at Mortgage Choice South Melbourne where a pleasure to deal with & cannot thank them enough for their professional, courteous & patient service. They made our loan approval easy & smooth from the word go!!!! thanks again Team
Fantastic service! They made the process much easier while at the same time keeping us informed and involved.
Thank you so much to the whole Mortgage Choice South Melbourne team for assisting me with my home loan. Special mentions to Paul, Jedan and Ina! I am someone with very limited experience/knowledge in the area of loans and finance and after my experience with you I now feel very educated in the area.

You made the whole process very easy and convenient by allowing not only face to face correspondence but via phone and email too if needed. Your communication was outstanding.Thanks to you I have now purchased my first property. I would highly recommend Mortgage Choice South Melbourne!
Paul heads a fantastic team that provided sound advice and a solution to enable me to purchase a home and escape the rental market.
Mortgage Choice in South Melbourne were very professional, kind, and patient when guiding us through the home loan options, from beginning right through to execution of the loan!
I cannot recommend Mortgage Choice, South Melbourne highly enough. Specifically Matthew & Ina, they made the process simple from start to finish, as first time home buyers we were both unsure of the process and we found their constant advice, help and guidance extremely helpful and we both really appreciated their professionalism and attention to detail. Thank you both and we would happily recommend Mortgage Choice to anyone buying a house.
Paul, Jessica and the team at Mortgage Choice South Melbourne went above and beyond to help me with a loan for my first home. They helped make the process simple and were able to get approval on a loan with a great rate & features incredibly quickly. Every aspect of the experience with them has been wonderful, with excellent communication and detailed answers to all my questions. I highly recommend them - Thanks Paul & Jessica for all your help!
We recently had the pleasure of dealing with the fabulous team of Matthew and Ina at Mortgage Choice South Melbourne. Matthew and Ina were both highly professional throughout the whole process, keeping us constantly updated on our loan process and offered great options and advice. With their help, we were able to make a big savings on our mortgage repayments. Highly recommend the team!
Mortgage Choice South Melbourne have gone above and beyond a simple home loan. Not only achieving a fabulous rate with a new lender but managing our 'challenging' discharge from previous lenders. Jess is tenacious, professional, personable and an absolute pleasure to deal with, we can't thank her enough. Paul and his team are extremely client focused and we can't recommend this team more highly. Thank you guys for taking the stress, calls and running around out of our hands.
Paul, Ina and the whole team at Mortgage Choice in South Melbourne went above and beyond to help us get a mortgage sorted at a busy and stressful period in our lives. Highly recommend speaking to them if you need help and support.
Guide: Buying your first home | South Melbourne & Southbank
Purchasing your first property can be an overwhelming process and there may be steps you are unsure or unaware aware of. This guide from the team in South Melbourne & Southbank will walk you through the process of buying your first home and what steps come next.