Refinancing
Refinancing | Mortgage Broker South Melbourne
While we Aussies love property, home loan repayments still sting and are often your household's biggest bill. But with the Reserve Bank of Australia choosing to keep rates low, now could be the perfect opportunity to see if you could save through refinancing your loan.
Australia is currently in the lowest rate market we have seen in years, if ever. That means, it's a perfect time to see you can save on your home loan by switching to a new home loan with a lower rate or better features. In fact, you should be checking your home loan every 2 years to take advantage of changes to bank rates and make the most of any new loan products on the market.
The most common reasons to refinance include:
Securing a lower interest rate
Lowering monthly repayments
Consolidating debt into one low rate loan
Accessing equity in your current home to invest or renovate
Switching loan terms or fixed to variable rates
Check out our lowest interest rates
Video: what is refinancing?
"Bottom line, you've literally saved me thousands of dollars in less interest payments. Huge savings! Really appreciate the way you researched the market and provided me with options to consider... A big thank you to you and your staff!" [ Bill, Doncaster East ]
We can help you find a better deal
We offer a FREE Home Loan Health Check to anyone who would like to see if they could possibly save money on their current home loan. We will compare your current loan with the others in the market to see if we can find you a better deal. If there is a better deal available, our mortgage broker South Melbourne team will get your home loan refinanced with your new chosen lender.
Do some quick sums with our calculators
Refinancing tips and tools:
The Mortgage Broker South Melbourne team have a range of resources & tools to help you feel confident through the refinancing process. To get started:
Download our free e-guide on refinancing your loan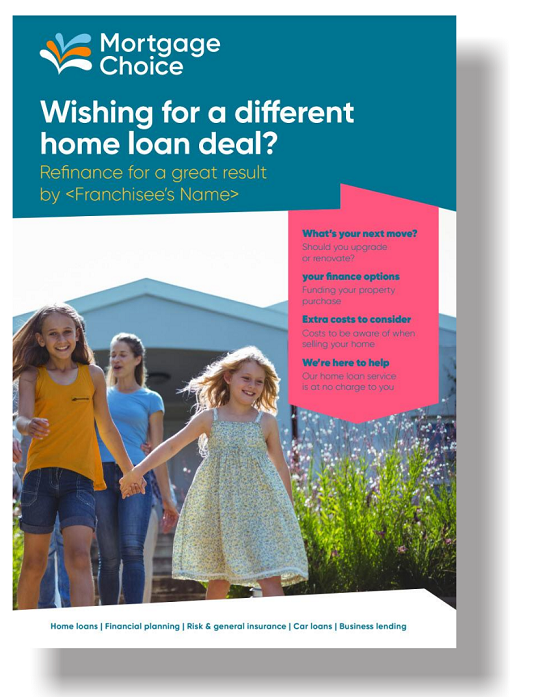 We're passionate about saving you money on your home loan
That's why we offer a FREE Home Loan Health Check as a first step to see if there's a better deal out there for you. Our mortgage broker South Melbourne team will compare your currently loans with hundreds of others to see if we can find you a lower rate.
To get started, book your free Home Loan Health Check with the Mortgage Broker South Melbourne team on 03 9681 8182 or email paul.williams@mortgagechoice.com.au
Our local Mortgage Broker South Melbourne team service the areas of Albert Park, Middle Park, South Melbourne, Port Melbourne, South Yarra, Prahran, Toorak, Southbank, Kooyong, Armadale and surrounds.
Is it time to refinance?
Our mission is to find the right home loan for your individual needs and to always have your best interests at heart. Plain and simple. Which is why we have such a wide range of lenders to choose from. We can search through hundreds of products to find something tailored to your situation. ~