Your Award Winning Gold Coast Home Loan Experts in Broadbeach on the Gold Coast
Mortgage Choice in Broadbeach is award-winning mortgage brokers helping Broadbeach & Mermaid area locals to find the right home loan deal to buy property. We also do vehicle loans, financial planning & more. We do the hard work for you.

Book your free no-obligation appointment with us today.
Call Us
Office - 07 5676 6433
Fax - 07 5676 6434
Open Hours
Monday to Friday 9am - 5pm
Thursday 9am - 7pm
Saturday: 9am - 3pm
Sunday closed
Address
Shop 111 Pacific Fair Shopping Centre, Hooker Boulevard
BROADBEACH,

QLD

4218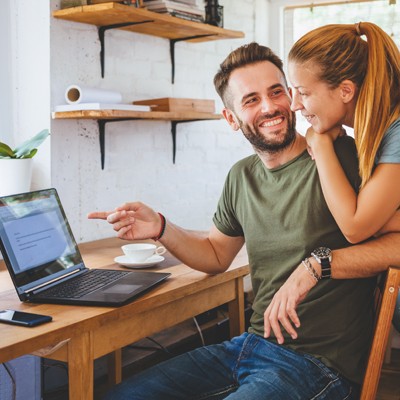 Latest home loan interest rates
Start your home loan journey today
Talk to our home loan experts in Broadbeach, Gold Coast
Put our expertise to the test. Our mortgage broking team in Broadbeach on the Gold Coast, has over 50 years of experience to help you make better choices with your finances.
Our experienced team of Gold Coast mortgage brokers are ready to work with you. Each member of the Mortgage Choice in Broadbeach team is experienced at helping Broadbeach, Mermaid Waters, Mermaid Beach and clients across the Gold Coast and beyond with their finances. We know that no two situations are alike and we are well-versed in pairing the best home loan options to our customers' individual needs to find the right home loan.
We know that our customers are busy, so our mortgage brokers will meet you at a time and place that suits you anywhere around Broadbeach, Varsity Lakes, Mermaid Beach, Mermaid Waters or across the Gold Coast.
The home loan process should be easy and stress free because we know that is what really helps our customers. Our services also come at no cost to you, as the lenders pay us, so having a chat with us also puts lets stress on you financially.
We are here to help you find the right home loan option, so get in contact today.
"Honestly a facebook recommendation doesn't do Beau and the team at Morgage Choice Pac Fair justice. they went above and beyond for us and we will forever be truly grateful."

- Jay Bee from Broadbeach, QLD
Call us today on 07 5676 6433 or book an appointment with us directly online.
Award-winning Gold Coast team
Our team of experienced mortgage brokers are also award-winning, receiving the following accolades to date:
2022 - Finalist, Office of the Year - Franchise, Regional Broker of the Year & Regional Office of the Year  
Australian Broking Awards
2021 - Finalist, Office of the Year - Franchise, Regional Broker of the Year & Regional Office of the Year  
Australian Broking Awards
2020 - Finalist, Office of the Year - Franchise, Regional Broker of the Year & Regional Office of the Year  
Australian Broking Awards
2020, 2019 Top 100 Brokers in Australia 
Mortgage Professional Australia
2019 - Winner, Office of the Year - Franchise 
Australian Broking Awards
2019 - Finalist, Regional Broker of the Year & Regional Office of the Year  
Australian Broking Awards
2012, 2013, 2014, 2015, 2016, 2017, 2018, 2019, 2020 - Winner
High Flyer Award (Top 13 Brokers in Australia) 
Mortgage Choice

2018 - Winner, Jodie Henderson
Best Loan Administrator
Better Business Awards Queensland

Services we offer
Home Loans
Refinancing your current loan
First home buyer support
Top up on existing loans
Loans for property investment
Vehicle finance
Equipment finance & leasing
Car buying service
Insurance
Personal Loans
We can help with this range of services and more from our office in Pacific Fair Shopping Centre, Broadbeach on the Gold Coast. Give us a call today to make sure you're on the right track to the right home loan.
Our Broadbeach home loan service accesses a panel of over 25 lenders, and hundreds of products so that we can find the right solution for you.
Gold Coast locations - Broadbeach & Arundel offices
Call our Pacific Fair office in Broadbeach today on 07 5676 6433 or book an appointment with us directly online.
Our team also manages Mortgage Choice in Arundel, located in Arundel Plaza Shopping Centre, Shop 8, 230 Napper Road, Arundel.
The right home loan for your needs
Our mission is to find the right home loan for your individual needs and to always have your best interests at heart. Plain and simple. Which is why we have such a wide range of lenders to choose from. We can search through hundreds of products to find something tailored to your situation. ~
Client reviews
Great service they were with us the whole way through the purchase of our investment property. Quick to respond to any questions it was a great experience thanks to this team at Mortgage Choice I would highly recommend them
I had an excellent experience with the mortgage choice team at Broadbeach.
Will took time to understand my current finances and helped me restructure my outgoings to save me a significant amount of money.
Anne was also great helping me manage the application process and everything was done super fast from initial discussions to the approval of my new finance.
I genuinely cant speak high enough of the... read more
Awesome experience. William was great to work with to obtain the best loan.
I cant thank Will and his team enough for their professionalism and expertise from the beginning of the journey to the end. Will was knowledgeable, helpful and communicated with us every step of the way
Will and Anne have been extremely helpful and professional. They have both been responsive and reliable, making our experience with them smooth and low stress. My wife and I would highly recommend them.
I would Highly recommend Will Anne from Mortgage choice He helped my wife and I refinance our home and consolidate some debts. Will helped us thoughtout the process and went above and beyond to get a perfect result for our needs.
Will was extremely helpful throughout my mortgage application. He is a very approachable and knowledgeable broker. Thanks so much Will for making the process so easy.
Thanks to will at mortgage choice Pac fair He helped my husband and I secure our first home loan and now we are moving into our first family home . Will made the process so quick, easy and stress free . Thank you so much. .
Will handled me and my partners home loan - both first home buyers. He made the whole process super easy, had great communication and helped us secure our dream home in just a few weeks. I dont understand why anyone would try and get a home loan without a broker, as we had no idea where to start and Will was able to guide us though the entire process. Thanks so much guys.
Thank you so much. They rescued me from a no friendly broker. love this guys
Just wanted to thank you very very much for absolutely everything you did for us to get us over the line and allow us to buy our family our dream home. You always go above and beyond and always find a way to make things happen.
My dad would be so happy and I'm sure would be giving you a big hug himself if he could. Truly means a lot. Sending you all big hugs and lots of happy smiles
Thanks again....you guys are legends 🙌😊❤️
Anne Smith was amazing, we really only had one meeting with Beau and then Anne kept us in the loop about everything, couldn't recommend her highly enough.
Beau and Anne helped us get our home loan across the line in record time. Friendly and responsive service, thanks so much!
I just want to say Thank you so much for your help.You guys are just best.best service and very helpful firm.
Without your help it wouldn't b possible as I was struggling so much.You guys just took all the burden off from my head.Thank you so much for this help. God bless
Beau and the team at Mortgage Choice Pacific Fair are always willing to go the extra mile to help you out! Would recommend to any and everybody.
Beau and the Pac fair team go above and beyond. What an amazing experience!
Thank you very much for helping us to get house loan. I am really very happy from your and Anne's service. I also recommend my friend to call you regarding his land and house loan. We moving next week to our new house. Thanks again.
Beau and Anne were absolutely fantastic helping us buy our very first home. They were always a phone call or an email away if we needed them (I distinctly remember me panic phoning Beau on a weekend while he was at a wedding and he phoned back straight away!). If you're thinking of buying a home and are looking for a mortgage broker, look no further than Mortgage Choice at Pacific Fair, you won't regret it.
We wanted to thank the entire Broadbeach Pacific Fair Mortgage Choice team for all the support provided. They were always available, provided great communication, and the best service. The entire process was really smooth! Thanks team Mortgage Choice Broadbeach.
Hi Anne and Beau, Just saying thank you for your help during this process. It was greatly appreciated. The work you two put in made it very easy for me.
Jeanette Spinks has been so wonderful to us. I would recommend her every time.
Amazing experience! Darren and Jeanette helped us a lot to get the loan approved to purchase the our dream house ! And everything went very well! Thanks so much guys ! Highly recommend!
Best broker ever and never too busy to help and keep customers happy. Bought my 2nd house through Beau and Anne and i will keep doing this in the future. Thank you
Refinancing guide
Considering refinancing? Our guide explains the reasons, costs and steps involved in refinancing your home loan.