Melanie O'Connell, your local Mortgage Broker in Narellan, Campbelltown and Macarthur | Home Loan Expert
Whether you're a first home buyer, looking to refinance, invest or are self employed, I can help. As your local home loan expert I will research and compare up to 20 lenders to help you find the loan that best suits your needs. Give me a call or book an appointment today.
Call Us
Office - 02 4627 7447
Open Hours

Monday - Friday: 9:00am - 5:00pm


After hours by appointment
Address
Unit 4, 7 Maxwell Place
NARELLAN,

NSW

2567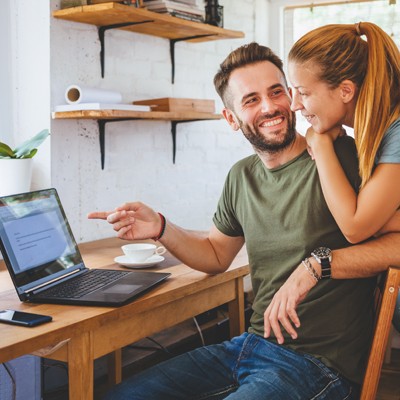 Latest home loan interest rates
Why choose Mortgage Choice in Narellan?
Mortgage Choice Narellan offers our home loan services at no charge to our customers as the lenders pay us a commission after your home loan settles, which means you get all of our expertise at no cost to you!
Whether you're a first home buyer, seeking a refinance or an experienced property investor - Melanie O'Connell from Mortgage Choice in Narellan will ensure you have the most suitable and competitive mortgage.
If you're wondering...
What is the best home loan?
What is the best home loan interest rate, that suits my needs?
Then make sure you get in contact with Melanie. As an expert in all things finance, Melanie is confident she can help you secure the right finance for your requirements.
Our team of brokers in Narellan & Macarthur will assess and compare the hundreds of loans available in the market, calculate your borrowing capacity and determine which lenders will qualify you. From there, we then sit down and present our findings to you so you can make a fully informed decision.
Once you've agreed on your home loan, we will prepare the paperwork, lodge the loan application and take care of all the running around.
Our team from Mortgage Choice Narellan can meet with you at a time and place that is most suited to you including your home or office. Call Melanie today for an appointment on (02) 4627 7447 or 0435 048 118. If you prefer to email, simply get in contact at melanie.oconnell@mortgagechoice.com.au.
As your local mortgage broker in Narellan, we can help you with: 
Insurances
Deposit Bonds
Personal loans.
Hear what some of our customers have to say! 

Mortgage Choice Narellan & Macarthur our mission is to find the right home loan for your individual needs and always to have your best interests at heart.
So if you're looking to save money on your home loan or need an experienced Mortgage Broker to help you achieve your property dreams - we're here to help!
Call your local mortgage broker in Narellan & Macarthur on (02) 4627 7447 or 0435 048 118. We are here to help you through the entire home loan or finance journey.
The right home loan for your needs
Our mission is to find the right home loan for your individual needs and to always have your best interests at heart. Plain and simple. Which is why we have such a wide range of lenders to choose from. We can search through hundreds of products to find something tailored to your situation. ~
Client reviews
Melanie the team at Mortgage Choice have been amazing. As first home owners we were out of our element but Melanie took the time to walk us through the whole process of finding a great home loan and directing us through each step along the way. We couldnt recommend her and the team highly enough. Thanks so much
Highly Recommend Melanie from Mortgage Choice . Very informative and friendly. Definitely will be using her services in the future .
Can't recommend Melanie her team enough. Thank you
Great service by Mel and her team. Always willing to help and support. Looking forward to continue to work with you hi in the future.
Nice and friendly staff keeping us up-to-date with all the current trends in the industry.
Melanie and her team helped me refinance some investment loans a few years ago and saved me lots in interest, not only on the loan I refinanced but also renegotiated a better rate with my existing lenders.
The great service doesn't end there, regular reviews of the loan keep your lender honest, this years review resulted in a .42 interest reduction which is just unbelievable considering zero costeffort from myself.
I have been lucky enough to meet Melanie from Mortgage Choice Narellan in 2016. Over this time Melanie has treated myself and my Sons mortgage
with such personal attention that we feel like her only Clients. This we are very grateful for as in this ever changing world of Interest rates it has been nice to have Mortgage Choice looking out for us.
Melanie has been assisting us for a few years now. She is extremely helpful and always goes above and beyond, reviewing our mortgage and trying to negotiate better rates for us regularly without us even asking. We highly recommend Melanie to anyone needing a mortgage broker.
Helped me out greatly as a first home buyer 2 years ago and has recently surprised me by negotiating a lower interest rate with my bank without my prompting.
Melanie and her team were able to provide a range of products to suit my needs. They took the time to understand my requirements and offer a very personalised service. I was able to buy my ex-partner out, which is an extremely difficult process, Melanie was able to keep me grounded and ensure I understood all available options.
I am very happy with my Mortgage Choice and having a reliable broker t... read more
Thank you so much for all your help, you are wonderful. I couldn't have purchased my investment property without your assistance. I would highly recommend your services to everyone.
We found Melanie to be sincere, professional and more innovative than previous Mortgage Brokers we have seen. She was considerate of our concerns and goals when providing us with loan options that met our current financial situation and possible solutions if our financial needs changed. Her knowledge of the industry gave us confidence choosing a financial path to owning our first home.
Thank you Melanie....you are fantastic to deal with.....appreciate your diligence and quick response.
Your help and service with the purchase of my the house and the loan has been really wonderful. Thanks again for your help, Melanie. I really do appreciate your professionalism and assistance.
We want to say thank you for all your help and advice over the past year. We couldn't have done it without you and the process has run so smoothly because of your tireless efforts. Would definitely recommend you to anyone needing a Mortgage Broker and we loved the fact that you were so flexible and always available to assist us with our queries.
Thank you so much for all your help and advice. Your experience and feedback was so very appreciated. It meant a lot. I will be defiantly recommending you to all of my family and friends.
Really appreciate all your hard work, thank you so very very much for making it as painless as possible.

When our daughter is ready to buy again, we will recommend she uses you, as well as any friends who may be in need of an awesome Broker 😁
We cannot thank Melanie and her team at Mortgage Choice enough for assisting us in securing our home loan. After being unsuccessful with applications through another broker we went to Melanie for a second opinion and we are so glad we did otherwise we would not be in our own home today! Professional and efficient service, highly recommended!!
First home buyer's guide
Purchasing your first property can be an overwhelming process and there may be steps you are unsure or unaware aware of. This guide will walk you through all of the steps involved in the buying process.