Your local Mortgage Broker and Finance experts in Sandringham, Black Rock, Hampton, Highett, Beaumaris, Mentone and surrounds.
Your local Mortgage Choice broker and finance expert servicing Sandringham, Black Rock, Hampton, Highett, Beaumaris, Mentone and surrounds. Let us help you find the right home loan and guide you through the process. Give us a call today on (03) 9585 2000 or book your appointment!
Call Us
Office - 03 9585 2000
Open Hours

Monday - Friday: 9:00am - 5:00pm


After hours by appointment
Address
Unit 7 / 23-35 Melrose Street
SANDRINGHAM,

VIC

3191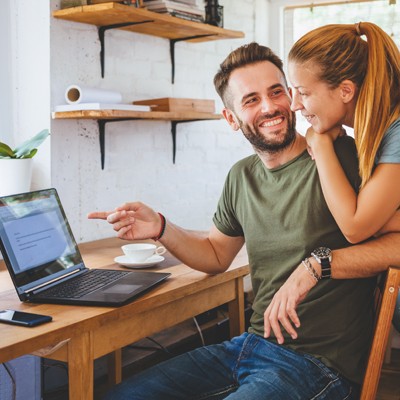 Latest home loan interest rates
We are passionate about helping our local community across Sandringham and surrounding suburbs reach their financial goals by finding the most competitive home loans and financial solutions.

Start your home loan journey today
4 Reasons to use Mortgage Choice Mentone for your home loan
1) Your local Mentone experts in home loans and property investment
Our experienced team of mortgage brokers is led by Ian Celantano, Kate Gorman, Jeff Morel and Megan Anderson. Ian and his team cumulate over 20 years of experience in the mortgage broking and finance industry. We'd like to invite you to read our team profile as each of us has a specific area of expertise.
Our office is conveniently located at the heart of Mentone, on 17 Como Parade West right next to the brand new Mentone train station. Pop in for a chat and a free coffee!
2) We do all the legwork for you
At Morgage Choice in Mentone, we do all the research and manage every step of the application process for you on your behalf, saving you time shopping around and filling in multiple applications.
We make your home loan process simple, efficient and stress-free. We are available to meet with you at our office in Mentone, at your home or at any location convenient for you.
3) A comprehensive choice of home loans
At Mortgage Choice in Mentone, we have access to hundreds of different home loan products and features to suit any situation. We can analyse and compare hundreds of home loan products available in the market to find the most competitive and suitable loan for you.
4) Our home loan service is at no cost to you
What services do we offer?
We can help with:
Home Loans FAQs
How much can I borrow?
Your borrowing capacity is determined by a number of factors. The two main factors that we assess to determine how much you can borrow is
The amount you earn minus
Any debts you may have.
The great thing about dealing with a mortgage broker is that we can look at all the lenders' current servicing calculations to determine how much you can borrow, without the need for you to contact each bank.
When will I receive my loan funds?
This will depend on the individual situation and the type of loan you have applied for. However, typically you will receive your loan funds within six weeks of starting your home loan process. As your Mortgage Choice in Mentone brokers, we will keep you updated throughout your entire process so you know exactly how your application is going.
Get in touch with our team at Mortgage Choice in Mentone today on (03) 9585 2000
Why use a mortgage broker rather than talking to my bank directly?
When you walk into the branch of a bank or lender, you will only ever be offered their small range of typically 4 or 5 home loan products. Banks also don't compare their products to other home loan products available in the market. So you won't even know if there is a better product on the market for you.
By choosing a mortgage broker, you are getting more choice and information, hence you have more chances to get the most suitable and competitive loan for your situation. 
The right home loan for your needs
Our mission is to find the right home loan for your individual needs and to always have your best interests at heart. Plain and simple. Which is why we have such a wide range of lenders to choose from. We can search through hundreds of products to find something tailored to your situation. ~
Client reviews
Ian and the team at Mortgage Choice Sandringham were great. Very thorough and efficient, and guided me through the process. Just wait til Ian rings his bell Highly recommend.
Great service, Great team and communicated everything really well and easy to understand. Highly recommend to anyone looking for a mortgage broker, will be coming back if i ever need the services again.
Ian and his team have been fantastic during the loan application process. His team are very professionalresponsive and they went above and beyond in guiding us through the process.
Highly recommend Ian at Mortgage Choice He was always on hand to patiently answer our many questions and really cares about his clients. He goes above and beyond to get an excellent end result.
Fast, efficient service with a smile. Achieved the result I wanted with minimum hassle.
Ian supported us brilliantly in purchasing our property, through providing options we hadnt even considered from the outset. We found Ian to be incredibly patient and always available to answer our questions. We cant recommend Ian enough.
Ian Celantano and his team at Mortgage Choice Mentone provided clear information and wonderful support during the home loan application process. Ian was generous with his time and conveyed accurate and helpful information. Celine and Larra were also kind and supportive throughout the whole process.
Ian and his team have been amazing during our loan application process. They are very professional and responsive. Kate from Ian's team has gone above and beyond, monitoring emails on weekends and weeknights waiting for responses back from overseas processing teams. I could not recommend them highly enough and I look forward to a long term relationship with the team to ensure we get the best loan terms we can
I cannot fault the level of communication, responsiveness, patience, service and knowledge from Ian, Kate and the team. They went above and beyond and made the entire process seamless.
They were very professional throughout and we definitely appreciated the status updates. Communication has been a pain point with previous brokers but Ian, Kate and the team were exceptional in this regard and it alway... read more
Cannot thank Ian and Kate enough. Ian in brilliant and so personable. Kate is just amazing. She has been so thorough, supportive, kind and hard working. We cannot thank you enough
I was very happy. Ian went above and beyond to help me acquire a loan. I don't think it would ever have happened without his tireless work.
Ian was fantastic and helpful. We have already recommended him to family and friends.
Ian was great to deal with and helped at every stage of the process. I can't thank him enough.
First home buyer's guide
Purchasing your first property can be an overwhelming process and there may be steps you are unsure or unaware aware of. This guide will walk you through all of the steps involved in the buying process.