Mortgage Brokers Central Coast NSW - Your Home Loan Specialists in Tumbi Umbi
Need help with your finances? Talk to John Acton and the team on the Central Coast for help with home loans, car loans, business lending, financial advice & more.

Contact us on: (02) 4388 1155
Alternatively contact John on: 0402790441
Call Us
Office - 02 4388 1155
Fax - 02 4388 1044
Open Hours

9am - 5pm Monday - Friday. After hours appt by appointment
Address
Shop 1/25-27 Wyong Road
TUMBI UMBI,

NSW

2261



Your local Central Coast home loan experts are just around the corner!
With over 16 years of experience in Mortgage Broking, we have helped thousands of clients on the Central Coast with their home loan needs. Our goal is to find a home loan that works best for you. When you use Mortgage Choice in Tumbi Umbi, it's like having over 20 banks & lenders competing for your business. We will compare their various loan products & find the one that is the best fit.
We can help you to navigate the complex home loan market and to realise your financial goals sooner. Having lived on the Central Coast for 16 years we understand the local property market and the needs of:
First Home Buyers
Those looking to refinance their current loan or to upgrade their home
Investors
SMSF Lending
Debt consolidation
Property investment loans
With new loan products coming onto the market regularly, meeting with us for a free home loan health check will ensure you have the most appropriate loan product for your needs. We will review your home loan and will compare your loan with those of the many lenders on our panel, not just the rates but the fees, features and benefits too. We will also take into account any potential refinancing costs, such as break fees, to help you work out your options and make the right decision.
Compare your home loan with others on the market with our home loan calculators!
What makes us different?
Our home loan service doesn't cost you anything!
At Mortgage Choice we do not charge our clients for our residential mortgage services. Mortgage Choice pays us the same* commission, regardless of which lender you have chosen. This means we are only concerned about finding the most suitable home loan for you.
It's all part of our service when you choose to use Mortgage Choice in Tumbi Umbi.
Hear what some of our customers have to say!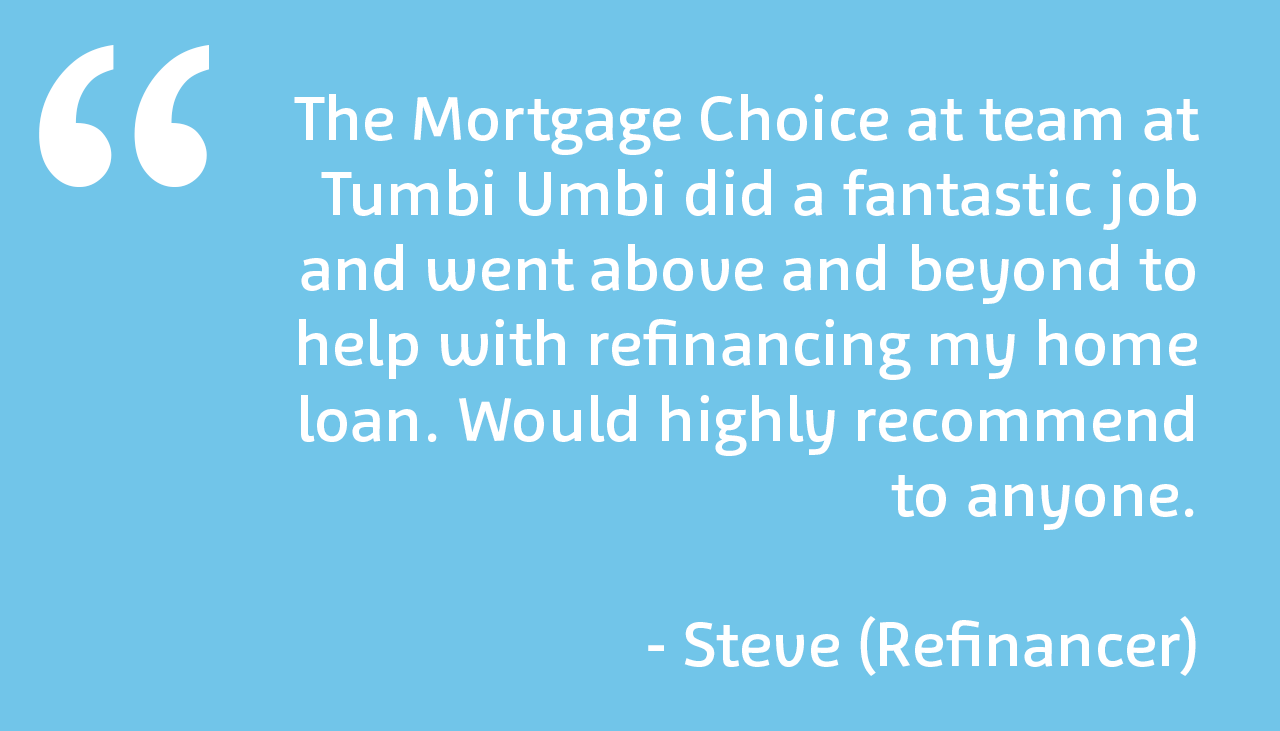 Fixed rate Vs. Variable rate!
While there is no crystal ball that can predict what will happen to the economy and interest rates in the future, what we can give you is an insight on the pros and cons of fixing your home loan. Watch our short video above to find out more.
We can help you with:
Personal loans
Loan Protection Insurance
Home & Contents Insurance
General Insurance
We are also proud sponsors of the Ourimbah Magpies Junior Rugby League club, The Killarney Vale Bombers and The Entrance District Cricket Club.
If you're ready to speak with a home loan expert, contact the team from Mortgage Choice Tumbi Umbi on 02 4388 1155.
*This information refers only to loans provided by our panel of over 20 lenders with whom Mortgage Choice has an arrangement, under which it receives commissions and other payments.
The right home loan for your needs
Our mission is to find the right home loan for your individual needs and to always have your best interests at heart. Plain and simple. Which is why we have such a wide range of lenders to choose from. We can search through hundreds of products to find something tailored to your situation. ~
John and Leanne made the process easy from start to finish and their communication was fantastic throughout! Highly recommend the team at Mortgage Choice and we won't hesitate to use them for all our future financial needs.
I have been dealing with John, Michelle and Leanne for over ten years now and for good reason, that is they give outstanding service each and every time . I have completed 4 mortgages with the team and every time they have been second to none. I have no problem recommending mortgage choice Tumbi Umbi to anyone.
These guys, and gals are absolutely amazing. I would highly recommend mortgage choice crew at Tumbi Umbi to anyone wanting to refinance or consolidate as we did. We were informed immediately for anything that cropped up. Also it was much quicker than we expected or if we had done it on our own. Thank you all, John, Leanne and Shelly for the awesome service u provided for us. Our lives are already better and I can't thank you enough for all you have done. Dropping in some Champers for you lot this week. Thanks again and cheers. :)
John is very understanding of our needs. His guidance from start to finish of the loan process is very clear. In challenging times, John is always there to update the matter. He experience in his work clearly shows in these times, and has always managed to lead to positive outcome.
John is a gentleman. He is very confident in what he says because he has always made things happen for us. He has this ability to be calm when any sort of issues arises, and makes sure it is dealt with promptly. I am so glad that I am one of his client. Leanne is sweet, and thorough. She always follow up with us with the latest developments. She is prompt in her reply.
We have used Mortgage Choice twice now to refinance our Home Loan and both occasions it has been so easy, and always saved us thousands. Without question we will use them again, there is no way I would go directly to a bank again when it comes to our Home Loan.
Purchasing your first home can be a confusing and overwhelming process. John & his team at Mortgage Choice have been great support and have simplified the process from start to end. They were more than happy to answer all of my questions and were able to compare the market to find the best loan for me, at the most competitive rate. I would highly recommend their services!
John and Leanne are very efficient and professional. We have full confidence in their ability to find the best home loan for us. They both supported us through the entire process and answered any of our question or concerns when asked. We would recommend them to anyone looking for a new home loan or to refinance.
The team at mortgage choice Tumbi Umbi were an absolute pleasure to deal with. They were patient with what felt like our never ending list of questions and found a way to explain every detail to us in a way we would understand. Everything I asked of them they did above and beyond what I would have expected and always kept us up to date on what was happening with the process. I would and have referred many family and friends to visit John and Leanne and will continue to do so with confidence. We were return customers to purchase our second house and will surely be back again in the future. Thank you again.
John, Leanne and Shell were a delight to deal with. Every question answered without hesitation, guidance and support offered throughout the whole experience. Will recommend your service's to all of my friends. Thank you so much for all of your help!
John , Leanne and team at Mortgage Choice at Tumbi are absolutely amazing and we are very grateful for their help , yet again to assist us in our refinancing needs . A wonderful service! Thanks so much Mortgage Choice Tumbi!
Your help and passion is amazing. We were novices in the property investment market, but with your expertise and professionalism, it seemed a breeze. Thanks again.
My experience of Mortgage Choice has been outstanding. The communication between myself, my husband and Leanne was wonderful, with updates whenever we needed them and an ease of contact that was above and beyond. John was professional, knowledgeable and confident in his field, giving me the impression that I was in good hands with my home loan refinancing and that I would be given the best deal. I was regretting the whole refinance, but it has been completely painless - with support provided the whole way. I would recommend John and Leanne as a wonderful team for your home loan needs. I would have no hesitation in using their service again, if required. Thank you so much, you have been wonderful!
I've known John for a long time and he has handled 4 loans for me and through that taken care of everything including dealing with solicitors. He goes above and beyond for his clients and I have no hesitation recommending him to anyone looking for a mortgage or car loan and I have told all my friends about him and will continue to do so. Any mortgage or financial issues I have I will always go to John for help and advice.
We have been with a major bank for more than a quarter of a century but this process was so seamless. We were always kept in the look and any questions were answered that day. We can not recommend John and Leanne more. We should have made the change much earlier.
My husband and I have used the team twice now and will continue to do so in the future, the service is nothing short of outstanding. There is no jargon used and any questions are answered in a way we can understand. Extremely quick and efficient.
Help me
calculate