Article published 08 April 2022
It seems a growing number of Australians are getting into the property market as investors. Data from the Australian Bureau of Statistics confirms that loans to investors climbed 4.2% in February 2022 – with a total of $10.7 billion extended to investors during the month, compared to $6.9 billion in February 20212. 
According to the newly launched PropTrack Home Price Index Report for March 20223, the return of investors is something we can expect to continue in 2022. And several factors are behind this.
Price growth is cooling
Ramped up investor activity is occurring at a time when housing price growth has slowed.  PropTrack says prices rose by just 0.34% nationally in March 2022 – the slowest monthly pace since May 2020. 
However, as PropTrack notes, 2021 was such an exceptional year for home price growth – the third fastest episode in Australia's history. It would take further exceptional circumstances to match that in 2022.
For investors concerned about the 'heat' we saw in the property market last year, it can be reassuring to know price growth is starting to ease.
Regional areas still more affordable
Regional areas continue to benefit from relative affordability as well as the preference for lifestyle locations that we've seen through the COVID-19 pandemic.  
According to PropTrack, this has pushed up regional property prices by 25% over the past year compared to 16% across the state capitals. This growth gap is expected to continue, at least for the first half of 2022.
Housing price growth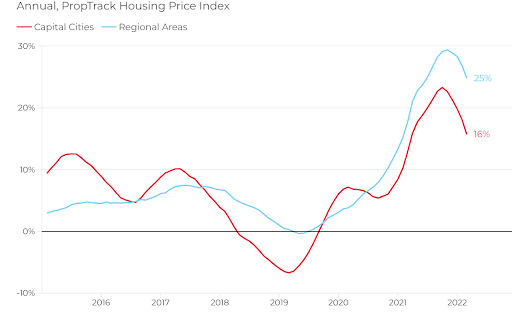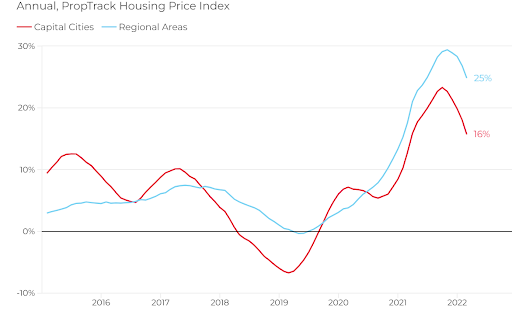 Source: PropTrack Home Price Index Report for March 2022