Mortgage Broker for Blackburn and the South Eastern Suburbs
, BLACKBURN VIC 3130
Tel: 03 9877 6471 Fax: 03 9877 7385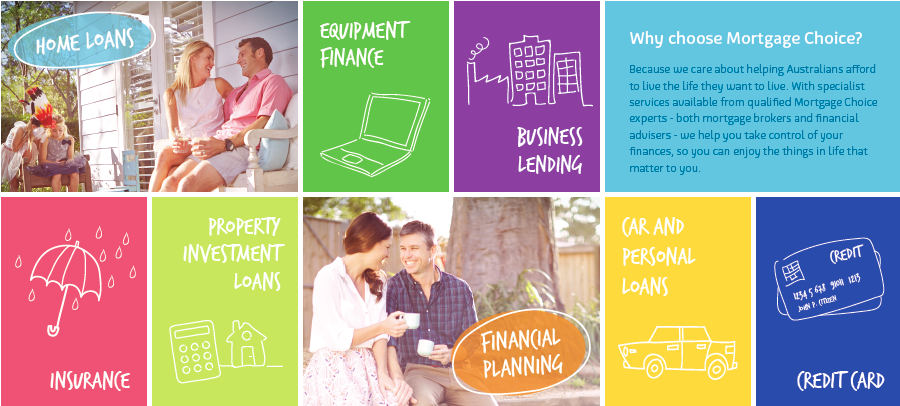 (For an interactive version of the Suite of Services shown above, click here. Once downloaded, click on any of the coloured tiles to get more information on your topic of choice)
With many years' experience in the finance industry, we have dealt with many different scenarios and have confidence we can help you with yours.
"Both Peter and Lynne provided us with highly professional, prompt and efficient service and our loan went through hassle free. This is the fourth time over a 15 year period we have used Mortgage Choice Blackburn and we have no hesitation in recommending their services for anyone needing to arrange a loan." – Stuart & Simone, Malvern East
Save time researching the best deal
With our panel of more than 20 lenders we can quickly compare hundreds of loans, including the big 4 banks. There's no need to spend your time searching through all the lenders when we can do it for you
Avoid the headache
We do all the running around for you. From helping you with all the paperwork to following up regularly with the lenders and keeping you informed throughout the whole loan application process.
The Convenience for you
Whether it's 9am or 9pm you can call me at any time of day.
Here's my mobile number: 0411 220 083
Save money
Being mortgage brokers we have access to deals that aren't always accessible straight through the bank branches.
"We were supported all the way through and for a first time home buyer we couldn't have felt more at ease. Lynne and Peter were so attentive and thorough from application to settlement." – Candace and Andrew, Berwick
We work hard so that your next loan is easy
Our simple 4-step process means you can relax while we do the legwork for you.
Step 1 – Initial Consultation
Come in and meet us - or we can come to you and we'll discuss your goals and circumstances. We want to know exactly what you're looking for so we can find what is best suited for you out of our panel of lenders.
- It's free, no obligations and fully confidential.
Step 2 – Loan Choice
We'll assess hundreds of loan products from our broad range of lenders, present you with detailed information, then work with you, answering your questions to help you make the right home loan choice.
Step 3 – Application to Settlement
We take the hassle out of the home loan process. We'll complete and submit the appropriate documentation, then follow the application though to settlement – hassle and stress free for you.
Step 4 – Future Needs & Your Protection
We're more than just home loan professionals. We'll be here for you down the track should you have a question. Our in-house financial adviser can also review your circumstances and offer suggestions to build complete financial security.
We care about more than your home loan - that's only one piece of the financial plan. We're with you for the long term so we can also help with house insurance, life insurance, property investment, car & equipment finance and commercial loans.
"Thank you for your service. I found working with both Peter and Lynne a pleasure. For me, the most important aspect of their service has been well placed updates and follow up touch points. I felt part of the mortgage process without having to be the driver of the mortgage process. A great relief." – Michael, Forest Hill
Let's get started
Give the team at Mortgage Choice in Blackburn a call on 03 9877 6471 or drop in for a visit
Review
Peter, Lynne and Vicki were very helpful and patient. They ensured the process was smooth and easy to understand. We would not hesitate to use their services again.
Andy & Nikki, VIC
Read more reviews
Latest
blogs
Published: 17th November, 2017
Are you interested in 'doing lunch'? There are approx. 20 lunchtimes on working days ...
Read more blogs
Latest
media release
Published: 22nd November, 2017
More than 40% of Australians don't have enough money to pay for 'emergency expenses', new data has revealed.
Read more media releases