Updated May 2021
Investing in the New South Wales property market can have many benefits, depending on what your goals are. As NSW is a large state with many different regions and lifestyles, it is likely that an area is right for your investment journey.
New South Wales Housing Market
Having Sydney as its capital city, it's no surprise that NSW has the most expensive housing market in Australia. Although the market saw a decline through 2020, Sydney's housing prices ended the year with a median house price of $1 million in December 2020.1 Despite a decrease in Sydney's house and unit prices throughout 2020, due to the coronavirus pandemic, these resilient markets have ended the year with a 1% increase for houses and no change for units compared to December 2019.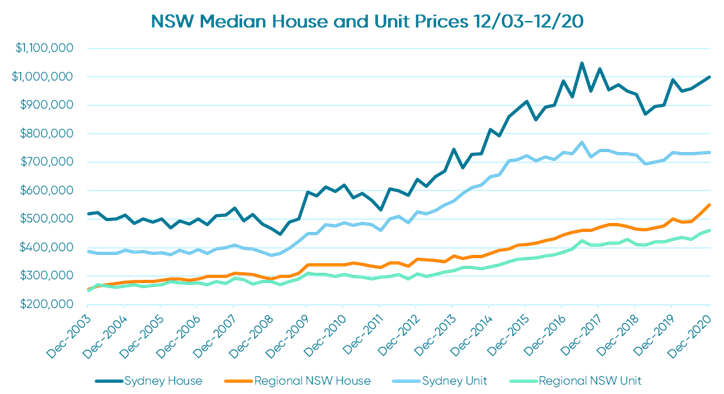 Source: Median price (unstratified) and number of transfers (capital city and rest of state)
While Sydney's housing market saw some downwards trends before it's recovery in late 2020, Regional NSW performed strongly throughout the year with 10.2% and 6.9% increase in houses and units, respectively.2 These booms in the regional market can be attributed to coronavirus' impact on the capital cities causing a trend towards regional migration for remote working and having a more affordable and spacious lifestyle.