Where property values rose the most in 2021
The lure of more space and coastal living has pushed up property values in popular seaside towns during another year plagued by lockdowns and COVID-19 restrictions.
As workers continued to reassess the need to live close to a city, PropTrack data shows home values in some areas surged by more than 70% in 2021, particularly those near the beach.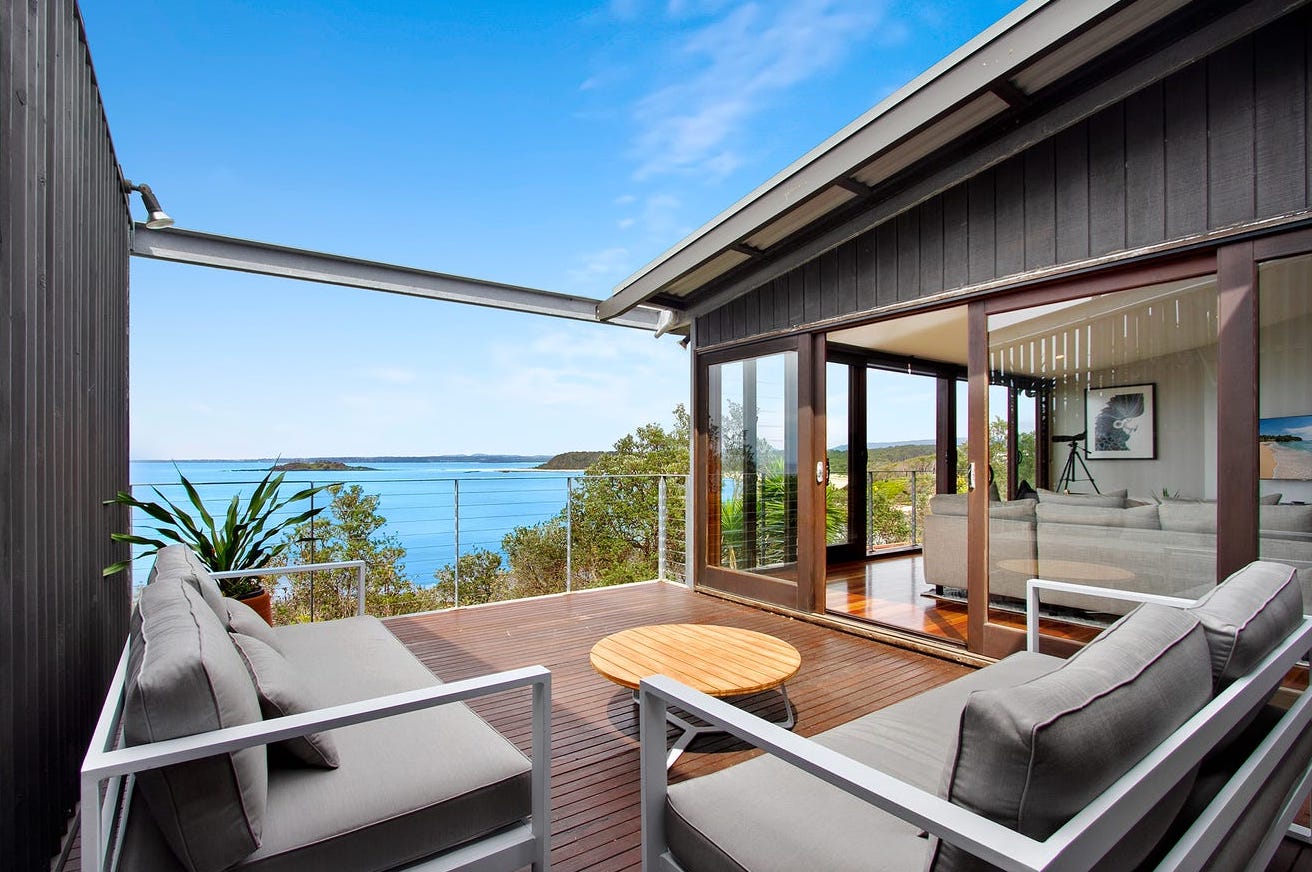 Manyana on the NSW South Coast recorded the strongest price growth nationally in 2021. Picture: realestate.com.au/sold
PropTrack senior economist Eleanor Creagh said lifestyle had become a higher priority for buyers.
"Maybe the experience of lockdowns reduced the attractiveness of inner city living for some people," Ms Creagh said.
"Maybe for others more time spent at home drove this increase in demand for more space, whether it's a garden or a home office.
"People are reassessing their living situations, and they now have more residential choice and the ability to live in places that maybe prior to remote working trends might have been impractical."
While remote working arrangements have driven a regional market boom nationally, Ms Creagh said areas located within easy access to a capital city or major regional centre offered the best of both worlds.
Use the interactive below to see how well your suburb performed in 2021.
"We saw that in 2021 regional housing markets outperformed capital cities in in terms of price growth and we saw a huge increase in people looking for properties in regional Australia," Ms Creagh said.
"I do think that remote working trends are here to stay and, in that sense, it's those commutable regional towns that combine lifestyle but allow people to maintain office connections that are likely to remain popular."

Suburbs with the largest price growth
Manyana on the New South Wales South Coast is located within a three-hour drive from both Sydney and Canberra, and less than an hour from the regional centre of Nowra.
With a tiny population of about 500 people, according to the latest Census, a sudden boom in demand in Manyana pushed the median house value up by 77% to $991,306 in the past 12 months – the strongest growth for houses nationally.
Largely consisting of holiday accommodation, local agent Sharon Deadman from Ray White said many had decided to make Manyana their permanent base during COVID.
"There's only about 800 permanent residents between the four little villages in the area, so they consist of Berringer Lake, Cunjurong Point, Manyana, and Bendalong," Ms Deadman said.
"Probably about 75% of it is holiday rental accommodation, there's about a 15% permanent population and the rest of the balance is holiday homes, people not holiday renting them but just using them themselves for their families,
"A lot of people have moved into their holiday accommodation and being that we have NBN here and Wi-Fi, they can work from home and don't have to be in those more populated areas."
With demand outpacing new listings, Ms Deadman said prices had shot up.
"[Before COVID] you might have got a four-bedroom brick home for around $500,000 but you're now looking at a similar thing for just under a million," she said.
"And waterfront homes which were getting about $1.5 million, they're now getting $3 million."
Four of the top 10 suburbs for house price growth were located on the NSW South Coast and Far South Coast, with values in Berry jumping 67% to $1.9 million over the 12 months to December 2021, while Mollymook Beach recorded a 63% increase to $1.2 million.
Further down the coast, Narooma – a popular holiday destination with Canberra residents – recorded a 65% increase in house values to $806,162.
Outside of NSW, strong house price growth was recorded in Coombs in the Australian Capital Territory (76% growth), Sunrise Beach in Queensland (73% growth), and Queenstown in Tasmania (72% growth).
Ms Creagh said as well as lifestyle, affordability had influenced many buyers, with regional locations typically offering more bang for your buck compared to the major cities.
"Despite the price growth that we've seen throughout 2021 a lot of regional housing markets still retain an affordability advantage over their respective state capitals."
Units also recorded strong price growth in coastal areas, with Lorne on Victoria's Great Ocean Road taking out the top spot nationally following a 64% rise in values to $1.2 million.
Suffolk Park in northern NSW (62% growth) and Western Australia's Port Hedland (61% growth) rounded out the top three.
"Port Hedland is the largest global shipping hub for iron ore and for much of the last 18 months iron ore prices have been incredibly elevated, and that's fuelled price growth in regions that are linked to mining," Ms Creagh said.
"I think what really stands out across that unit top ten list is just the desire for lifestyle and beachside living," she added.
Over the 12 months to December 2021 house prices grew 26.8% nationally, while unit prices rose 13.4% according to PropTrack data.

The most in-demand suburbs
Another indicator of strong buyer demand for a particular suburb is heightened activity from highly engaged buyers on realestate.com.au. A highly engaged buyer is considered to be more likely to purchase due to their activity on the site.
Nationally, the most in-demand suburbs with high-intent buyers again were largely located near the ocean.
Ms Creagh noted capital city suburbs dominated the top ten list for houses and units due to the higher level of homes.
"These suburbs are more high density, larger suburbs in terms of the number of dwellings," Ms Creagh explained. "So when we look at that absolute level of demand, you are going to pick up those larger places."
For houses, Berwick on Melbourne's southeastern fringe was most in-demand nationally, with 50,782 highly engaged buyers looking at the suburb over the 12 months to December 2021.
With 43,321 high-intent buyers, Buderim on Queensland's Sunshine Coast was the second most in-demand suburb last year, followed by Frankston (41,625 highly engaged buyers) near Melbourne's Mornington Peninsular.
Inner-city Melbourne and suburbs on the Gold Coast in Queensland were most sought-after for units.
"We know that the Melbourne inner city market has not performed as well as other markets and potentially people are looking to take advantage of that," Ms Creagh said.
Real estate agent Daniel Atsis from Belle Property Richmond said despite the remote working shift, inner-city suburbs were still in demand.
"We've got all shops you want, we've got all the restaurants you want, we've got all the cafes, we've got public transport," Mr Atsis said. "Why wouldn't you want to live here?"
First homebuyers and investors were the two main buyers for units in the area, he said.
In terms of demand growth, Ms Creagh said suburbs with new estates and housing development became more popular as listing volumes dwindled.
"Vendors have held back from listing their properties, they haven't had the confidence to list and so there's been a lower supply of established dwellings available for sale and that's meant that people have shifted to the new homes market or development estates."

Properties selling at lightning speed
The combination of strong buyer demand and limited new listings caused properties to sell at record speeds over the course of 2021, with homes in some popular suburbs being snapped up in just over a week on average.
Data tracking the median number of days a property was listed on realestate.com.au before it sold showed strong competition in the Tasmania capital and southeast Queensland, for both houses and units.
"When there's not many options for buyers to choose from you see that when a home comes to market buyers typically have to move very, very quickly on that home," Ms Creagh said.
"Typically when you get a lot of competition you do see buyers paying premiums over advertised list prices."
Houses in Bald Hills on Brisbane's northern fringe were on market for a median eight days before selling during the 12 months to December.
Local agent Jack Harvey from Coronis said the suburb appealed to families.
"You've got the train, you've got good transport, you've got two really good schools in there as well," Mr Harvey said. "Properties are getting snapped up pretty quickly – nothing's lasting longer than a week or two."
"I just sold a three-bedroom, one-bathroom home for $805,000, whereas we were selling that sort of stock for $500,000 to $550,000 not even 18 months ago."
Mortgage sizes hit record highs
This perfect storm of low stock and high buyer demand, combined with record low interest rates and generous government incentives, saw borrowers to take on larger loans to keep up with rising property prices
In November, the average mortgage size for owner-occupiers hit an all-time high of $596,000 nationally, according to the Australian Bureau of Statistics, with new records set in every state and territory except Western Australia.
The average mortgage size for households hit a record high in November. Picture: realestate.com.au
Ms Creagh said low borrowing costs meant many households had the confidence to take on more debt.
"That doesn't apply to everyone," Ms Creagh said. "For those who don't already own a home, affordability is kicking in as a more severe constraint after the spate of price growth that we've seen through 2021."
"But for those that do already own a home, many of those have accumulated significant equity gains, so are able to use that in terms of purchasing a subsequent property,
"That's one of the things that's likely to keep activity at relatively strong levels throughout 2022."