Updated 28 April 2021
Over the past few years, Brisbane's housing market has grown into an ideal area for property investors. With recent and upcoming developments put in place to improve its infrastructure and economy, as well as the upcoming 2032 Olympic games set to be held in Brisbane, now may be a prime opportunity to invest.
Brisbane Housing Market
When investing in property, an understanding of a location's housing market in relation to current and previous trends can be beneficial. Although historically the Brisbane housing market has not seen the same increases as Sydney and Melbourne, recent trends are showing that the property market is expected to continue to see high growth rates. 
The median house price in Brisbane has increased over the past 17 years from $296,400 in December 2003 to $575,000 in December 2020. Historically Brisbane's housing marking has performed well through seeing a gradual increase in the median house prices most years. As shown below it is clear that houses perform better than units in Brisbane and are likely to see more growth over time.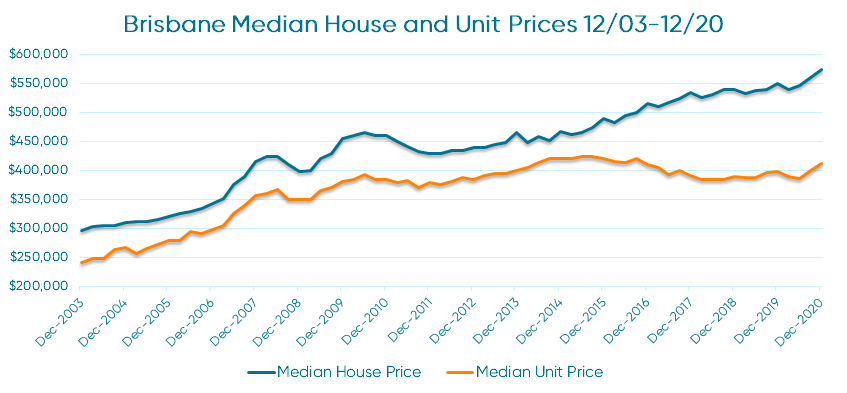 Source: Median price (unstratified) and number of transfers (capital city and rest of state)
As indicated in the above graph, despite the coronavirus pandemic, the median house and unit price in Brisbane has increased in 2020. As of March 2021, Brisbane's housing market is recording 6.84% growth year on year on Corelogic's Home Value Index1. 
Despite the impact of COVID-19, the Brisbane housing market has managed to maintain steady levels of growth that could be attributed to the record low interest rates in the market, government incentives and Brisbane's overall handling of the pandemic. In December 2020, 85% of Brisbane's suburbs recorded annual growth2. 
Based on the historical data and current market trends, we can expect to see the Brisbane property market continue to grow. A recent report by Westpac3 has forecasted that property prices are expected to increase by 20% in Brisbane over the next 2 years. This makes now a great time to enter the market by investing in property in Brisbane.