Adelaide Housing Market
Adelaide's housing market has historically been a strong performer, with both houses and units seeing a steady rise in the median prices. Being a major capital city in Australia, Adelaide is able to offer a similar lifestyle to other cities at a much more affordable price. 
Although 2020 saw most housing markets hit a decline in their growth, Adelaide's median house prices has reached record highs and that number continues to grow.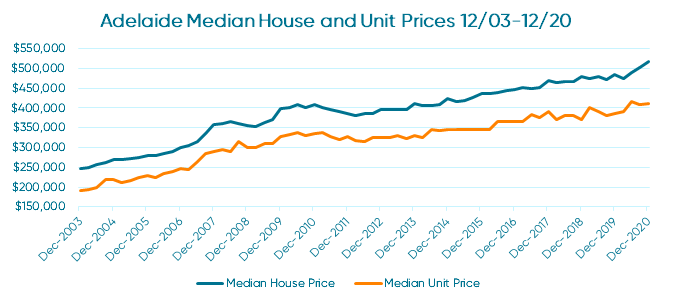 Source: Median price (unstratified) and number of transfers (capital city and rest of state)
As of June 2021, Adelaide's housing market is at an all time high median price of $542,913 and the overall property market has seen an increase of 5.4% in the second quarter of 2021.3 This strong performance that Adealiade's property market has experienced towards the end of 2020 and carrying into 2021 is expected to continue with forecasts predicting Adelaide's property market to increase by 9% in 2021.4 
While remaining one of the most consistent and reliable housing markets in Australia, Adelaide has identified itself as an appealing location for all potential investors.