Perth Housing Market
Perth's housing market has historically been steady, with both house and unit prices not seeing great fluctuations in the median prices in the last 10 years. 
As 2020 saw housing markets across the country impacted by COVID-19, Perth was no exception. The median house and unit prices In June 2020 indicated the effect of COVID-19 on the city's property market as both figures saw a decrease. Perth property prices recorded their lowest median since September 2011 and regional prices hitting their lowest since September 2018.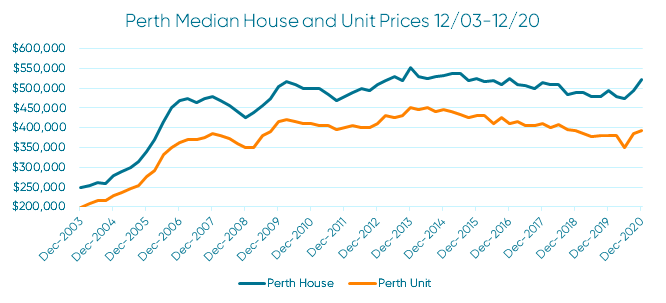 Source: Median price (unstratified) and number of transfers (capital city and rest of state)
However, 2021 has seen Perth's property market experience growth as the property market recorded a 4.2% in the quarter up to April 2021.3 Following the strong growth in the first quarter of 2021, CoreLogic has reported that Perth's property market has continued to grow by an additional 1.1% in May 2021, and overall is seeing an 8.45% increase in property prices compared to May 2020.4 
The figures that Perth's property market has recorded in late 2020 and to start 2021, has led REIWA to forecast WA's housing market to continue this growth as the state is expected to grow by 15% this year.5 As Perth's housing market continues to grow at a healthy pace, compared to historical figures, now is a great time to invest in this city.